Build-A-Bear Is Opening Locations Inside Walmarts — With Prices As Low As $10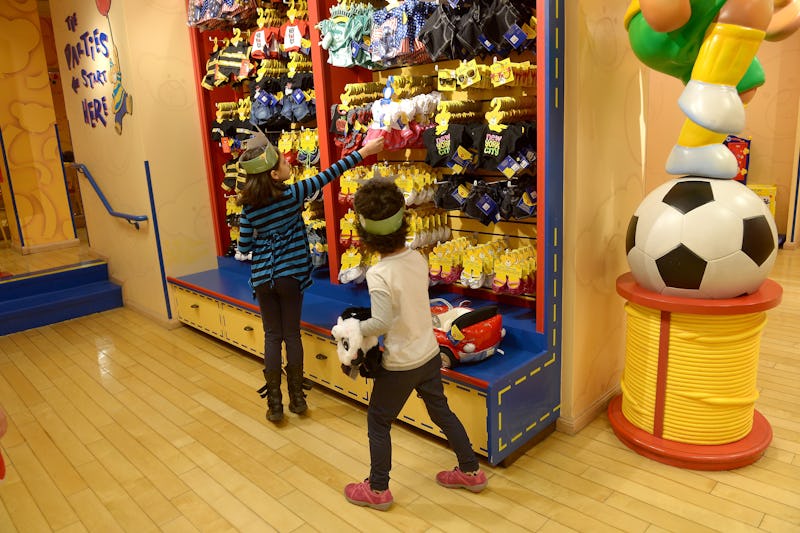 Gustavo Caballero/Getty Images Entertainment/Getty Images
In the words of Cardi B, "How convenient is that? Wow." Those who are parents to Build-A-Bear fans (or just anyone who is a Build-A-Bear fan; building bears knows no age limit) can now buy bulk toilet paper, groceries, clothes, and a made-to-order stuffed animal at the same place. According to USA Today, select Walmart stores now have Build-A-Bear Workshops on their premises.
So far, the Build-A-Bear Workshops have been opened at six Walmart locations as part of a test program. USA Today reports that the majority of the stuffed animals that are available in standalone Build-A-Bear stores are also available at the Walmart locations, along with a wide array of accessories. The stores will also include a new line called Condo Cubs, which are smaller versions of bears, cats, rabbits, and dogs. The Condo Cubs start at $10. While the Build-A-Bear site doesn't sell Condo Cubs, it does offer "Lil' Cubs", which start at $12. There is also this Kabu Blind Bag Condo that includes a surprise small stuffed animal. (Maybe Condo Cubs can fit in there, too. Maybe they're just better suited to condo living.)
The six Walmarts below opened Build-A-Bear Workshops on the following dates:
October 16:
Dallas, Texas (1521 N. Cockrell Hill Road, Dallas, TX 75211)
Stockton, California (3223 E. Hammer Lane, Stockton, CA 95212)
Phoenix, Arizona (5250 W. Indian School Road, Phoenix, AZ 85031)
October 23:
Riverside, California (6250 Valley Springs Pkwy., Riverside, CA 92507)
Daytona Beach, Florida (1101 Beville Road, Daytona Beach, FL
October 25:
Victorville, California (12234 Palmdale Road, Victorville, CA 92392)
Bustle has reached out to Walmart about whether Build-A-Bear Workshops will be opening at more locations.
Those who have started coming across the Walmart Build-A-Bears have been reacting to the move on Twitter. The general response has been confusion:
But, there was also romance:
And this hilarious, yet reasonable, request:
For those who are confused about why Build-A-Bear is in Walmart, the answer is... to sell Build-A-Bears. The holidays are coming up, which means there will be more demand, so that could be one idea. Also, if a parents take their kids shopping with them at Walmart, the kid is likely to spot Build-A-Bear and start begging to go.
Build-A-Bear's move to Walmart stores comes after a disaster for the business earlier this year. In July, Build-A-Bear announced a "Pay Your Age" event, at which kids could get a new stuffed animal for the price of their age. (So, a five-year-old would pay $5, far less than the usual price.) The problem was, so many people were interested in the promotion that the lines got out of control and the event had to be shut down. At one location in Leeds, England, police got involved after the line reached nearly a mile long. According to the Washington Post, those who had been in line were given $15 vouchers.
The Walmart Build-A-Bear Workshops should be a much more chill experience and, if customers choose to go with a Condo Cub, still provide them a lower price.