Bumble And Bumble Updated It's Iconic Surf Spray & It's SUPER Limited Edition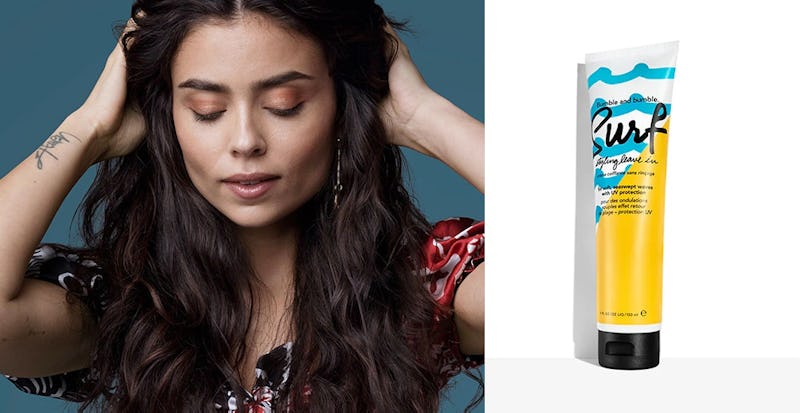 Bumble And Bumble
One of Bumble And Bumble's most iconic hair products is its Surf Spray, and now the brand is launching a new version to help you get beachy waves. The Bumble And Bumble Surf Styling Leave In Creme is a new drop by the brand, and it's an interesting update to its original product. The original Surf Spray brought workable texture to strands, and has been heralded by everyone from celebrity hairstylists to runway hair dressers. But the Surf Styling Leave In Creme brings a new experience to Bumble And Bumble fans, thanks to its UV-protecting, softening gel. But there is one catch: the product is limited edition.
Since the Surf Styling Leave In Creme is limited edition, you will have to act fast if you want to try it. The gel is multi-use: it conditions, detangles, and fights frizz, all while helping you create soft waves. The styler moisturizes with its beach protective blend, which uses aloe leaf juice, kelp extract, coconut extract, and algae extract. This is what will tame your flyaways and give you soft, shiny strands.
The product also has UV-filters to protect your hair from the drying effects of the sun. And its Flexi-Style Blend adds light hold and flexibility to your hairstyle, making sure it looks natural. This is where it differs from the original spray. The Flexi-Style Blend allows you to create beachy waves, but without the grit.
The original Surf Spray was introduced back in 2001, and it has been well loved ever since thanks to its matte and salty texture. The creme is a departure from that, where the polymers in the Flexi-Style Blend delivers waves without the crunch that salt usually provides.
The creme works best on medium to thick hair that is straight or wavy. To use it, you work the product evenly into towel-dried hair, scrunching along the way. You leave it in, and walk out the door with subtle waves.
According to Glamour, the best way to get straight-from-the-surf waves is to throw your hair into a bun. You will get more defined curls if you put your hair into a coiled state, helping your strands dry into that shape. Since your hair will be damp, the creme will adhere to your strands, and help it stay in that wave. This is a little different from the Surf Spray, where people were advised to squeeze and twist their strands to enhance the texture.
You can simply put your hair into a bun in order to achieve that. Or if you want even more defined curls, you can try wrapping your hair around a donut bun. There are many YouTube videos teaching you how to do just that. You can even use a rolled up sock if you don't have a donut handy.
The Surf Styling Leave In Creme launches on April 10, and a five fluid ounce bottle costs $29. The price is very similar to the original Surf Spray, which costs $27 for four ounces. If you want to have beachy waves without the salty buildup, this is a great product to try. But act fast before it disappears off the shelves.