Burt Reynolds Has Died At Age 82 & Fans Are Mourning The Legendary Actor — REPORT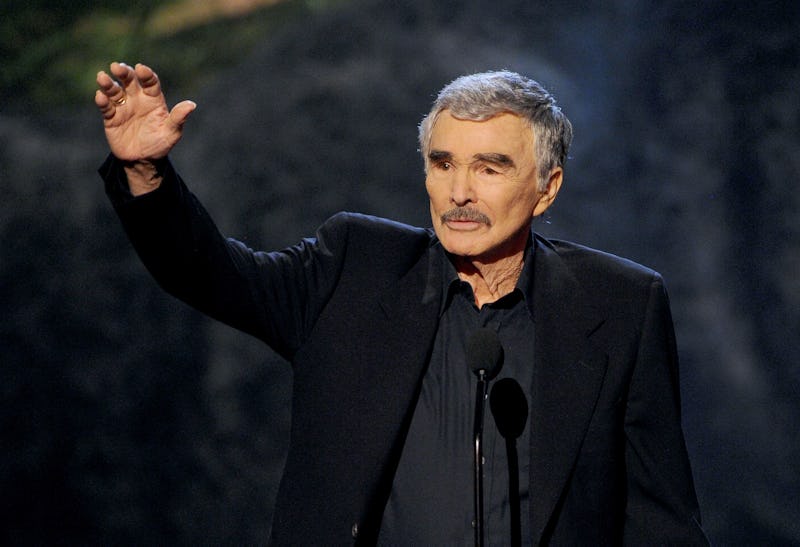 Kevin Winter/Getty Images Entertainment/Getty Images
Thursday marks a sad day for the entertainment industry as fans and fellow actors mourn the loss of a major star. Burt Reynolds has died at age 82, according to The Hollywood Reporter and several other media outlets. Reynolds' agent, Todd Eisner, confirmed the news of Reynolds' death to CNN on Thursday. And according to TMZ, Reynolds died from a heart attack.
UPDATE, 5:27 p.m. ET: Reynolds' niece Nancy Lee Hess released the following statement to Bustle on behalf of the family:
It is with a broken heart that I said goodbye to my uncle today.
My uncle was not just a movie icon; he was a generous, passionate and sensitive man, who was dedicated to his family, friends, fans and acting students.
He has had health issues, however, this was totally unexpected. He was tough. Anyone who breaks their tail bone on a river and finishes the movie is tough. And that's who he was. My uncle was looking forward to working with Quentin Tarantino, and the amazing cast that was assembled.
So many people have already contacted me, to tell me how they benefitted professionally and personally from my uncles kindness.
I want to thank all of his amazing fans who have always supported and cheered him on, through all of the hills and valleys of his life and career.
My family and I appreciate the outpouring of love for my uncle, and I ask that everyone please respect our family's privacy at this very difficult time.
EARLIER: In response to the reports about his death, fans are sharing their favorite roles played by the actor. As THR noted, Reynolds has played a number of iconic roles over the years. Fans will remember his turns in classic movies like Smokey and the Bandit, The Longest Yard, Deliverance, and Boogie Nights. In fact, the actor scored a best supporting actor Oscar nomination for his role as Jack Horner in Boogie Nights. THR also points out that in addition to being a versatile actor, Reynolds was a skilled action performer, doing many of his own stunts over the years.
In a tweet dedicated to the late star, actor James Urbaniak called Reynolds "his generation's Cary Grant."
Steve Harvey, meanwhile, praised Reynolds for his work as a philanthropist, in addition to his acting ability. As Florida's Division of Cultural Affairs notes on its website, Reynolds founded the Burt Reynolds Institute of Film & Theatre in his home state.
As CNN and other outlets have reported, Reynolds wanted to become a professional football player. He became an actor after an injury left him unable to keep playing the sport. But Reynolds went on to become one of the most recognizable actors of the '70s and '80s. Reynolds also starred in The Longest Yard, which Argus Leader Media sports writer Matt Zimmer called "the best football movie" in his tribute to the actor.
Other journalists and sports writers also made note of Reynolds' football legacy.
Actor and comedian Patton Oswalt also shared a funny anecdote about Reynolds and Clint Eastwood. According to Oswalt, Reynolds and Eastwood were criticized during their early acting projects, with Reynolds apparently being told "he couldn't act." (Of course, the men went on to become two of the most-recognized actors ever.)
Others remembered Reynolds for his kindness.
In a tweet, Arnold Schwarzenegger wrote that Reynolds "inspired" him, calling the late actor a "trailblazer."
Other stars, including Billy Dee Williams and Sylvester Stallone, also paid tribute to the late actor.
And some people just praised Reynolds for his all-around acting talent.
Based on the outpouring of support for Reynolds from fans and other actors, it's clear that his legacy will live on long after his death. Reynolds may not have become a football star, as he'd originally dreamed, but his acting legacy has cemented him in the canon of American cinema. The Smokey and the Bandit actor is a Hollywood legend, and the response to the news of his passing shows that he won't be forgotten.