The March Outnumbers The Inauguration In This Way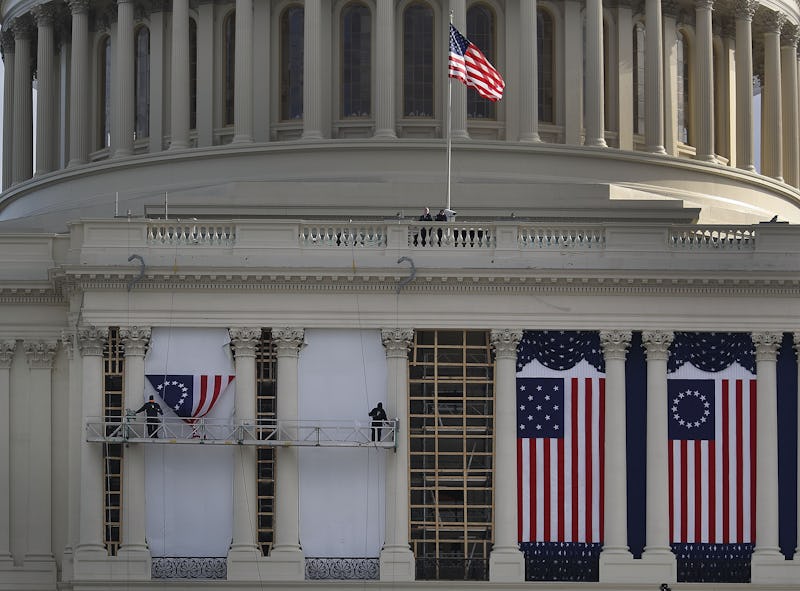 Joe Raedle/Getty Images News/Getty Images
On Friday, January 20, Donald Trump will be inaugurated as president. The next day, as many as 200,000 people will take to the streets of the capitol to protest Trump and his administration. According to NBC Washington, requests for bus permits for the Women's March on Washington are vastly outnumbering requests for bus permits to attend the inauguration itself. Although bus permits on their own are not accurate predictors of how many people will actually attend these events, the disparity between the two is striking, to say the least.
So far, there have been requests for about 200 bus permits to park in the RFK Stadium in Washington D.C. on Inauguration Day, with a total of 393 permits requested for that day across the district. In contrast, The Washington Post reports that at least 1,200 buses have requested permits for January 21 — the date of the March on Washington — to park in RFK Stadium, which has a total capacity of 1,300 buses. RFK Stadium is not the only place that buses will park on the day of the march, so there could very well be more than 1,200 heading into the city.
In an interview with NBC Washington director of the D.C. Department of Homeland Security, Chris Geldart, said that, although more people have requested bus permits for the January 21 than Inauguration Day, that doesn't mean that there will necessarily be more people in Washington on the 21st. "I can't tell you which is going to be more or less people, or how many people from the 20th are going to stick around for the 21st to add to the numbers," he told the network.
Donald Trump told The New York Times earlier this week, "We are going to have an unbelievable, perhaps record-setting turnout for the inauguration," but a record-breaking attendance seems unlikely, given the numbers proposed by agencies involved in the inauguration planning. NBC Washington reports that the D.C. Department of Homeland Security and Emergency Management is preparing for between 800,000 and 900,00 people to attend Trump's inaugural events on January 20. Joint Congressional Committee onInaugural Activities put its estimates slightly lower, at between 700,00 and 750,000 attendees. Compare that to the turnout for Barack Obama's inaugurations, which drew crowds of 1.8 million in 2009 and one million in 2013. (For Obama's 2009 swearing-in, Washington D.C. issued more than 3,000 bus permits, well over seven times the amount that has been requested for Trump's inauguration.) George W. Bush's inaugurations were attended by 300,000 and 400,000 people in 2001 and 2005, respectively.
The day after the inauguration, as many as 200,000 protesters will gather in Washington to participate in the Women's March on Washington. According to the event's mission statement, the Women's March is intended to "send a bold message to our new government on their first day in office, and to the world that women's rights are human rights. We stand together, recognizing that defending the most marginalized among us is defending all of us." So far, more than 190,000 people have pledged to attend the march on the event's Facebook page, and almost 600,000 people are slated to participate in more than 280 domestic and international sister marches.