These Women Are Changing The World Through Books — And In Ways You Wouldn't Expect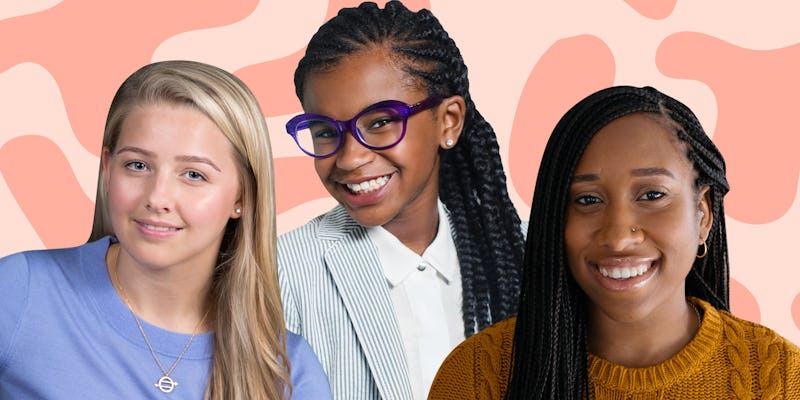 Victoria Warnken/Bustle; Photos courtesy of Heather Donlan, Andrea Cipriani Mecchi, and Kaya Thomas
Anyone who defines themselves as a reader already knows that books have the unique power to change minds and hearts. Studies show that reading builds empathy, and while it's not quite that simple, it's hard to argue with the idea that reading about perspectives different from your own can open your eyes to lives outside your worldview. But do books really have the power to change the world? These eight women believe so, and they'll tell you why. And, more importantly, they'll tell you exactly how they're turning that belief into action and concrete change.
Bustle's Lit List celebrates eight women who are changing the landscape of books. There are Marley Dias, Patrice Caldwell, and Kaya Thomas, who are all working to get diverse books in the hands of readers who read them; there are Winona Guo and Priya Vulchi, who believe books can provide the education and empathy that kids and teenagers need to make systemic racism a thing of the past; there's Abena Hutchful, who believes every child should have access to books; and then there are Chessy Prout and Aija Mayrock, who believe books can help in the fight against sexual assault, harassment, and bullying.
These eight women are changing the world of books — and, in the process, changing the world, too:
In 2016, now 13-year-old Marley Dias realized she was fed up with the lack of books with black girl protagonists. She decided to start a movement to advocate for books that weren't about "white boys and dogs" and #1000BlackGirlBooks was born.
"One of the most inspiring parts has been to witness the change happen in my old school," Dias tells Bustle. "Other parts that really touch me include meeting and talking with kids, and learning about their ideas of how to create greater inclusion in their school and neighborhood."
Four years ago, Chessy Prout was sexually assaulted while attending St. Paul's School in New Hampshire. Since then, she's made it her mission to make rape culture a thing of the past. Her latest stepping stone on that journey? Her new book, I Have The Right To.
"I hope to save other survivors from that confusion that I felt," she tells Bustle.
It's not just the author who has an impact on the politics of a book — so, too, do the editors, the publishers, the salespeople, and the marketers. And when it comes to diversity — or lack thereof — in books, Patrice Caldwell believes the only solution is diversifying publishing as a whole. That's why she founded People of Color in Publishing as a resource for young POC who work or want to work on the books you read.
"People of Color in Publishing has allowed people to better make the decision [to stay in publishing or leave] and to have that support networks should they want it," she tells Bustle.
Abena Hutchful shows up to work each day prepared to fight against the censorship or books and other media, specifically books and media aimed at kids.
"The purpose of this is to amplify the voices of young people, to teach students about their rights under the First Amendment and what they are entitled to in school, so that they can defend themselves," she says.
Kaya Thomas: Founder Of #WeReadToo
Kaya Thomas always had trouble finding books with protagonists who looked like her. So, she used her talents as a coder to create an app that connects kids, parents, and teachers with diverse books.
"Being a reader, and having that external experience where you're reading and you're getting new perspectives from different worlds, it makes you realize that there are so many life experiences besides your own," Thomas tells Bustle.
Winona Guo and Priya Vulchi were sophomores at Princeton High School in New Jersey when they realized something about the school's curriculum: There just wasn't a good resource to facilitate honest, frank, and intellectually rigorous discussions about race. So, they decided to write a textbook on racial literacy, drawing on stories from people of color throughout their town.
"Race had a place in our lives from childhood," Guo tells Bustle. "But we had never had the words to even have a conversation about it."
Three years later, the two are the founders of Princeton CHOOSE, a movement to overcome racism through education, and have traveled to all 50 states in search of more stories for their next textbook, a more comprehensive, nationwide look at systemic racism.
Aija Mayrock was bullied for much of her childhood. She knew she wasn't alone in experiencing humiliating, violent, and emotionally turbulent acts of harassment, but she didn't know what she could do to help other kids. One day, however, it became clear: She'd write a book.
"I made a commitment to myself that I was going to write this book and do everything I could to get it into kids' hands," she tells Bustle.