Bustle's Most Wanted: The 'Twin Peaks' Revival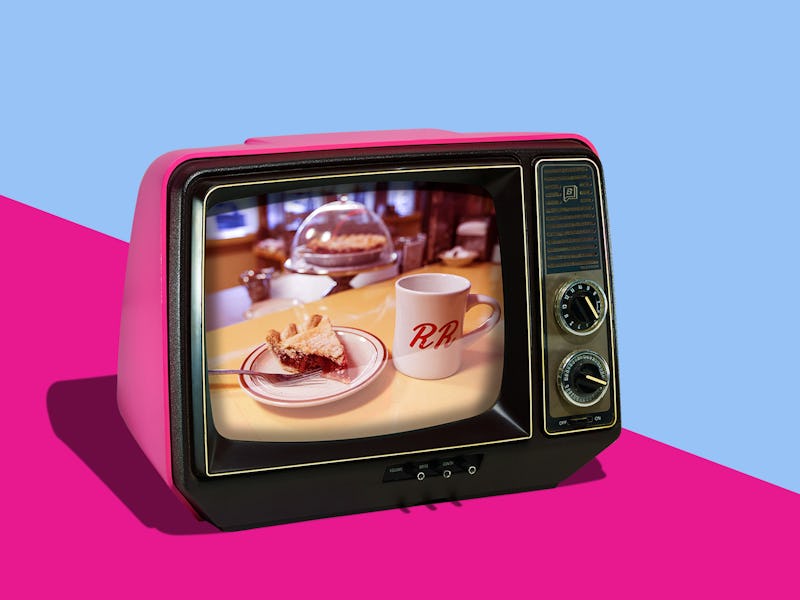 Photographer: Gregory Reid
"She's dead, wrapped in plastic." These iconic five words begin the historic Twin Peaks series, which premiered in 1990 and ran for two seasons on ABC, and also spawned a feature film, Fire Walk With Me. Now, more than 25 years later, Showtime is reviving the series with an 18-episode run starting in May. For fans of the original, this is entirely thrilling — but those who have never seen the series should be excited, too. You see, if you enjoy much of modern television, you owe David Lynch's kooky series a big fat thank you for its influence, and that's why 2017's Twin Peaks revival is so damn exciting. The overwhelming desire for more Lynchian episodes proves that the hard work the original put in so many years ago has paid off, and in 2017 it is coming full circle.
The innovative original, starring Kyle McLaughlin as Agent Dale Cooper, follows the mysterious death of Laura Palmer in a sleepy Washington town. This dead-girl-whodunnit premise, though a common and perhaps even tired narrative in 2017, was one of the first of its kind 27 years ago. So with the revival drawing closer and closer, what better time to celebrate the infinite gifts of Twin Peaks than returning to where it all started?
A little history: When Twin Peaks premiered on ABC two and a half decades ago, it was a bizarre choice for the network. And honestly, it still is. ABC is known for it's TGIT line-up, political thrillers, and medical dramas, and the entirely unnerving Twin Peaks — which features characters who speak exclusively in backward riddles, a woman simply called "the Log Lady," and too many oddities to list — never truly fit into the ABC brand, or any network's, really. But that's what makes it — and the upcoming revival — so special.
Twin Peaks was one of the first television shows that felt undeniably cinematic, and because of this, it legitimized TV as an art form. Before Twin Peaks, television was often considered lesser than film. But with David Lynch, a successful director who chose to move across the mediums, at the helm, the show had a true cinematic vibe. It allowed other big shot directors to take a leap of faith towards television, too. And like many beloved series of today, Twin Peaks felt like one long movie, not an episodic sitcom or chopped up, fluff-filled narrative.
Serialized television, while commonplace now, was not so in 1990. Twin Peaks held viewers attention around one central mystery that audiences had to invest time into week after week. This was a fairly new concept for the time, as most TV dramas were procedural in format — meaning there was a "case of the week" that audiences could easily hop in and out of at any time. There was no need to have learned the nuances of Laura Palmer's family life, her history of lovers, Cooper's affinity for coffee "as black as midnight on a moonless night," or any of the details that made Twin Peaks so memorable. The show proved to networks that audiences were willing to tune in week after week for one continuous narrative.
Perhaps the show's greatest victory, and greatest gift to future television, was its ability to be unapologetically weird. So weird, in fact, that audiences often had no idea what they were watching. But it was OK. Better than OK, actually, as it allowed the content to be thought-provoking, artful, and unique to the viewer. Twin Peaks trusted their fans to go along for the wild, often unsettling ride. Did I mention this show was on network television? The weirdness of Twin Peaks is nothing short of a miracle.
And of course, the series influenced television narratives that would come after it in tangible ways. The X-files draws from Twin Peaks' violence, humor, and unearthly oddities. It influenced, perhaps less obviously, shows such as Buffy the Vampire Slayer and even The Sopranos, the latter of which had a tribute episode to the show. Other influencees include Veronica Mars, Bates Motel, Desperate Housewives, Top of the Lake, Broadchurch, The Returned (or Les Revenants), and most recently, the CW's Riverdale, which features Mädchen Amick, an original Twin Peaks cast member. When Cheryl Blossom's dead twin brother washed up on the shore during Riverdale's pilot episode, it was an undeniable homage to the historic show. In their review, Nerdist even called the CW show, "a horny Twin Peaks."
And the list of those shows goes on and on. Twin Peaks remarkably — and I do not write this lightly — changed television's trajectory forever. So it is with bated-breath that fans await the revival. I, for one, cannot wait to see Coop in action again — investigating whatever crime has the often-monotonous town predictably in pieces. I have my fingers crossed that Cooper and Audrey Horn may have a second chance at what was, 25 years ago, a forbidden romance. But more than anything I can't wait to see how 2017's Twin Peaks will push the envelope. The original was revolutionary in so many ways, and the revival will surely inspire future television, too. As Special Agent Dale Cooper once said, "Every day, once a day, give yourself a present." The original Twin Peaks series seems to be the gift that keeps on giving, and with Showtime's reboot, which will premiere on May 21, we have the chance to be gifted once again.
Check out Bustle's Most Wanted, a list of our editors' 25 favorite things for spring 2017.