Busy Philipps Is Rocking Millennial Pink Hair Now & It's On Point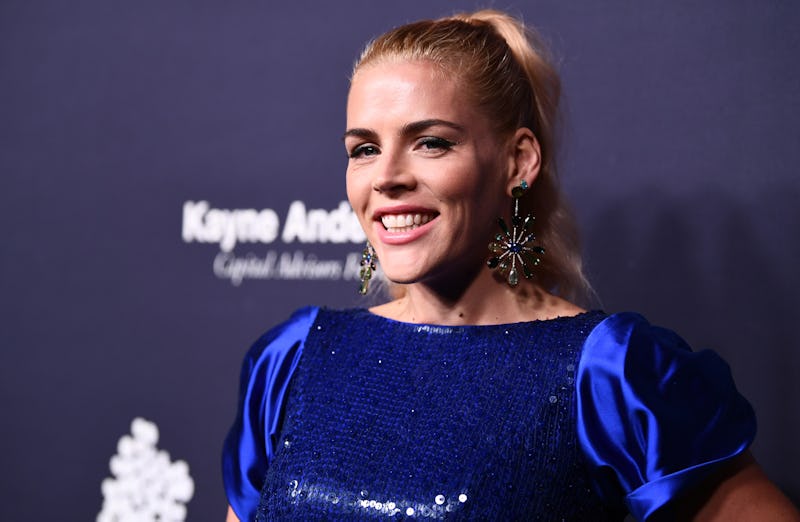 Emma McIntyre/Getty Images Entertainment/Getty Images
If you keep up with all of the seasonal hair color trends happening, you may have already realized that "rosé hair" may be the the next big thing. Offering a stunning example, Busy Philipps dyed her hair pink, and shared the new style on Instagram on Tuesday, captioning it "Rosé all day." The actress' new look is both soft and modern — and speaks to a societal penchant for anything rosé and millennial pink.
As StyleCaster described, Philipps documented the process of dying her hair from blonde to pink in her Instagram story. As the publication noted, Philipps' stylist, Jason Seradsky, hand massaged the dye into her hair to create the desired look.
This is not the first time Philipps has experimented with pink hair dye. During Paris' Fashion Week in October 2017, Philipps dyed her friend and fellow actress Michelle Williams' blonde hair pink. At the time, Philipps also documented the entire process on Instagram. As People noted, at one point, Philipps expressed her excitement about the forthcoming dye job, saying:
Guys, I am putting the pink in. I am massaging the pink into the little pixie's hair. Michelle's hair is going to be perfectly millennial pink. She is going to wash it out in two minutes and it is going to be amazing ...
According to PEOPLE, After the transformation was complete, Philipps appeared very pleased with the results, noting on Instagram, "She [Williams] has slightly pink hair and it is f*cking beautiful ... Michelle's hair is slightly pink and so cute. And look, she is like a little nymph asleep next to me."
In addition to dying Williams' hair, Philipps has also actually previously dyed her own hair pink. Back in May of 2017, Philipps also changed her hair to a similar hue. Back then, the actress described her hair as both "light pink" and "millennial pink" on Instagram. The shade appeared similar to her current look, but perhaps featured a bit more peach and orange undertones.
Philipps' penchant for color is right in line with the colorful hair trend that has been emerging in recent years. People are taking more risks with color and are more comfortable rocking non-natural shades. Jennifer Misenheimer, a stylist in Charlotte, North Carolina who was interviewed for a Charlotte Observer piece on the new trend, noted that it was refreshing to see colorful hair making it into the mainstream. As Misenheimer put it:
When I was in middle school in the early '90s, I got ridiculed for putting these colors in my hair. I had blue hair, I had magenta hair ... t's been funny to me to just kind of watch the shift as in the '90s, how you were really on the fringe if you did it, and over the last five years, everything – everything – hair color, tattoos, anything that used to be really fringe or edgy has become very mainstream and accepted. I think it's great that if a soccer mom wants pink hair, she can do it ...
In addition to Philipps, a variety of other celebs have also tried out different versions of pink hues in recent years. Indeed, in January 2018 Jihan Forbes of Allure documented the pink and blonde-influenced looks of 15 different celebrities (looks Forbes referred to as "rose gold"). The article featured Hailey Baldwin, Elle Fanning, Kate Hudson, and many others – and captured the many unique ways in which pink tones can be incorporated into hair.
Overall, Philipps is clearly not afraid to embrace color and change up her style. Perhaps her new rose look will influence others to continue to lean into the colorful hair trend.