Buy These Face Masks To Support Coronavirus Relief Efforts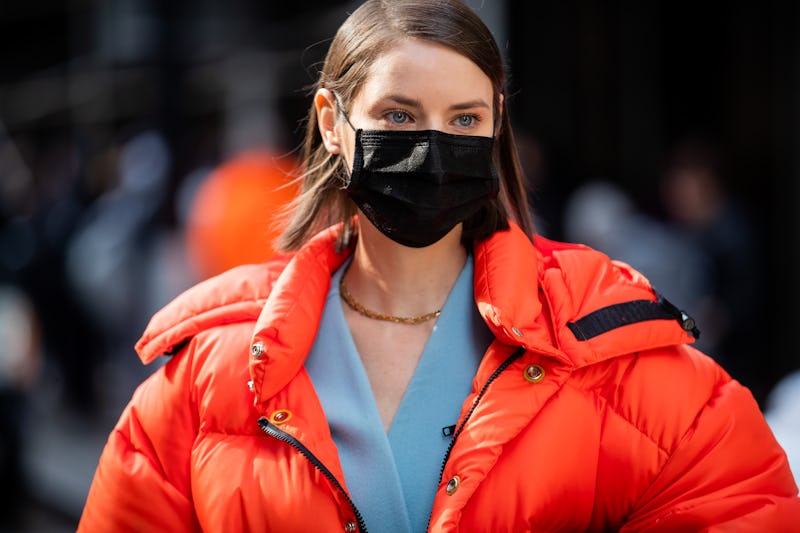 Christian Vierig/Getty Images Entertainment/Getty Images
These days, face masks are becoming more ubiquitous as the coronavirus pandemic continues with seemingly no end in sight. You might be confused about whether wearing one is necessary, which is understandable given that public health officials have gone back and forth on this issue.
Initially, the Centers for Disease Control and Prevention said healthy people didn't need to wear masks in public to prevent the spread of COVID-19. But last week, the government agency overseeing the federal response to the pandemic changed its mind. Now, officials are saying you should wear face masks in public to help stop the virus from spreading.
"The virus can spread between people interacting in close proximity — for example, speaking, coughing, or sneezing — even if those people are not exhibiting symptoms," the CDC explains on its website. "In light of this new evidence, CDC recommends wearing cloth face coverings in public settings where other social distancing measures are difficult to maintain (e.g., grocery stores and pharmacies), especially in areas of significant community-based transmission."
So, where can you find a mask? For all the crafty folks, consider making one at home using a few household items like an old T-shirt, scissors, and string. It's easier than you think, it requires little to no effort, and it's a more sustainable approach. Plus if you're quarantining with your partner or roommate, it could make for a fun bonding activity.
But if you're not the DIY type, don't fret. Many brands are branching into the mask-making business, and some are donating portions of their sales to charitable organizations working on the frontlines against the coronavirus. Below, you'll find a round-up of face masks to choose from. And remember: Only leave home for essentials, maintain social distancing protocols, and wash masks between uses.
We only include products that have been independently selected by Bustle's editorial team. However, we may receive a portion of sales if you purchase a product through a link in this article.
For every one sold, the brand is donating $10 to City Harvest, an organization that helps feed hungry families throughout New York City.
This initiative created by No Name Just People focuses on giving back to artisans and informal workers in Latin America who have been highly affected throughout the pandemic by employing them to work on face masks. Additionally, 80% of the earnings will be donated to local organizations in Latin America that provide foods and basic needs for those affected by the pandemic.
For every set of masks sold, CAMP Collection is donating masks to a non-medical essential business. Additionally, to stand with the Black community and work toward greater inclusivity, CAMP Collection is donating $5,000 to Black Lives Matter and passing out masks to protestors in San Francisco.
As part of the brand's relief efforts and ongoing commitment to promote mental health, 20% of the sale from each mask will be donated to Crisis Text Line, a text-based crisis service providing free, confidential, 24/7 support from trained crisis counselors.
With each purchase, Jimmycase is donating one hand-sewn mask to those in need. So far, it's made donations to Los Angeles essential workers, the Emergency Food Network in Washington, and the Metro Area Continuum of Care for the Homeless in Nebraska.
For every mask purchased, Ari Jogiel donates a mask to a frontline worker. Masks have been donated to workers at Cedars Sinai, the Los Angeles Fire Department, the USPS, and Home Depot. At checkout, you can choose which group to donate a mask to.
Stitchroom, a custom upholstery workshop in Brooklyn, has shifted attention to its volunteer program, Face Masks for our Frontlines. It's brought together more than 500 makers nationwide, and has shipped more than 11,000 masks to hospitals and people in need.
For every mask sold, the brand will donate a mask to communities in Bali. Additionally, 100% of profits will go to Direct Relief, a non-profit organization providing medical-grade equipment to those on the frontlines across the United States.
Not only are these Old Navy masks made of excess fabric to sustainably source materials, the brand is donating 50,000 masks to its longtime partner, Boys & Girls Club of America. Old Navy and its parent company Gap Inc. also leveraged its supply chain to connect hospital networks with millions of critical PPE for frontline health care workers.
These must-have Ruffle Masks are the work of LA-based art denim brand 69. With every purchase of this Ruffle Mask, 69 donates one of its basic masks to an essential worker.
You can purchase these for $25 each or as a bundle (three for $60). Five percent of mask sales go to La Casa de las Madres, a women's domestic abuse shelter in San Francisco.
Each mask is 100% cotton with two elastic bands, and every purchase provides a mask for a health care worker in need.
Forever 21 is partnering with Family Promise on a non-medical mask initiative: During the pandemic, the retailer is donating one cloth face mask for every one purchased to an essential worker.
For every mask sold, the brand will donate one to communities in need.
One mask purchase will provide five masks to health care workers in New York City.
With your mask purchase, Sanctuary will provide masks to organizations in need.
Buck Mason is donating one mask for every one sold. Its goal is to donate one million masks to its community in California and across the country.
The brand is pledging to donate a portion of profits to Feeding America's Coronavirus Response Fund, which is providing food and shelter during the pandemic.