Cadbury Wants You To Decide On Its Next Chocolate Bar & You'll Flip Over The Grand Prize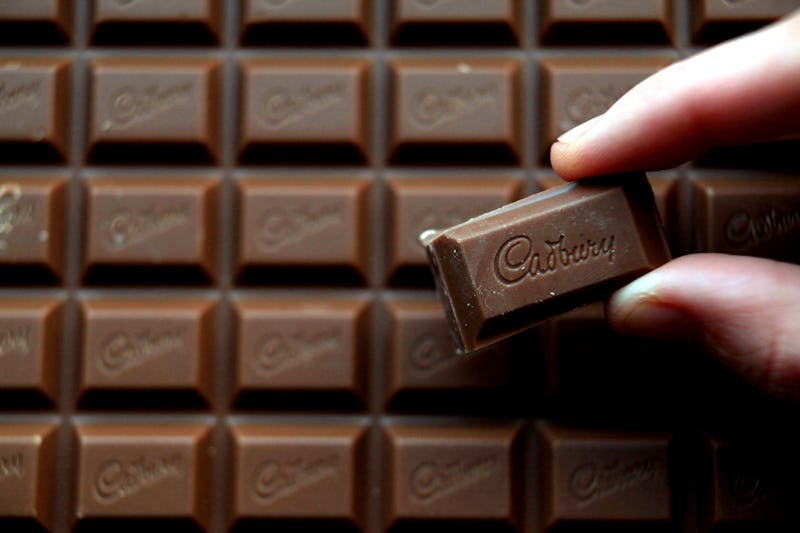 Matt Cardy/Getty Images News/Getty Images
Cadbury has long been embraced by fans all over the world for its classic, delicious dairy milk chocolate bars and iconic crème eggs. In fact, they are only second to Mars as the biggest confectionary company worldwide. They offer their quintessential milk and dark chocolate bars, with a few renditions in the form of caramel, fruit, and nut chocolate products. Currently, however, the beloved chocolatier is on a mission to shake things up a bit. The Cadbury chocolate bar flavor contest has debuted to ask fans to invent the newest addition to the iconic Cadbury Dairy Milk line.
Cadbury's colorful, interactive inventor webpage makes dreaming up your one-of-a-kind flavor easy and fun. Once you head over to the site, you'll be asked to choose up to the three different ingredients from categories like "crunchy," "chewy," and "fruity." When I gave it a go, I was honestly blown away by the variety offered. Passion fruit, chili, rose, popping candy, tomato, elderflower, and lemongrass tea are just a handful of the ingredients at your fingertips for your chocolate-y creation. Prepare yourselves, because there are a total of roughly 90,000 different combinations that await you as you invent. When you come to your final decision (not gonna lie, it took me awhile), you'll be directed to a page where you get to name your invention and choose a featured color for the packaging. I decided to go with something that you would probably find on the hotel bed during your honeymoon: a caramel-rose petal-strawberry chocolate delight.
Once you're done marveling at your Michelin-star worthy masterpiece, you will enter your name, phone number, e-mail address, and home city so that Cadbury can contact you if you win (fingers crossed). You also get a chance to woo the judges in a 200-word section that allows you to discuss what inspired your creation (finally, those hours of binge watching Chopped and learning culinary terms like "reduction sauce" are paying off).
The contest is open to fans in the UK and Ireland (ages 16 and over) for the entire month of July, and the three lucky, culinarily-gifted finalists will be notified in October 2018. In case you were wondering, Cadbury will be judging entries based on two (very important) factors: creativity and taste. "All entries will first be looked at by an independent judge, and then narrowed down where the next round of potential inventors will be reviewed by a separate panel of experts (including at least one independent judge)," Cadbury's website explains. I'm sweating already.
Now, it's time to address the burning question: what do you get if you win? Your journey will begin with a trip to Bournville, the historic English village that Cadbury World calls home. There, you and the other two finalists will work alongside the company's chocolate experts (and possibly ask them how they managed to get your dream job) to experiment with and develop your mouthwatering creations. Then, all three bars will be available for purchase beginning in 2019 — during which time UK and Ireland fans will be able to buy the treats and vote for the ultimate winner. When it's all said and done, the winning bar will be up for grabs in stores for at least a year, and — wait for it — the winning Cadbury Inventor will receive a year's supply of their decadent creation.
Chocolate lovers, assemble. Cadbury's newest challenge could turn the one uniquely-you treat you've always dreamed of seeing on shelves into a reality for the world to enjoy. Go, create — and the next time someone asks you why you're eating so much chocolate, tell them it's for research.