Caitlyn Jenner Apologizes For Accidentally Wearing The Pro-Trump 'MAGA' Hat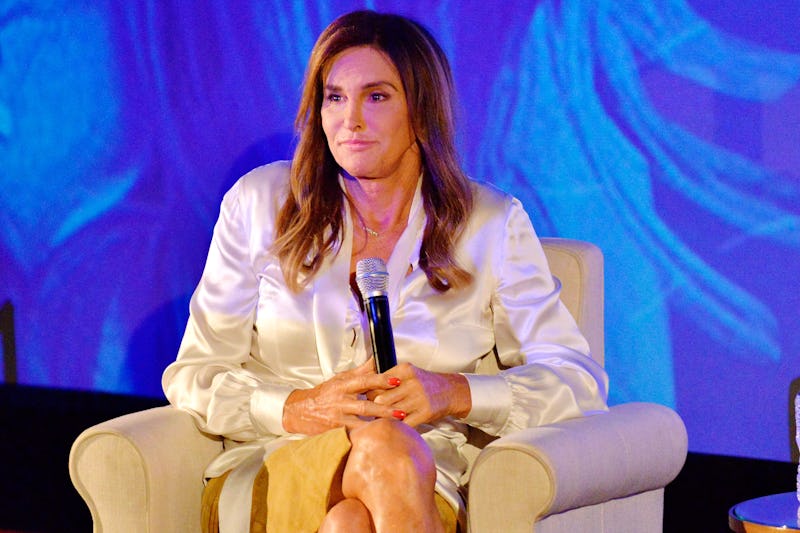 Jerod Harris/Getty Images Entertainment/Getty Images
After being spotted wearing a bright red "Make America Great Again "hat on Thursday, Caitlyn Jenner said she regrets wearing her "MAGA" hat in an apology, telling TMZ reporters that she intends to promptly get rid of it. According to TMZ, Jenner said that she mindlessly drove to the Sherwood Country Club for a game of golf, before realizing she'd grabbed a "MAGA" hat from the bedroom floor.
"I apologize to all of the trans community. I made a mistake. I will never do it again and I'm getting rid of the hat," Jenner told TMZ on Saturday.
Just days before the 67-year-old reality star was photographed wearing the pro-Trump "MAGA" hat on Thursday in Malibu, Trump announced a ban on transgender people in the military a series of tweets, putting transgender service members' careers in jeopardy.
After hours of silence, Jenner spoke out against Trump's transgender military ban on Twitter. "There are 15,000 patriotic transgender Americans in the US military fighting for all of us. What happened to your promise to fight for them?" Jenner wrote.
Trump had tweeted on July 26: "After consultation with my generals and military experts, please be advised that the United States government will not accept or allow transgender individuals to serve in any capacity in the U.S. military. Our military must be focused on decisive and overwhelming victory and cannot be burdened with the tremendous medical costs and disruption that transgender in the military would entail."
Jenner's pro-Trump hat choice feels extra significant considering the fact that the trans military ban was announced just a week ago.
Regardless of the impetus behind Jenner's apology for wearing the "MAGA" hat, it's worth noting that she had the hat in the first place. In fact, not only did Jenner openly support Trump during the 2016 election, but she claimed that he was as an ally to the LGBTQ community.
"Trump seems to be very much for women," the former Olympian and reality TV star told Stat in an interview. "He seems very much behind the LGBT community because of what happened in North Carolina with the bathroom issue. He backed the LGBT community."
However, despite Jenner's insistence that Trump supported the LGBTQ community, the administration has displayed otherwise, including rolling back federal protections for transgender students back in February, making it permissible for schools to deny trans children use the bathroom corresponding with their gender.
Considering the fact that Jenner noted and responded to Trump's anti-trans moves in February, it seemed odd that she's only planning to get rid of her "MAGA" hat now. According to the TMZ report, Jenner plans to either auction off or destroy the hat.