Twitter Is Not Happy With Caitlyn Jenner's Response To Trump's Military Transgender Ban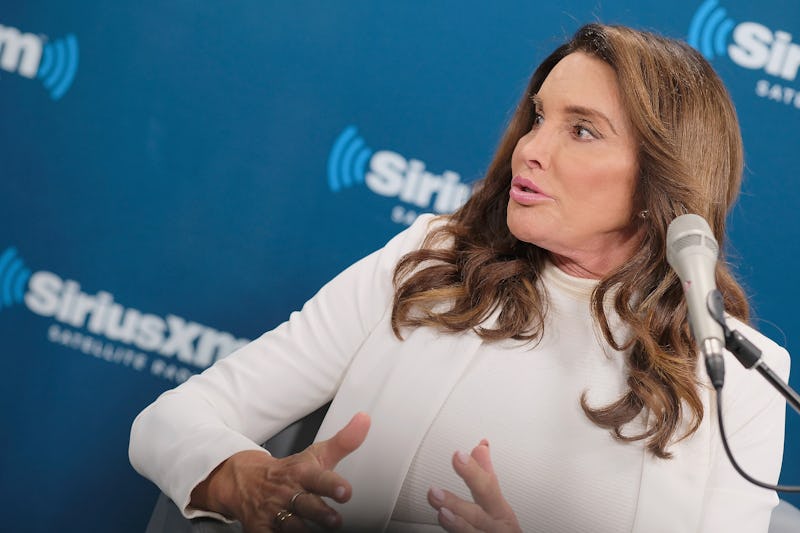 Dimitrios Kambouris/Getty Images Entertainment/Getty Images
President Trump announced a ban on transgender people in the U.S. military on Wednesday, sparking widespread backlash from advocates, lawmakers, celebrities, and veterans. But amid the cacophony of criticism, Caitlyn Jenner's soft criticism on Trump's military transgender ban has led to fierce responses on Twitter that she hasn't done enough to call out the politician she publicly supported and voted for.
Many expected Jenner to speak up against Trump's move, and she did hours later on Twitter. "There are 15,000 patriotic transgender Americans in the US military fighting for all of us," she wrote. "What happened to your promise to fight for them?" On Instagram, she posted a screenshot of her tweet without a caption, quickly prompting a slew of angry comments.
Jenner's response to Trump's ban came after hours of conspicuous silence. Many Twitter users tagged her asking what she had to say about it and if she stood by her vote.
And when she responded, it was far from good enough for many people. Some pointed out that her vote for him on Nov. 8 helped put him in office. Her support for Trump during the election put her among the handful of Hollywood stars who were open and candid about their support for Trump. Already being criticized as a problematic representative of the transgender community at the time, Jenner courted controversy when she said in March 2016 on her short-lived show I Am Cait that Trump would be "very good for women's issues."
In that scene, she said about Trump, "I don't think he's out there to destroy women or takes things away or do any of that kind of stuff." She also criticized Hillary Clinton as a "f*cking liar" and a "political hack," and insisted that she would "never ever ever vote for Hillary."
Jenner stayed true to her word. She voted for Trump in the election and later went on Late Night with Seth Meyers to defend her candidate. "The Republican Party does not do a good job when it comes to equality and the entire LGBTQ community. The Democrats are better there," Jenner conceded, but citing her political ideology as reason for her vote. "But, for me, I have been around a long time. I am probably more conservative."
She also acknowledged that she had to "keep an eye out on those people" who intend to strip transgender people of their rights and protections.
Jenner has denied that she's a spokesperson for the transgender community, but as arguably the most prominent trans person in the world, many people look to her as just that. For her critics, lobbing questions like "What happened to your promise to them?" as she did on Wednesday was simply not good enough.