California Expands Its Travel Ban To Four States With Anti-LGBTQ+ Laws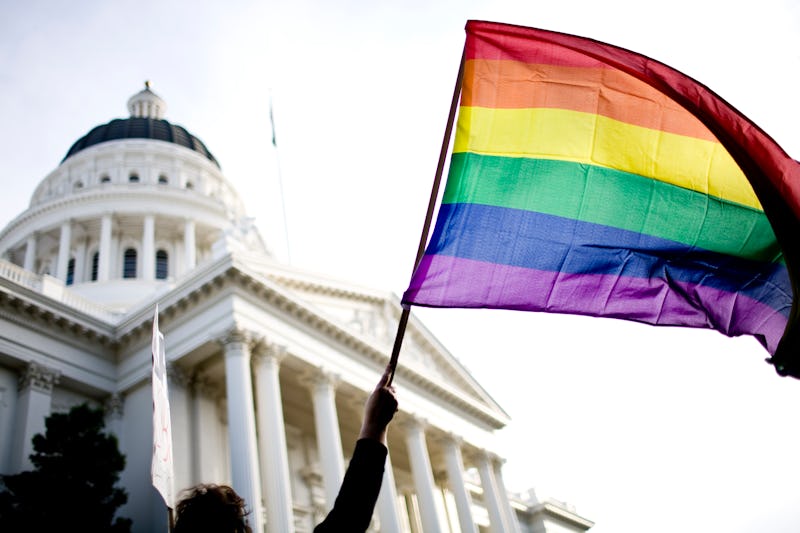 Max Whittaker/Getty Images News/Getty Images
In an effort to push back against state laws that LGBTQ+ advocates say discriminate against the community, California has expanded its ban on state-funded travel to Alabama, Kentucky, Texas, and South Dakota, according to an announcement from state Attorney General Xavier Becerra on Thursday.
Becerra said in a statement that state employees will no longer be allowed to travel to those four states using funds from the California government, citing "the discriminatory nature of laws enacted by those states." Tennessee, North Carolina, Mississippi, and Kansas have been on California's travel ban list since January.
"Our country has made great strides in dismantling prejudicial laws that have deprived too many of our fellow Americans of their precious rights," Becerra's statement read. "Sadly, that is not the case in all parts of our nation, even in the 21st century."
According to the California Department of Justice (DOJ), travel to Alabama and South Dakota was banned due to the states' enactment of laws which could prevent LGBTQ+ people from adopting or becoming foster parents. Kentucky was added as a result of SB 17, a bill that enables student-run organizations in both K-12 schools and universities to discriminate against students on the basis of their sexual orientation or gender identity. And controversial legislation recently signed into law in Texas allowing child welfare providers such as faith-based foster care agencies to discriminate against prospective parents on the basis of "sincerely held religious beliefs" put Texas on California's travel ban list.
"While the California DOJ works to protect the rights of all our people, discriminatory laws in any part of our country send all of us several steps back," Becerra said. "That's why when California said we would not tolerate discrimination against LGBTQ members of our community, we meant it."
A spokesperson for Texas Gov. Greg Abbott criticized Becerra's decision Friday, saying that while California could stop state-funded travel to Texas they couldn't "stop all the business that are fleeing [the state] over taxation and regulation and relocating to Texas."
Kentucky Gov. Matt Bevin's spokesperson also slammed the ban, telling The Los Angeles Times it was "fascinating" that "West Coast liberals" would "rail against" President Trump's travel ban only to institute their own to punish states "who don't fall in lockstep with their far-left political ideology."
California's travel ban list first targeted Tennessee, North Carolina, Mississippi, and Kansas, after then-Attorney General Kamala Harris enacted the restrictions in January following the passage of Assembly Bill 1887 in September 2016. AB 1887 enables California officials to restrict travel to states that enact laws deemed to be discriminatory toward people within the LGBTQ+ community.
But California's decision to restrict state-funded or sponsored travel to states with discriminatory laws doesn't mean its legislators have completely turned their backs on those states. State Sen. Ricardo Lara travelled to Dallas, Texas on his own dime Friday to attend the National Assn. of Latino Elected and Appointed Officials, The Los Angeles Times reported. According to the Times, Sen. Lara, who supported AB 1887, said he felt it was important to participate in discussions on immigration given Gov. Abbott's recent decision to sign a law banning so-called sanctuary cities.
"Texas just passed one of the nation's most anti-immigrant laws with Senate Bill 4, and California went down this road with Proposition 187 more than 20 years ago," the Times reported Lara said in a statement. "With LGBT and immigrant rights under assault across the country, I thought it was important to join other Latino leaders and show California's example."
Local LGBTQ advocacy groups including the ACLU of Northern California and Equality California have voiced support for AB 1887 and applauded Becerra's recent decision to add an additional four states to the list of states where state-funded travel is prohibited.