This Prosecutor's Remarks About Maxine Waters Were So Offensive, He's Under Investigation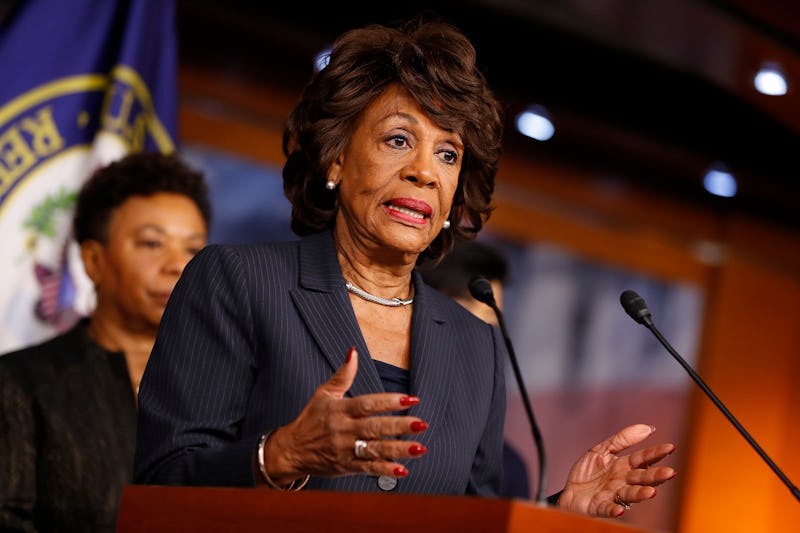 Aaron P. Bernstein/Getty Images News/Getty Images
One California representative has become a frequent object of the president's scorn, and it seems as though his feelings might be rubbing off on some of his supporters. Now, a California prosecutor who attacked Maxine Waters online is under investigation because of several Facebook and Instagram posts that he wrote on now-deleted accounts.
According to the San Bernardino Sun, San Bernardino County Deputy District Attorney Michael Selyem wrote a post about Waters that managed to include elements of racism, sexism, and a call to violence against the congresswoman.
"Being a loud-mouthed c#nt in the ghetto you would think someone would have shot this bitch by now …" Selyem wrote in a Facebook comment about Waters, according to the San Bernardino Sun. Following this and several other posts of an unsavory nature that the District Attorney's Office became aware of, Selyem fell under an internal investigation, and many have called for him to be fired from his position. This has not yet taken place, though it is still a possibility.
Waters has drawn ire from Trump and his supporters for a while now, as the Guardian noted that she was one of the first Democratic congresspeople to call for the president's impeachment, and she hasn't walked back any of his fiery criticism even in the face of insults from Trump and threats from his supporters.
Bustle has reached out to the San Bernardino County District Attorney's Office and Deputy District Attorney Michael Selyem for comment.
The Sun was unable to reach Selyem, but District Attorney Michael Ramos responded by saying, "We have been made aware of the negative comments and they do not represent the views of the District Attorney's Office. Since this is a personnel matter I cannot comment any further."
Selyem's inflammatory comments on social media didn't stop at Waters. According to the Sun, he also posted a picture of former First Lady Michelle Obama holding a sign with the words, "Trump grabbed my penis." In the comments thread about a civilian shot by a policeman, Selyem wrote "That s—bag got exactly what he deserved. … You reap what you sow. And by the way go f— yourself you liberal s—bag."
According to Newsweek, Selyem has headed up San Bernardino County's Hardcore Gang Unit for the last 12 years, and San Bernardino is a city currently dealing with gang violence as a significant issue.
Currently, there are numerous calls on Twitter to fire Selyem, although the District Attorney's Office hasn't yet made the decision of whether to do so. Those calls aren't limited to Twitter, though. The president of the Santa Ana League of United Latin American Citizens No. 147, Zeke Hernandez also told the Sun that firing Selyem needed to be part of how the District Attorney's Office distanced itself from Selyem's comments.
"It is disgusting that a public official sworn to protect the public would have these ugly viewpoints," Hernandez said. "The district attorney needs to take any and all appropriate action to let the public know that it does not agree with Selyem's hateful rhetoric."
Waters hasn't issued a public response to Selyem's comments, but she's spoken many times about the president's insults lobbed her way — and the threats that his supporters have followed up with.
"If you shoot me, you better shoot straight," Waters said in Los Angeles at a Families Belong Together Rally. "There's nothing like a wounded animal."
She's been very clear, time and time again, that any threats thrown her way will not stop her from speaking out, and it seems likely that her comments about Trump also apply for Selyem.
"Let Trump call me whatever he wants to call me," Waters said on MSNBC's AM Joy. "Let him say whatever he wants to say. He will not stop me. He cannot cause me to shut down. That's what they would like to do ... But he can't do that to me. I won't stand for it."