California Is Close To Becoming The First State To Totally Ban Conversion Therapy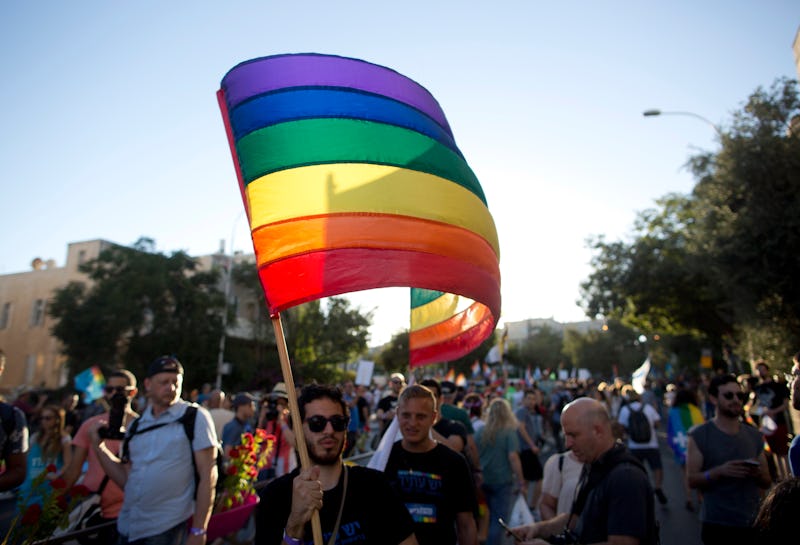 Lior Mizrahi/Getty Images News/Getty Images
While a handful of states have moved to restrict so-called conversion therapy, California lawmakers are poised to ban the sale or advertisement of the controversial practice in an effort to crack down on its use. The California State Assembly passed a bill earlier this week that classifies conversion therapy as a fraudulent business practice and make it illegal for anyone to claim they can change a person's sexual orientation or gender identity through the practice. If passed by the state Senate, the bill would make California the first state to effectively ban conversion therapy from being performed on minors and adults.
"Courts, including in California, have recognized the practice of sexual orientation change efforts as a commercial service," Assembly Bill 2943 states. "Therefore, claims that sexual orientation change efforts are effective in changing an individual's sexual orientation, may constitute unlawful, unfair, or fraudulent business practices under state consumer protection laws. This bill intends to make clear that sexual orientation change efforts are unlawful practice under California's Consumer Legal Remedies Act."
If passed into law, AB 2943 would amend a section of California's Civil Code to include "advertising, offering to engage in, or engaging in sexual orientation change efforts with an individual" under the list of "unfair or deceptive acts or practices" deemed to be "unlawful." The bill would enable any business or individual found to be practicing conversion therapy to be charged with as fraudulent.
In a speech before the State Assembly earlier this week, Democratic Assemblyman Evan Low, who authored the bill, revealed that the legislation was "a very personal issue" for him. Low said he had explored the idea of undergoing conversion therapy as a teen. "This notion that we would accept as a legal practice that conversion therapy works is antithetical to my very existence in this body," the San Jose Mercury News reported he said.
Low went on to criticize the practice of conversion therapy, which a number of civil rights organizations and mental health associations have characterized as harmful and dangerous. "There's nothing wrong with me," The Los Angeles Times reported Low said. "There's nothing that needs to be changed."
Gavin Newsom, California's lieutenant governor, praised the State Assembly's vote to pass the bill on Twitter on Saturday, saying he "could not be more proud of our state for leading the way on this issue."
But some Republican lawmakers have expressed concerns the bill infringed on people's religious freedom. "This is a bill that would be overturned by a higher court on the grounds of the First Amendment," the San Jose Mercury News reported Republican Assemblyman Matthew Harper said. Low, however, has insisted that the bill, if passed, wouldn't prohibit people from talking about conversion therapy but would instead be limited to restricting the advertisement of conversion therapy or the for-profit performance of it.
Other state legislators have argued the state would be justified in moving to classify conversion therapy as a fraudulent business practice as it had already been discredited by several major mental health associations. "You can still try to pray the gay away if you'd like, but it hasn't proved to be effective," the San Jose Mercury News reported Democratic Assemblywoman Susan Talamantes Eggman said. "To advertise that you can change someone's orientation is simply that — fraudulent."
The bill lists a number of mental health and medical associations, including the American Psychological Association, the American Psychiatric Association, the American Academy of Pediatrics, the American Medical Association Council on Scientific Affairs, and the American Counseling Association Governing Council among others, that have discredited or warned against conversion therapy. The bill also notes that "contemporary science recognizes that being lesbian, gay, bisexual, or transgender is part of the natural spectrum of human identity and is not a disease, disorder, or illness."
California law already bans mental health professionals from performing conversion therapy on anyone under the age of 18.