California Democrats & Republicans Take Same Approach To Climate Change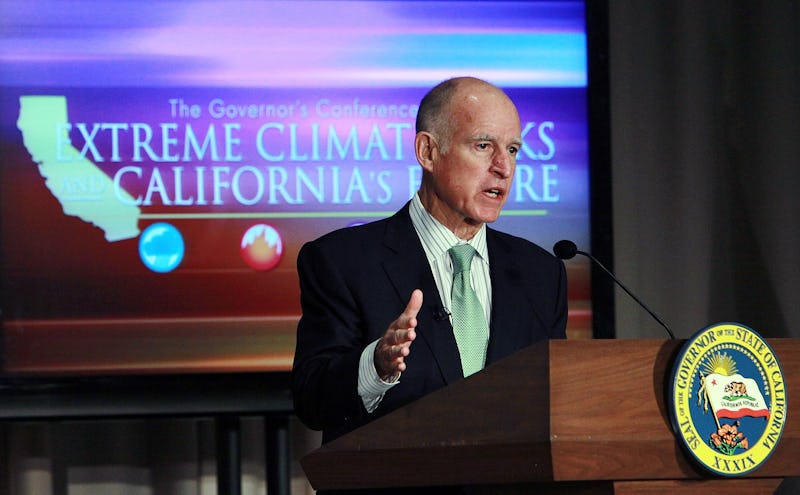 Justin Sullivan/Getty Images News/Getty Images
On Monday evening, members of the California legislature voted to pass a bipartisan plan to extend the state's climate change program until 2030. According to the Los Angeles Times, the measure continues the state's 5-year-old cap-and-trade program, which requires businesses to buy permits if they wish to engage in activities which release greenhouse gases into the environment. The bill passed 55 to 21 in California's Assembly and 28 to 12 in the Senate.
The passage of the cap-and-trade program extension bill has received particular attention because of its bipartisan nature. As the Los Angeles Times reported, eight Republicans opted to vote for the legislation. In discussing Republican support for the bill, Assembly Republican leader Chad Mayes noted that, "California Republicans are different than national Republicans ... Many of us believe that climate change is real, and that it's a responsibility we have to work to address it."
However, while the passage of the bill was notable for the number of Republicans who decided to "cross party lines" to vote in favor of the measure, support for the bill was certainly not unanimous. As SFGATE reported, many conservative legislators opposed the cap-and-trade extension out of concerns that it would cause an increase in gas and electricity prices. Moreover, several progressives noted that they believed the bill did not go far enough with its proposed requirements for limiting greenhouse gas emissions.
For his part, California's governor, Jerry Brown, has strongly advocated for passage of legislation to extend the cap-and-trade program. Brown is expected to sign the bill, which will then officially extend the program. Revenue from the cap-and-trade program will also likely help fund an anticipated bullet train from San Francisco to Los Angeles, which the Los Angeles Times noted constitutes another one of Brown's infrastructure and policy priorities.
After the legislature passed the extension bill, Brown released a statement expressing his fervent support for the body's decision, saying,
Tonight, California stood tall and once again, boldly confronted the existential threat of our time...Republicans and Democrats set aside their differences, came together and took courageous action. That's what good government looks like.
As ABC news noted, Brown, as well as many environmental groups, believe that extending the state's cap-and-trade program constitutes one of the best ways for California to adhere to its climate change laws. California law mandates that, by 2030, the state reduces carbon emissions by 40 percent of what they were in 1990.
California's legal mandate for carbon emissions reduction are some of the most stringent in the world. Monday's passage of the cap-and-trade extension seemingly reflects a continued commitment to adhering to this mandate —and perhaps to serving as a global leader when it comes to climate change policy.