The One Reason California's Midterm Results Could Take The Longest To Trickle In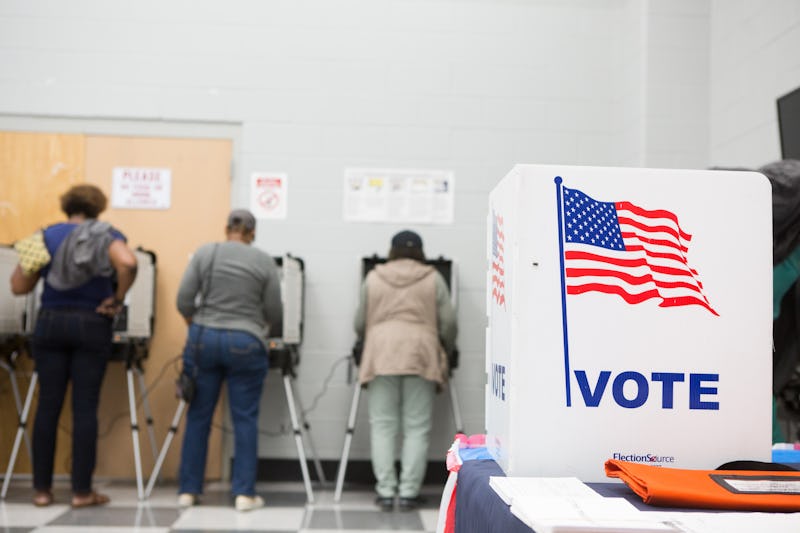 Jessica McGowan/Getty Images News/Getty Images
Politicians and celebrities have called the 2018 midterm elections one of the most important decisions in our lifetime. But even as early voting numbers shatter records leading up to Nov. 6, America may not know whether Republicans maintain their hold or Democrats take over the House by the end of the day if the races boil down to the Golden State. And that's because California's midterm voting results could take the longest to trickle in.
The public — and the rest of the world — might have to wait to see which party will take the helm in the House in 2019 if the race is close and dependent on California's outcome. According to Politico, strategists estimate it could take weeks to figure out the winners in a number of neck-and-neck Southern California midterm elections, many of which are in typically conservative strongholds. One race that many have an eye on is in San Diego, where the incumbent Rep. Duncan Hunter faces corruption charges (which he has denied) but is still favored to win, according to the San Diego Union-Tribune.
The delayed gratification (for one of the parties) is due to more lenient voting rules in California "backed by the state's governing Democratic majority," Politico reported. Voting behavior has also shifted; more people are opting for mail-in ballots, which take more time to process and verify.
The delayed declaration of a winner in California happened not too long ago. Two years ago, Republican Darrell Issa, who represents CA-49, won by a slim margin, but his victory was not official until almost three weeks after Election Day, on the Monday following Thanksgiving, the LA Times noted. Issa's current seat is up for grabs between GOP candidate Diane Harkey and Democrat Mike Levin in another heated race.
The other closely-watched races include CA-45 between incumbent Republican Mimi Walters and Democrat Katie Porter; CA-39 between Democrat Gil Cisneros and Republican Young Kim; and CA-48 between incumbent Republican Dana Rohrabacher and Democrat Harley Rouda.
If control of the House does come down to California's seats, some Democrats fear the wait time could lead to the president alleging "voter fraud, followed by a flood of election lawyers rushing into the Orange County Registrar's Office," Politico reported.
"I think we're looking at Palm Beach 2.0, and this is a nightmare scenario everyone needs to be prepared for," Katie Merrill, a Democratic strategist said to Politico, referring to the controversial 2000 presidential race in Florida. "Trump will not let it stand if it comes down to California."
As for California's increasing preference for mail-in ballots, a method encouraged by state officials, the California Secretary of State reported that there have been historical record of vote-by-mail ballot use in the past several elections. The process is only made longer because a chunk of California voters procrastinate, said Orange County Registrar of Voters Neal Kelley to Politico. For example, 60 percent of Orange County is expected to fill out mail ballots, with at least 35 percent submitting them at polling places or dropping them into mailboxes on Election Day. The bulk of snail mail can add another ten days to the counting process.
There's no question that the midterm elections have energized people on both sides of the political aisle. For many, it may feel like it's taken years to reach November 6, but if it all comes down to California, the impatient will just have to hang on a bit longer to know the political direction of the United States.