Lisa Murkowski's Office Is Reportedly Getting More Calls Over Kavanaugh Than Ever Before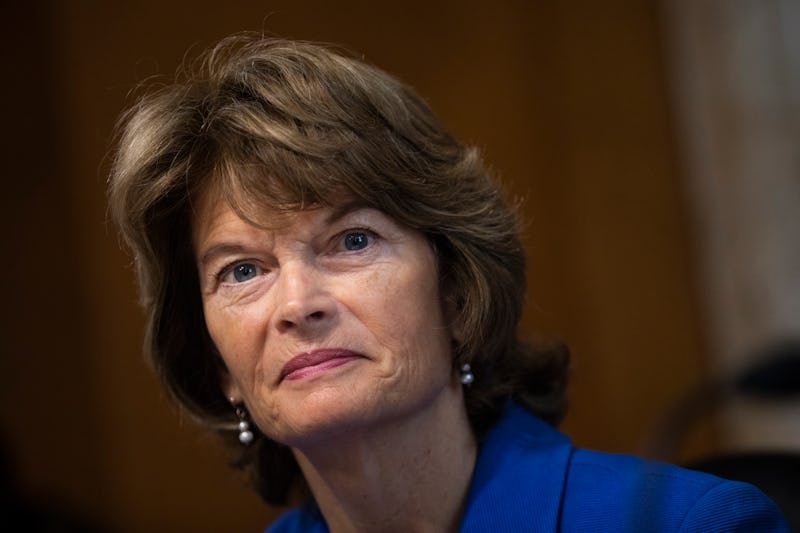 Drew Angerer/Getty Images News/Getty Images
The office of Alaska Sen. Lisa Murkowski is reportedly receiving a flood of calls concerning Christine Blasey Ford and Brett Kavanaugh. Calls to Murkowski's office on her Kavanaugh vote reached an "unprecedented" volume, according to Alaska Public Media reporter Liz Ruskin's tweet on Tuesday, surpassing what it got on her health care vote. Per Ruskin, the Alaska senator said, "All the voicemail boxes are literally filled within the first hour."
Bustle has reached out to Murkowski's office for comment. Ruskin's tweet comes almost a week after Kavanaugh and Ford testified before the Senate Judiciary Committee on Sept. 27. The hearing was centered on Ford's accusation against Kavanaugh in which she claimed the SCOTUS nominee sexually assaulted her decades ago in Maryland when they were teenagers. Kavanaugh has categorically denied the allegation, and in his opening statement described it as a "political hit" by the Democratic Party.
As The New York Times reported, Murkowski plays a critical role in determining whether Kavanaugh will be confirmed to the Supreme Court. The newspaper dubbed her a swing voter in the Senate — like in 2017 when Murkowski and Maine Sen. Susan Collins broke with the Republican Party to oppose repealing the Affordable Care Act.
Now, in 2018, Kavanaugh's confirmation vote once again puts Murkowski in the spotlight. In comments made to The Times, Murkowski said, "We are now in a place where it's not about whether or not Judge Kavanaugh is qualified. It is about whether or not a woman who has been a victim at some point in her life is to be believed."
In a video posted on Tuesday, CNN reported on how locals in Alaska feel about Kavanaugh. After going to the Mentasta Village, where many of the indigenous people of Alaska live, CNN's Gary Tuchman reported that the native population felt strongly about the Kavanaugh case. And it seemed as if most of them opposed the SCOTUS nominee.
At one point, Tuchman spoke with six Alaskans in the village and asked if anyone of them would want to see Kavanaugh appointed to the Supreme Court. Everyone shook their heads and said no to the prospect. One Alaska native, Anita Andrews, told Tuchman, "As a survivor of sexual abuse, I think it takes years for people to come out with this. Some victims come out immediately." Others, she added, took time to detail their trauma in public settings.
"I think this is what happened with [Ford]," Andrews said.
So far, it's not known whether the majority of calls have asked Murkowski to oppose Kavanaugh or vote for him; Bustle has reached out but the senator's office has to yet to provide more detail. But if the CNN report from Tuchman is adequately illustrative of local sentiment in Alaska, it seems as if the locals want nothing to do with Kavanaugh.
And if Murkowski does indeed vote for the SCOTUS nominee, some of the locals told CNN that she may lose grounding with them — perhaps permanently. One of them told Tuchman, "She won't have my support in the future."