This Trendy Luggage Will Make Your Trip Ridiculously Instagrammable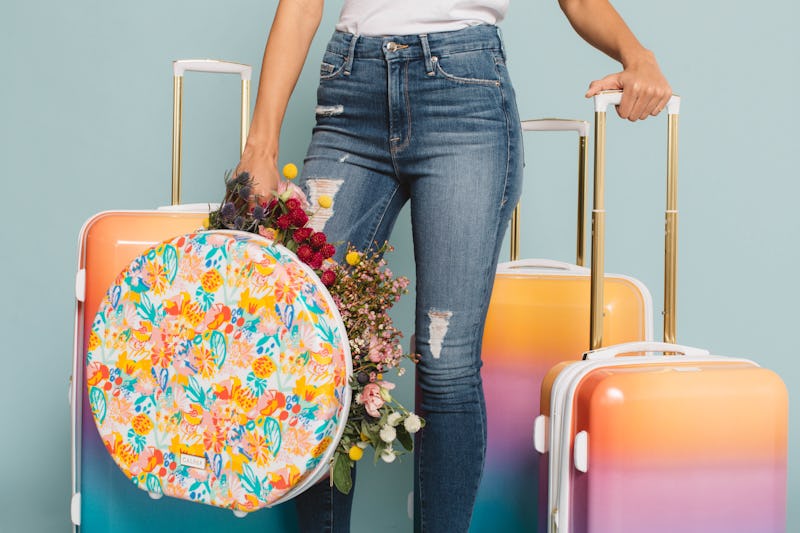 Courtesy of CALPAK
If you're looking for the perfect excuse to plan your next getaway, look no further. CALPAK and Oh Joy! teamed up to create a luggage line that is perfect for all your travel 'grams. And it will make you want to book your next weekend trip stat.
There's nothing worse than getting to baggage claim after a long trip and struggling to try and find your luggage. Well, that problem has been solved. CALPAK and Oh Joy! thought up three gorgeous, brightly colored patterns to make sure you and everyone else knows which bag is yours.
In the colorful collection, there's three different patterns and tons of different style to choose from. The patterns include Confetti, that, well, looks like confetti, Sunset, an ombré of orange, pink, and blue, and a tropical floral print.
The luggage choices are even better. You can choose from the classic two or three-piece set, a hat box, and all of the organizational bags to go inside of it. Because the last thing you want to have to do is struggle organize your bags on top of a vacation. The five-piece organizational sets come in all three of the different prints too, so you can have it all together — or at least look like it.
According to the press release, designer Joy Cho choose to partner with Oh Joy! because of the brand's notoriously fun vibes.
"I love the quality and chicness of their luggage," Cho says in the press release. "They combine high quality and beautiful design but their products are still priced within reach."
All three of the styles and all ten of the options are available to purchase right now. You can snag the sets on the CALPAK website. You can also shop at Nordstrom, Shopbop, and Urban Outfitters. Basically, there's no reason not to stock up for you next vacation.
If you think the availability of the collection is good, you're going to love the buying options. Each patterns is available in a carry-on, medium, and large size, as well as the organizational bags. You can buy each one separately, in a two-piece set or three-piece set. The bags range from $135 to $180 separately, or $285 to $385 for the set.
Trendy and functional bags aren't the only items you'll find on the CALPAK website, either. You can also snag luggage tags to charge your phone and backpacks, although these extras aren't available in matching prints to the collection.
The brand also offers soft-sided bags and duffle bags, too. There's everything from quirky Instagram-worthy prints to classic colors. The CALPAK and Oh Joy! collab might be limited edition, but there are plenty of other styles to take on vacation even after the collaboration is gone. Of course, none are as colorful as the Cho's patterns though.
"You don't see suitcases with patterns very often, so it was important to me to make sure the patterns were ones that someone would love to use for a long time to come," Cho tells Bustle. "Since we wanted to make the patterns feel like a timeless version of Oh Joy!, the prints were based on optimism, joy, and the idea of bringing the party wherever you go."
It might still be freezing and snowy where you are, but there's no better time to stock up on these summery vacation bags. You'll want to shop now before this collection is gone for good.