A HUGE Jerome Twist Is Coming In 'Gotham' Season 4, According To One Of Its Stars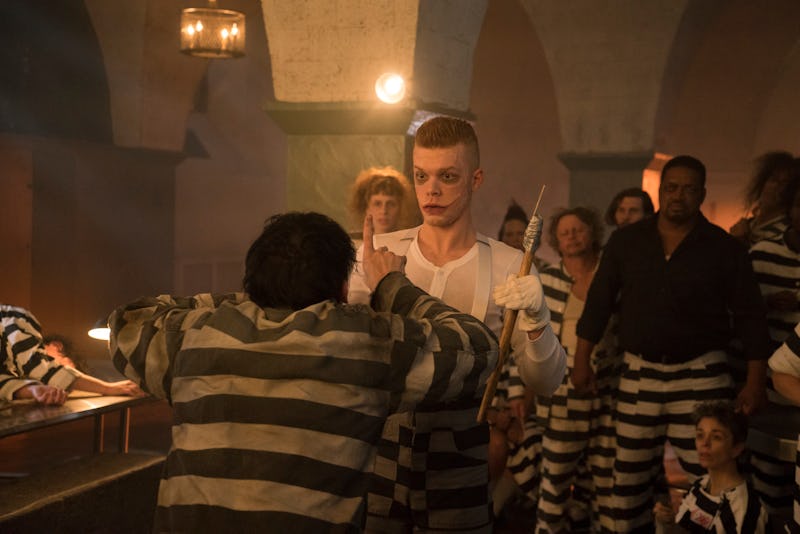 Barbara Nitke/FOX
Spoilers for the second half of Gotham Season 4. There are few Gotham characters fans like to see more than Cameron Monaghan's Jerome Valeska, who's the closest this series has come yet to the iconic Batman villain the Joker. Jerome was locked up in Arkham when he last appeared, after being resurrected from the dead and having to sew his face back into place after a supporter sliced it off. Not only is Jerome returning in Season 4, but Cameron Monaghan is playing another character on Gotham too, according to co-star Morena Baccarin. Bustle reached out to Fox for confirmation, but had not received a response by the time of publication.
"Cameron Monaghan's coming back," says actor, who plays Lee Thompkins, speaking to Bustle at a Gotham screening at Tumblr's New York office. "He's never really left us. He's got some incredible scenes." Those scenes will probably include Oswald, since the Penguin was carted off to Arkham in the midseason finale and may wind up as Jerome's cellmate. But Baccarin also revealed that Jerome will have another ally — one that looks remarkably like him. This is huge news, because, frankly, the cycle of killing and reviving Jerome is starting to get ridiculous, so it's good to know if he winds up being written off of the show for good, there will still be a chance to keep Monaghan around.
The actor didn't specify the name of Monaghan's new Gotham character, but indicated that he's a member of Jerome's own family. Since Jerome had a pretty terrible childhood that led him to become what he is today, it's likely that this relative won't have had a much sunnier experience growing up. According to Baccarin, this character is also "psychotic" and together, the two will be "leading Gotham to revolt."
Could Jerome's signature unhinged smile and his ability to rally followers be a family trait? When the show returns on March 1, fans will finally be one step closer to finding out. According to an interview Ben McKenzie (Jim) gave to Enterainment Weekly recently, Jerome's new relative won't be his only ally this season. "He teams up with Scarecrow and Mad Hatter. You get a lot of villainous bang for your buck here at the end of season 4," he said.
As with any other Jerome development, this one also begs comparison to the canonical Joker. Back in 2016, the comics introduced the concept of the Joker having three identities, each one a certain Joker archetype, from the most lighthearted prankster to the dark and gritty psychological torturer to the contemporary spin on the Clown Prince of Crime featured in the last 75 years of comics. And as Cracked pointed out, there have been several storylines (including a Court of Owls run) wherein villains attempted to pretend to be related to Batman. Secret family history and long-lost relatives have always been a huge theme in the comics, since Bruce Wayne lost his parents at a young age.
So the Joker having a brother or cousin he's close to that picks up his mantle after his death would be a perfect spin on a familiar comics theme. However, the "Jerome is the Joker" theory has been debunked a few times. David Mazouz (Bruce) told ComicBook.com in late February that while Jerome and the Joker are connected, they are not the same person. So could his long-lost family member possibly fill that role? It would be a brilliant way to respect fans who love Monaghan's performance while still changing up the source material.
And as the series heads towards its fourth season finale, Baccarin promises there will even more twists in store, many of them at the hands of Monaghan's two characters. "We're starting to shoot [Episode] 21, the one before the finale," she tells Bustle. "It's complete chaos. Everybody's getting screwed over by everybody. Every crazy person you ever met on Gotham is out and wild and running around the city."
Sounds like an Arkham escape and a bit of a city civil war might be in store for the finale. And with two Jeromes running around, Gotham's good guys will have their hands full.
Additional reporting by Sage Young.