Camila Cabello Basically Wore A Purple Wedding Gown To The 2018 VMAs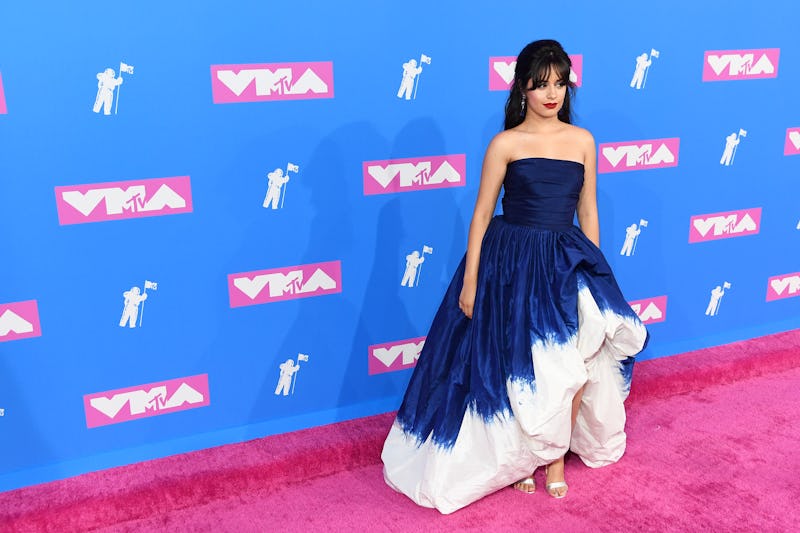 Nicholas Hunt/Getty Images Entertainment/Getty Images
If you, too, have found yourself singing "Havana oh-na-na" repeatedly without realizing quite why, then you understand just how famous Camila Cabello is. The former Fifth Harmony member is a superstar in her own right now, and Cabello's 2018 VMAs appearance (and that blue and white dress) are proof that she's really come into her own. And that her trajectory to being one of the biggest stars in the entire music industry isn't slowing down any time soon.
The "Sangria Wine" (another song you've probably had stuck in your head roughly 200 times, if you're anything like) singer wore a strapless purplish gown featuring white details. The singer paired the gown with silver shoes, a bright red lip, a simple half-up, half-down hair style, and statement earrings with purple accents The dress is gathered on one side to show off the shoes, and it even has a tie-dyed effect at the bottom of the skirt. It's a great balance of playfulness with a classic silhouette, a look that Cabello is no stranger to on red carpets. Plus, the red lipstick is really the extra bit of 'oomph' that brings the look to the next level.
Overall, the look is totally Cabello's style and is a silhouette that is super familiar for the star. If you compare the 2018 VMAs look to Cabello's 2018 Billboard Awards gown (which was her most recent red carpet appearance), the VMAs outfit is slightly more dramatic and daring — although it does feature the same idea of a solid color with white details. It's definitely a statement look for the star, who usually opts for column-style dresses instead of ball gown shapes.
But all of this makes total sense given that the Video Music Awards are all about the element of surprise. Absolutely anything goes, and that means Cabello probably felt free to both experiment with her style and wear something that she was totally comfortable with. The MTV Video Music Awards are perfect for this kind of style combination.
When you compare the Billboards dress with the VMAs look, it's clear how much Cabello's style is evolving over the years. It's subtle, and all of the looks are totally in line with Cabello's personal style, but they're evolving here and there, as well, just like her career is. While Cabello didn't attend the VMAs in 2017, she did make an appearance — sort of.
Cabello's former band Fifth Harmony performed at the 2017 VMAs, and started their set by having five members appear — only to have one jump from the stage. Many noted that this was an obvious diss toward Cabello, although Fifth Harmony explained later that it wasn't a diss at all. In any case, Cabello's presence at this year's VMAs is proof that she didn't let the performance bother her in the least.
While it doesn't seem like Cabello's outfit is saying anything in particular about the 2017 diss, it does reflect just how confident the star is in her own music, career, and sense of style.