Camille Cosby Smiled Walking Into The Courthouse With Bill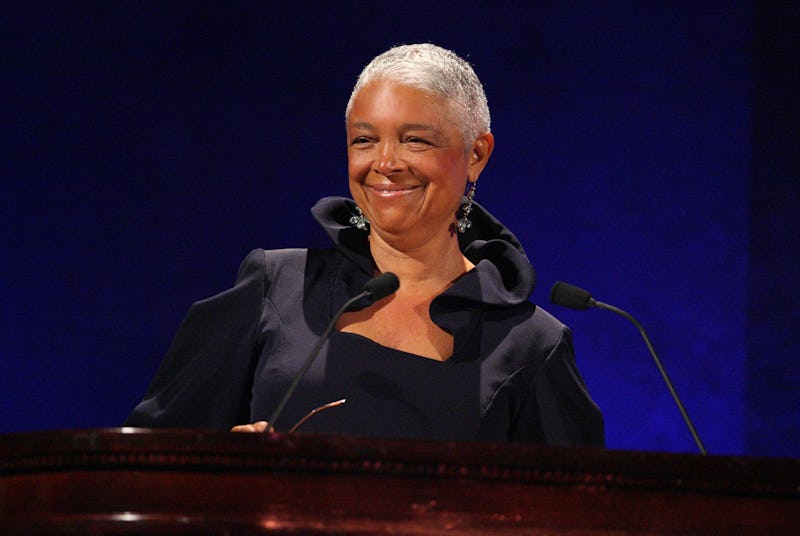 Bryan Bedder/Getty Images Entertainment/Getty Images
Despite the public condemnation of Bill Cosby, one person has consistently supported him. Camille Cosby has stuck with her husband through admissions of infidelity and accusations of drugging and rape, which he has denied. And while she kept her distance from his trial in Pennsylvania during the first week, on Monday, Camille Cosby smiled widely while walking with Bill, and people are pretty uncomfortable with it.
Camille's decision to remain married to Bill throughout his infidelity is a personal one, and she has every right to make it. But it became more complicated as it came to light that more than 50 women have accused him of sexual assault. Although she was absent at the beginning of his trial, Camille has been loyal to Bill the whole time. Back in February of 2016, Camille was questioned for six hours in a deposition as part of a defamation lawsuit from seven women who claimed Bill had called them liars after they had accused him of sexual assault (Bill also counter-sued the women for defamation.) During the deposition, she repeatedly invoked her right to not testify against her spouse.
Camille also publicly defended her husband in a 2014 statement after allegations began surfacing, saying:
He is the man you thought you knew. A different man has been portrayed in the media over the last two months. It is the portrait of a man I do not know. It is also a portrait painted by individuals and organizations whom many in the media have given a pass. There appears to be no vetting of my husband's accusers before stories are published or aired. An accusation is published, and immediately goes viral.
Photos of Camille walking into the courthouse arm-in-arm with Bill, grinning widely, circulated on Monday. As expected, the internet had a few things to say about it.
A Reading Of The Situation
The Tenants Of Marriage
She Can't Hide Her Joy
It Seemed A Bit Inappropriate
A Little Too Joyous
Camille Cosby And Carmela Soprano
Bill is currently on trial for three counts of aggravated indecent assault against Andrea Constand, a former basketball coach at his alma mater, Temple University. The alleged assault occurred in 2004, when Bill, a mentor of Constand, invited her over to his house near Philadelphia to talk about her career. She claims that Bill drugged and raped her.
He denies the allegations, maintaining that they had consensual sex. After a week of hearing the prosecution's case, including testimony from Constand's mother, Bill chose not to testify at the hearing on Monday, and the defense rested its case after questioning only one witness.
We'll have to wait to see how the trial ends and the jury decides on Bill's fate, and how it will affect his family, including Camille.