Andy Cohen Has Revealed How Camille Grammer Fits Into 'RHOBH' Season 8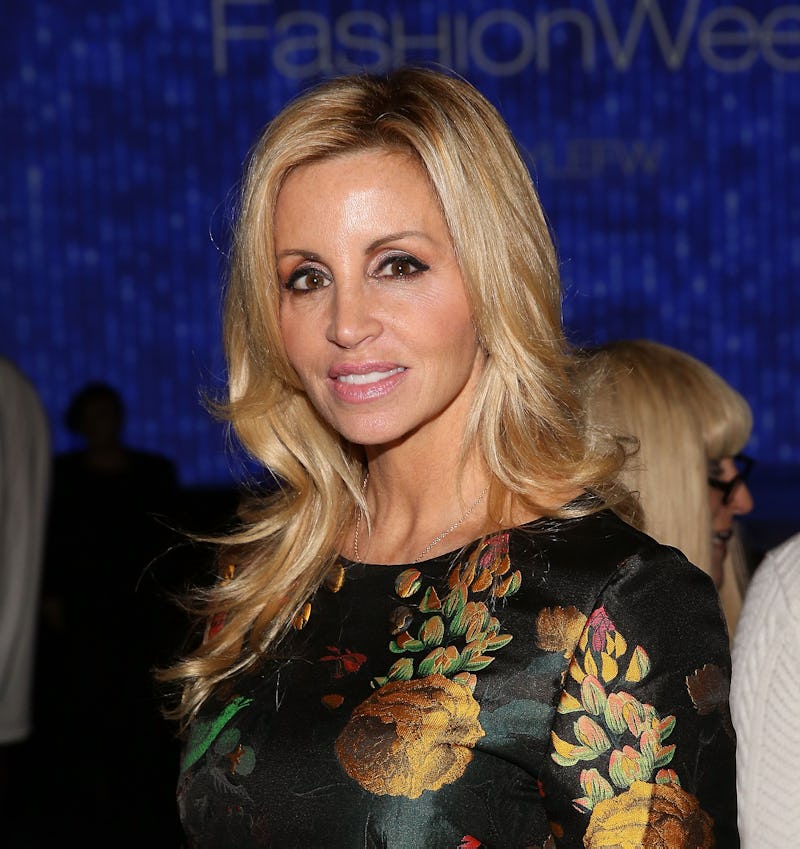 Robin Marchant/Getty Images Entertainment/Getty Images
There is a lot to look forward to this December — besides the winter holiday, that is — because The Real Housewives of Beverly Hills returns on December 19, with a fabulous looking new season. Even better, Camille Grammer is back as a Friend of the Housewives, as Andy Cohen tells Bustle. And judging by social media it seems like she is going to appear in a number of episodes during RHOBH Season 8.
Speaking with Cohen as part of Purina's #DogThanking campaign ahead of the National Dog Show Presented by Purina, and the Watch What Happens Live host reveals that Grammer "is a Friend" in RHOBH Season 8 "She's always going to be in the Housewife universe," Cohen says.
His confirmation comes as a relief to us fans of Grammer, as she wasn't really featured in the RHOBH trailer that was released on Thursday. In seasons past, she has been featured as a "Guest," so being a "Friend" is a step up, even if it's not the big step up some fans were hoping for.
As you can tell from the preview, Grammer isn't going to be holding a diamond as a full-time Real Housewife this season. According to Cohen, she had a rough experience during the first season of the show, which is why she left after Season 2 and has only seen in small appearances as a Guest in Seasons 5 through 7.
"You know," Cohen said, "Camille really had a rough first season, and so I think she feels… I think it might be challenging for her to be in front of the camera, because she let everything rip Season 1 and she had a rough time with it."
Despite her difficult first season, Grammer appears to have settled into her role as being a Friend of, and then Guest on RHOBH. And as those of us hard-core Bravo fans know, Friend of is higher on the totem pole than a Guest, so it seems as though Grammer has gotten a bit of a promotion for Season 8.
Grammer had appeared in a number of Instagram posts with various RHOBH cast members recently, including a trip to Las Vegas along with Adrienne Maloof, leading some to speculate that she'd have an increased role in the new season.
In addition to the group photo in Las Vegas, Grammer was also spotted supporting Dorit Kemsley at the launch of her resort wear line, and the whole RHOBH cast went to NYC to support Grammer's daughter, who walked in a New York Fashion Week show.
Just look at how much fun Grammer seems to be having with Lisa Vanderpump and Kyle Richards, both of whom co-starred alongside her when the reality show debuted:
Although she's grown to be a fan favorite, in Season 1, viewers weren't very receptive to Grammer. During the show's first season not only did we saw her marriage fall apart, but Grammer also butted heads with several of her co-stars. When Season 3 debuted, and it was reported that Grammer's role had been reduced to a Friend, she explained to All Things Real Housewives that it was a decision made by both her and the producers of the show. "I didn't want my children to appear on the show or to air any more of my divorce," she said. "I also didn't want to air my relationship," she continued, "so from there the decision was made to reduce my role."
Grammer also reflected on her difficult first season to ATRH, and said,
"It was so difficult. I felt like I was being kicked from all sides. My husband had abandoned me, the feedback I was getting from the show was brutal, and I felt like nobody was giving me a break. I even had to get off Twitter for a while, because of some of the comments I was receiving."
Grammer won over the hearts of viewers with her refreshing honesty during Season 2. It's been great having her back as a Guest for the past few seasons, but now that she's back as a Friend for RHOBH Season 8 it's giving us fans of Grammer one more reason to look forward to the show's premiere.