Camille From 'RHOBH' Is Battling Cancer Again & Shares An Important Message With Fans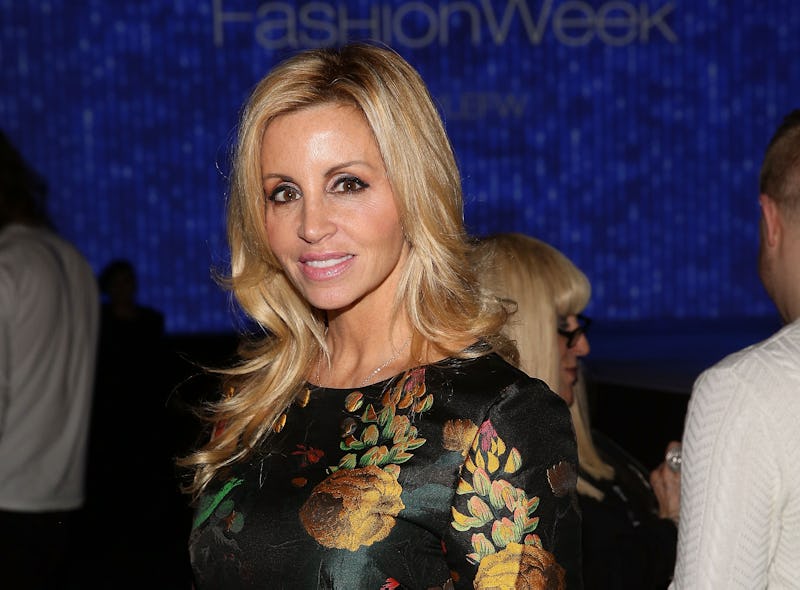 Robin Marchant/Getty Images Entertainment/Getty Images
The Real Housewives of Beverly Hills star and devoted philanthropist Camille Grammer confirmed she was diagnosed with cancer again. Early Thursday morning, the Bravolebrity shared some photos she took at Cedars-Sinai. The pictures are from when she was undergoing treatment for squamous cell carcinoma, a form of skin cancer that develops in the middle and outer layers of the dermis, according to the Mayo Clinic's website.
"Thank you Dr. Beth Karlan for removing those pesky cancer cells," she wrote on Instagram, alongside a picture of the doctor. "You are Amazing!" Grammer continued,
"This is my second cancer diagnoses. Thank God We found it early. (squamous cell carcinoma) *Early detection is key. My cancer was removed and I'm resting at home. Ladies listen to your bodies. If something doesn't seem right go for a checkup. Don't put it off. Annual check ups are important."
After announcing her diagnosis on Thursday, the reality star told People magazine that "many people" will ignore symptoms of this form of cancer. She explained,
"They'll think, 'Oh it's a mole, it's a pimple, it's a rash, it's an ingrown hair from shaving.' … This isn't an aggressive cancer, but if it goes undetected, it could spread and metastasize to the lymph nodes and other organs close to the area. I'm lucky we found it early."
Grammer's message to her followers is a crucial one: If something seems amiss health-wise, don't hesitate to get it looked at. Detecting cancer early on can make all of the difference in the world.
As RHOBH viewers know, this is not Grammer's first battle with cancer. According to E! News, Grammer was diagnosed with stage 2 endometrial cancer in 2013. She underwent a radical hysterectomy that year, and then completed chemotherapy and radiation in January 2014. "I have survived it, I am a warrior," she told Entertainment Tonight in 2016. "I am in remission and will be three years [cancer-free] in January."
"I went through cancer, treatment and surgery," Grammer recently told the Daily Star Online, "and [The Real Housewives of Beverly Hills] is a fantastic platform to raise awareness for the foundation I work with and am a spokesperson for and to help others that have gone through what I have gone through." She continued,
"It's a fantastic platform because it reaches so many people and so many women – our audience is mainly women – so why not use that platform for good?"
Grammer has spent the last several years working with the Foundation for Women's Cancer, a nonprofit that is striving to "end women's cancer by advancing research, education and awareness in partnership with the Society of Gynecologic Oncology." When Grammer was named the Chair of the National Race to End Women's Cancer and a spokesperson for the Foundation in 2015, she said,
"I am raising awareness in honor of my mother, Maureen Donatacci, who continues to battle her canc er. I want women to learn the symptoms and listen to their bodies, to get an early diagnosis and the best care possible."
In 2016, the National Race to End Women's Cancer presented her with the Public Service Award for her dedication to the Foundation. According to the Foundation for Women's Cancer website, Grammer has raised over $50,000 for the cause as of 2016.
Nestled among the hundreds of replies to the photos Grammer shared on was a message of support from Kim Richards. Grammer's RHOBH co-star wrote, "sending you lots of love." Right there with you, Richards.
Grammer has proven time and time again that she is a strong and courageous woman, and her most recent cancer battle is no exception. Fans are wishing the Beverly Hills Housewife-turned-friend of Housewives the speediest of recoveries.