Here's Whether Trump's National Emergency Could Be Blocked In Court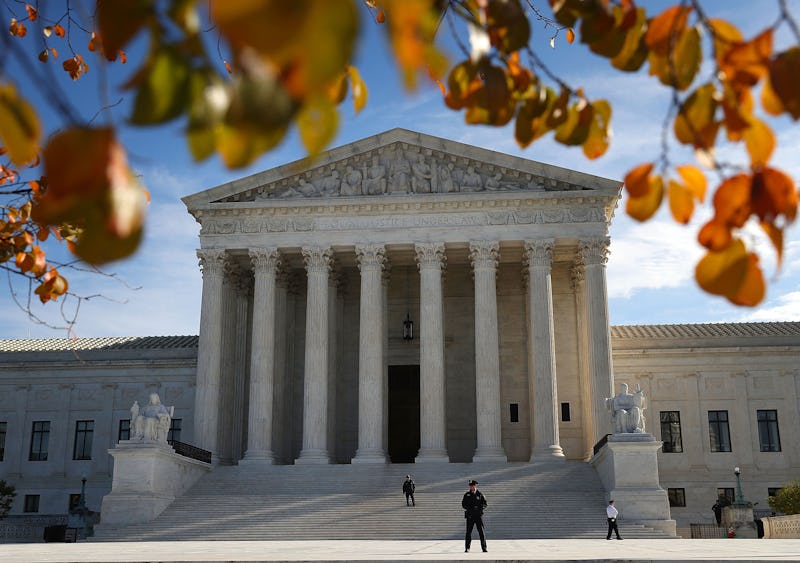 Mark Wilson/Getty Images News/Getty Images
Thursday afternoon, minutes before the Senate approved a spending bill to stave off another shutdown, the White House announced that President Trump would be declaring a national emergency. Fulfilling a threat the president has made since the beginning of the 35-day shutdown several weeks ago, it would allow him to appropriate military funding for a border wall that Democrats in Congress refuse to support. But according to The Washington Post, Trump is still looking at some roadblocks along the way, as a national emergency appears likely to be challenged in court.
The power to declare a national emergency comes from the National Emergencies Act of 1975; it's basically a measure to allow the president special (temporary) powers in order to handle a crisis, without having to wait on Congress for a lengthy vote. In the past, president's have used this option to handle events like the Civil War, the Great Depression, and the Sept. 11 attacks. In fact, the nation is currently under 31 other active national emergency declarations right now, dating back to 1979.
According to the Congressional Research Service, there are a number of legal questions that will come into play if Trump goes ahead with this declaration. These include whether the current situation at the border "rise[s] to the level of a 'national emergency'," and whether it's appropriate for the military to even get involved.
According to The Post, national emergency funding for the wall could come from Department of Defense's $10.3 billion in military construction funds, or potentially even from the existing $13.9 billion in federal disaster funds. Assuming the president sticks to his demand for $5.7 billion in wall funding, the first option would drain a significant chunk of the appropriated construction budget, redirecting money away from projects like military family housing, and medical and educational facilities.
There's already a history of controversial national emergency declarations that could indicate how Trump's would be challenged. "Look, if Harry Truman couldn't nationalize the steel industry during wartime, this president doesn't have the power to declare an emergency and build a multibillion dollar wall on the border," Rep. Adam Schiff told CNN, referring to the Korean War-era Supreme Court case Youngstown v. Sawyer. "So that's a non-starter."
Already, several civil rights organizations, including Public Citizen and Protect Democracy, have indicated that they are ready to sue the White House if the declaration goes through. "Throughout history, autocrats have used so-called emergency powers to seize control from democratic systems that don't yield to their will," Kristy Parker, counsel for Protect Democracy, said in an emailed statement. "Often, they have invented fake crises for this purpose and we should all be extremely alarmed that President Trump has reached for this tool in the autocrat's toolkit ... It's unlawful here and we look forward to the courts upholding our framers' vision."
House Democrats, led by Speaker Nancy Pelosi, are also gearing up for a legal challenge if Trump issues what Pelosi described to reporters as an "end-run around Congress." House Judiciary Committee Chairman Jerry Nadler told The Post that they intend to pass a joint resolution formally condemning the president's planned declaration. Though it won't necessarily have actionable consequences, it will force Senate Republicans to vote, and publicly declare which side they're on.
"This is a gross abuse of presidential power," Nadler told The Post. If either the Senate or the president rejects the statement, he said to the outlet, "we'll probably go to court after that."