A Texas City Is Trying To Ban Abortion & It Might Not Go As Planned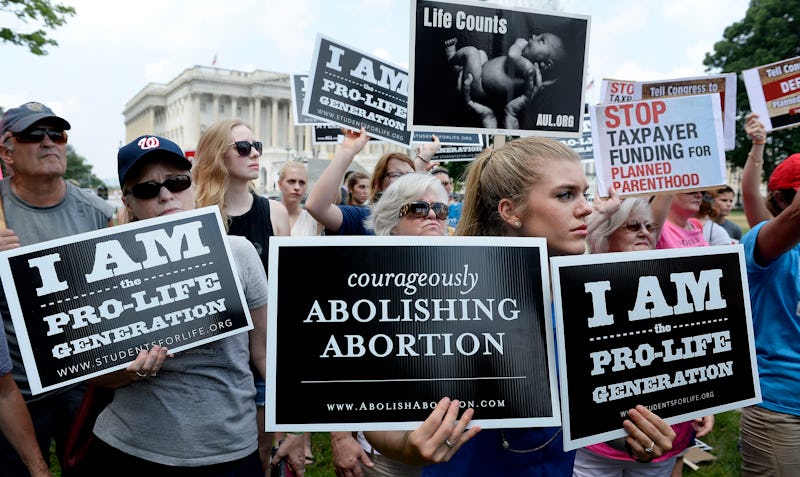 Olivier Douliery/Getty Images News/Getty Images
Since the beginning of 2019, Alabama, Georgia, Louisiana, Arkansas, Kentucky, Utah, Missouri, and others have passed various anti-abortion bills at the state level. But can cities ban abortion? Waskom, Texas issued an ordinance calling the small city situated on the Texas-Louisiana border a "sanctuary for the unborn," Fox 26 Houston reported on Wednesday. The council said that it modeled its ordinance based on a similar resolution passed by the city council in Roswell, New Mexico, in March.
While the city council has the power to issue the ordinance, it could face legal battles if it passes, including a temporary injunction. In fact, Waskom Mayor Jesse Moore said that in spite of the unanimous support the ordinance received, the city could end up tangling itself in a lawsuit in federal court (though there are no reports of legal action at the moment). "Most likely we will end up getting sued if this passes," Moore said, per The Hill. "It could go to the Supreme Court." On top of that, Waskom city attorney Kurt Truelove called the ordinance unconstitutional, per KTSA.
The announcement comes shortly after Louisiana Democratic Gov. John Bel Edwards signed a six-week abortion ban into law in late May. Supporters of the ordinance in Waskom, which is 20 miles west of Shreveport, Louisiana, worry that people seeking abortion in their neighboring state may turn to their city to get the procedure, per KTSA. But there are no abortion services in the city, as KTAL noted. Still, ordinance supporters are calling their move a "preventive" step.
According to KETK-TV, the city council of Waskom, a five-member all-male panel, said laws allowing abortion are "unconstitutional usurpations of judicial power, which violate both the Tenth Amendment the Republican Form of Government Clause, and are null and void in the City of Waskom."
As mentioned before, the Waskom city council said that they based their ordinance on Roswell's resolution which passed with a 7-1 vote in March. The city council declared itself a "sanctuary for the unborn," The Roswell Daily Record reported, while the city's mayor, Dennis Kintigh, said the resolution was introduced and discussed "in a dignified and heartfelt way." According to Kintigh, the resolution — which has yet to face legal action — reflected the Roswell community's character.
On the other hand, city councils in states like Utah, Ohio, and Georgia have voted to oppose their states' restrictive bans on abortion since 2019 began. In comments to The Atlantic's CityLab on June 7, Tara Sweeney, who is the vice president of communications for The National Institute For Reproductive Health, noted that city council ordinances — be it in favor or against abortion services — are non-binding. In other words, they can be opposed in court.
Still, when it comes to city councils refusing to obey state level abortion laws, Sweeney said they carry a message for residents who worry about access to reproductive health care services. "What they are is an embodiment of the values that the leadership of a city holds," Sweeney told CityLab. "For a city council, especially in a restrictive state, to present a resolution opposing a restriction that its state has passed sends a powerful message to the residents of that city."
"It shows there are leaders who are thinking about the health and well-being of city and state residents even when it looks like leaders on a state level are not taking that into account," Sweeney explained.
As for Waskom, Alderman Jimmy Dale Moore told the crowd about possible legal action against its ordinance — and how expensive it could be. "We don't have the possibility of millions of dollars to take it to that level," he said, adding that the city council will need "nickel and pennies" from residents. "We can't pay those types of attorney fees."