Places To Charge Your Phone At The Women's March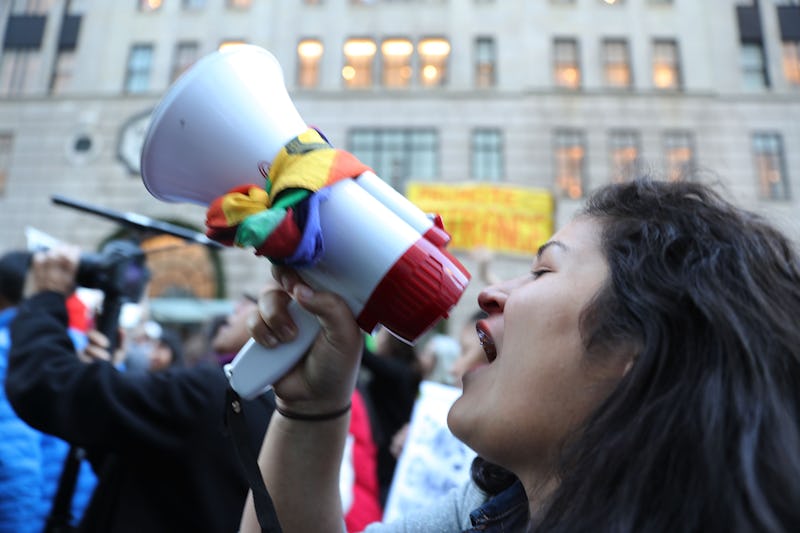 Spencer Platt/Getty Images News/Getty Images
It's going to be one busy weekend in Washington, D.C. Thousands of Americans are going to the nation's capital for the Jan. 20 inauguration of President-elect Donald Trump. But thousands more will descend on D.C. for The Women's March on Washington, happening the very next day, Jan. 21. More than 200,000 people have indicated they will be attending the march, an unprecedented number for an inauguration protest. Beginning at 10 a.m., the march is expected to end around 1 p.m. Given how long it will likely take most attendees to transport themselves to and from the march, Saturday could be a six- or seven-hour day. That necessitates the question: Will there be places to charge cell phones?
As of now, the official answer is unclear. On its website, the Women's March does not specify any set charging stations or march route stops that will provide such services. In fact, they warn that marchers should be prepared for the possibility of cell service interruption. And if the number of attendees does reach 200,000, that seems like a real possibility. Such an unusual upsurge of users could clog service networks. Maybe you won't need that charge anyway.
March organizers will be updating the march route soon, but for now the starting and ending location are the only definite knowns. The Women's March will start at Independence Ave and Third Street SW, and end near The Ellipse, just south of the White House. Google Maps indicates this is a roughly two mile walk, and marchers will likely cross many D.C. icons, including the Smithsonian Museum and Castle. If all else fails, the Smithsonian has a list of restaurants and cafes that might just offer the truly desperate an open outlet.
For those who can get their hands on it before Saturday, Best Buy offers a range of portable iPhone chargers. They can get pricey, so this is a recommendation only for those who know they'll get anxious or distracted without the ol' smart phone being fully charged.
Good advice for anyone attending The Women's March is to make sure your phone is all charged up before leaving in the morning. Another tip is to switch your phone to battery saving mode, and make sure to close out of all apps and unnecessary windows. Washington, D.C., is always crowded anyway, and with the massive influx of visitors expected this coming weekend, finding an open charging outlet will almost certainly be a difficult task.