Can I Go To The Inauguration? Of Course You Can!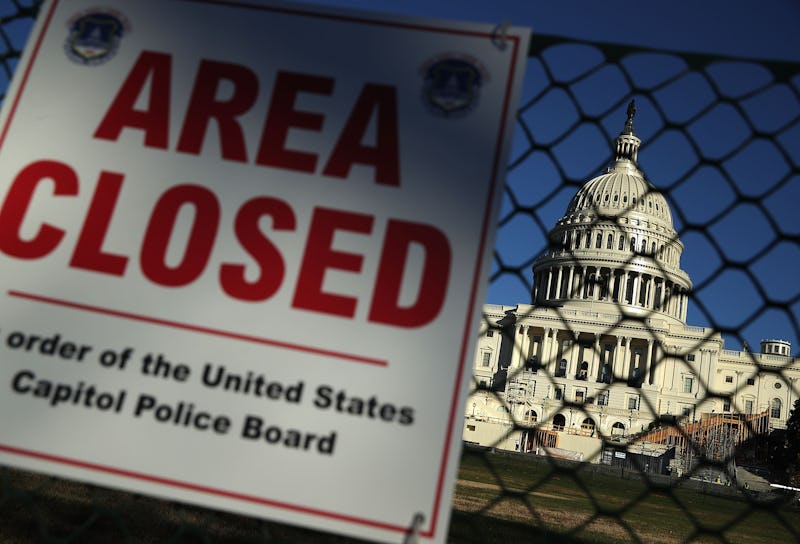 Alex Wong/Getty Images News/Getty Images
No matter what you think about the incoming president, the Inauguration Day festivities are going to be an experience to remember. But if you're not, like, a new cabinet pick, can you actually go to the inauguration? The short answer is that you absolutely can — and the long answer is that it's a bit more complicated than just showing up.
Basically, you can definitely go to Washington D.C. on Jan. 20, and you can definitely go to the National Mall to watch the swearing in and the inaugural speech on the screens that they'll have set up for the thousands of expected visitors. It's a free, public event, so as long as you come early enough to work your way through the crowds and any security checks that you might run into, you'll get to see everything that you could possibly want to see.
Getting onto the platform in front of the Capitol building, however, is another matter entirely. There simply isn't enough space to let everyone in, so you have to obtain a ticket from your local congressman's office. Even if you apply, though, it won't be guaranteed that you'll get one — they'll either have a wait list or a lottery for all the people who request them. You'll be able to see and hear everything from the National Mall, though, so if you don't happen to be one of the lucky ones up front, don't worry about it.
After the swearing in and the inaugural address, the real festivities begin. The Inaugural Parade will take the new president and vice president from the Capitol down to the White House, and if all you really want is to see the two of them in person, this is your best chance to do it. Again, you'll have to plan for crowds, but you don't need a ticket to the Inaugural Parade — unless you want a guaranteed bleacher seat, in which case you'll need to try to order one through the Presidential Inauguration Committee the week or so before. If you just want to catch a glimpse of everything going past, you'll be totally fine just showing up early and camping out along Constitution Ave. or Pennsylvania Ave.
The inaugural balls, both official and unofficial, are definitely the most glamorous part of the whole affair. You can attempt to get tickets to the official Inaugural balls online, but they're often by invitation only. If you want a plan that you can count on, find your favorite of the many unofficial Inaugural Balls held all over the city, in varying levels of formality. No matter what you're looking for, there will definitely be one to satisfy your taste and your price range.
Fundamentally, presidential inaugurations are supposed to be celebratory events for anyone who's interested in attending, so most of the events are public and as accessible as possible. But, of course, there are limitations. So make your plan, and then prepare for what is sure to be a memorable event no matter what.