Trump's New Policy Could Affect Plans To Travel To Cuba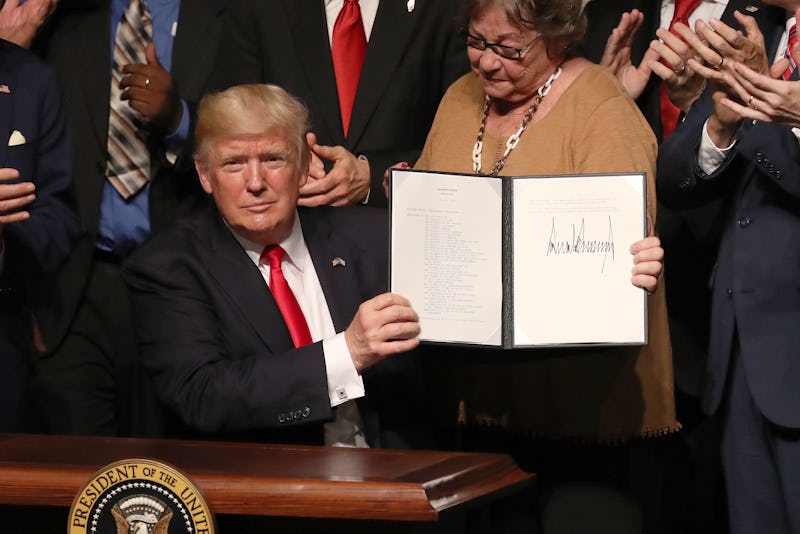 Joe Raedle/Getty Images News/Getty Images
On Friday, slightly more than two years after the Obama administration began a thawing of relations that opened up Cuba to American visitors, President Donald Trump signed an order rolling back many of those reforms. Which, from the perspective of a would-be American traveler, raises an obvious question: can you still travel to Cuba despite Trump's rollback, or will that be off-limits once again?
The short-term answer is yes, you can still visit, although it's unclear how much longer today's relatively unfettered travel will be allowed. As it stands, Americans are technically only allowed to visit Cuba for a range of "person-to-person" reasons, detailed on the website of the U.S. Embassy in Cuba as follows:
The 12 categories of authorized travel to Cuba are: family visits; official business of the U.S. government, foreign governments, and certain intergovernmental organizations; journalistic activity; professional research and professional meetings; educational activities; religious activities; public performances, clinics, workshops, athletic and other competitions, and exhibitions; support for the Cuban people; humanitarian projects; activities of private foundations or research or educational institutes; exportation, importation, or transmission of information or informational materials; and certain authorized export transactions.
Those 12 categories of authorized travel will still remain under the new Trump restrictions, but the extent to which they're enforced figures to tighten considerably. Under Obama, American travelers could essentially declare their reason for visiting without it being questioned or closely scrutinized, meaning such travel was effectively, though not officially, open.
Under the new Trump restrictions, however, those reasons will reportedly be more aggressively policed, meaning that someone who might not have a technically compelling justification for visiting is far more likely to hit a roadblock.
Not all of Obama's Cuba policies will go by the wayside. The establishment of embassies in both Cuba and Washington, D.C. will reportedly continue, and diplomatic relations will not be halted. Also, the administration will not ban the import of certain Cuban goods, like its world-renowned cigars. But for the purposes of private tourism, things figure to get much more difficult.
The new regulations have received strong support from two prominent Cuban-American elected officials, Republicans Sen. Marco Rubio and Rep. Mario Diaz-Balart, who both reportedly pushed hard for the president to make this move.
America's Cuba policy has long been a hot-button political issue, thanks to the thriving population of Cuban expatriates living in Miami. That's why Trump rolled out the policy shift at an event in the city's Little Havana district ― staunch anti-Castro politics have historically helped the GOP's competitiveness in Florida, a crucial electoral college state.
As NPR detailed on Friday, nothing will change under the Treasury and Commerce departments actually draft the new restrictions, so the extent of the impact isn't immediately clear. But when those restrictions do go into effect, you definitely shouldn't bank on being able to fly over to Cuba for a relatively casual trip anymore. In other words: plan accordingly.