Let's Find Out If Michael Phelps Can Outswim A Shark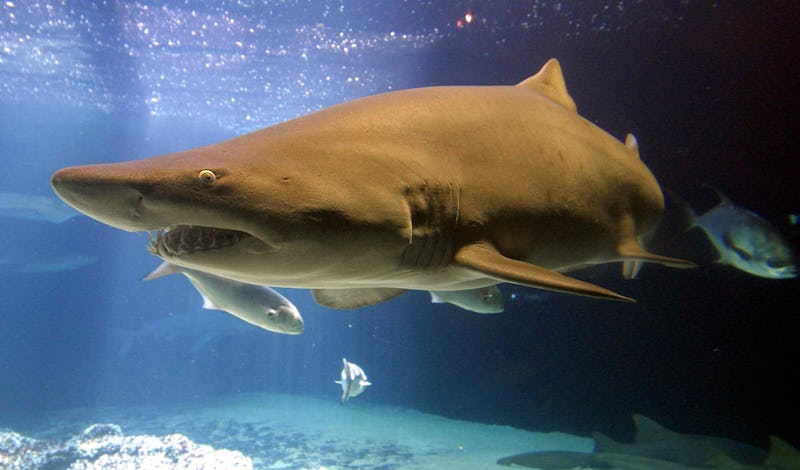 Mario Tama/Getty Images News/Getty Images
He's the most decorated Olympian of all time and responsible for setting dozens of world records in the pool. But can Michael Phelps swim faster than a shark? Place your bets, because the race is on.
To kick off the Discovery Channel's annual Shark Week, Phelps agreed to race a great white shark. While safety concerns mean Phelps can't exactly go head-to-head with his toothy competitor, the race, which will air Sunday, reportedly saw both Phelps and the shark swim 100 meters in the same body of open water. After each takes their turn swimming, their times will be compared to determine the winner.
"We're not in the water at the same exact time," Phelps said in an interview regarding the race for Good Morning America. "That's the one thing we wanted everyone to know — I was safe." Phelps said a team of 12 to 14 divers swam underneath him during the race to ensure his safety.
But don't put your money on Phelps just yet. Although Phelps' has reportedly been clocked at speeds as high at 6 miles an hour, great white sharks are known to regularly reach 25 miles per hour. To give Phelps a fighting chance at winning, the Discovery Channel gave him a special mono-fin and set the finish line at 100 meters. But will Phelps' endurance, attention span, or even his willingness to swim in a straight line enable him to beat one of the ocean's most legendary villains?
Although specific details of the race are being kept relatively quiet, Phelps has divulged a bit about how he prepared for what may be his most unique race yet. "It's a lot different than what I've ever been used to," Phelps told Vanity Fair about his pre-race training and preparations. "The temperature was unbelievably cold, and I hate cold water. So making that transition — I think that's the biggest thing that I had to get my mind prepared for."
So what motivated the most decorated Olympic athlete of all time to agree to race one of the most feared (and perhaps most understood) sharks in the ocean? "Being able to swim in open water and in the same vicinity of sharks … they can swim wherever the hell they want … was just an absolute treat," Phelps told the New York Post. "I wanted to do it because it sounded awesome."
Along with racing a great white, Phelps also filmed a segment titled "Shark School with Michael Phelps," in which he gets "a crash course on everything shark" from researchers at from the Bimini Shark Lab while learning how to dive with sharks. That segment is scheduled to air July 30.