Adopting A Pet Can Make Depression Treatment More Effective, A New Study Says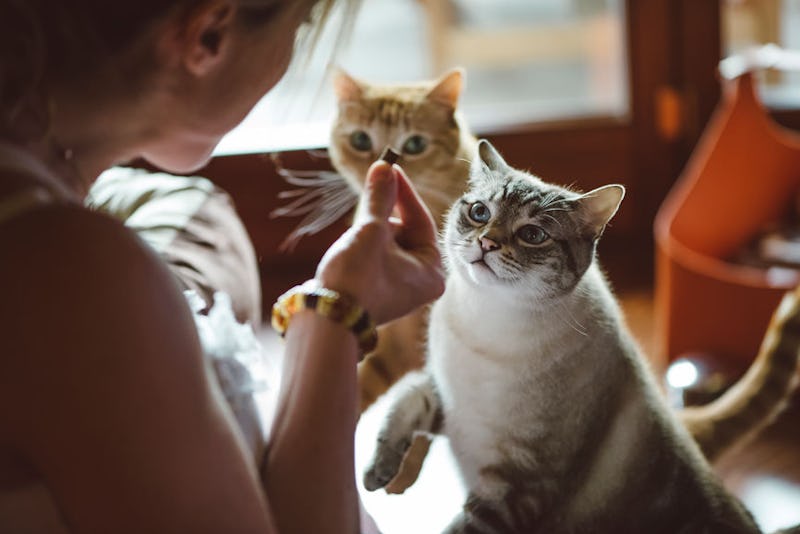 GIC/Stocksy
Most pet owners will tell you that their relationship with their furry child is a profound one, a bond that goes beyond ripping open a cat food sachet two to three times a day. But a new study suggests the impact of adopting a pet goes even deeper than unconditional (sort of) love. Researchers from Portugal's Clínica Médico-Psiquiátrica da Ordem found that adopting a pet boosted the efficacy of antidepressants in subjects with severe, treatment-resistant depression. So can pets help with depression? To a certain degree, the new study suggests, the answer's yes.
First, let's qualify the results a little, since there's already quite enough myths about depression floating around the Internet. The study looked at the impact of adopting a pet on patients already taking anti-depressants; in other words, researchers determined that pet ownership could enhance existing medical treatment, rather than replace it. Too often, the severity of depression is minimised, and its status as a serious medical condition that demands proper medical treatment disregarded.
With that out the way, let's get back to the study. As the Independent reports, researchers Jorge Mota Pereira and Daniela Fonte approached 80 patients with treatment-resistant major depressive disorder, a severe type of depression that doesn't easily respond to medication or psychotherapy. 33 patients agreed to adopt a pet: for instance, 18 adopted one dog, while seven adopted one cat. A further 33 patients who didn't already own a pet were used as a control group. All of the patients were already taking antidepressants.
The study lasted 12 weeks, with the depression symptoms of each participant evaluated every four weeks using the Hamilton Rating Scale for Depression. The participants were also evaluated using the Global Assessment of Functioning Scale, which determines how much a person's depression symptoms impact their daily life.
And the results? The new pet owners showed significant improvement in their depression symptoms compared to both their original scores and the petless control group. Over a third experienced remission to the extent that their symptoms were considered only mild, and on average, while the participants' symptoms didn't disappear altogether, they did become milder and their ability to function on a daily basis improved.
Pet ownership provides "a strong affinity and companionship that strongly contributes to mental health," the researchers wrote, suggesting that adopting a pet could be used as an "effective adjuvant" — or a supplement — to existing treatment.
The study also suggests that the responsibilities of caring for a pet could help improve depression symptoms. "By having the responsibility of taking care of an animal, people have to get up in the morning to take care of the animal, namely pet them and feeding them," the authors said. "In the specific case of dogs, the need of taking a dog for a walk, hike and run promotes the increase of physical activity and could help its owner to meet new people that also have pets, sharing experiences and improving their social skills."
There are potential limitations to the study, however, as Christian Jarrett of the British Psychological Society's Research Digest observed. The new pet owners volunteered to adopt a pet, rather than having one randomly assigned to them. "Perhaps there was something different about the personalities or social circumstances of the pet adopters that contributed to their willingness to adopt a pet and to their higher remission rates," Jarrett said. This could suggest that "the pet adoption itself was not the main 'active ingredient' in their recovery."
Mota Pereira and Fonte also acknowledged that adopting a pet isn't an appropriate method of treatment for everyone, explaining that "benefits will only occur in people that appreciate domestic animals," while patients must have the "time, attention and money" necessary to take care of them. Those without the means to look after a pet could visit animal shelters or spend time with the pets of friends, the researchers suggested. Anyone else suddenly desperate to go cuddle their cat?