The U.S. Could Rejoin The Paris Climate Accords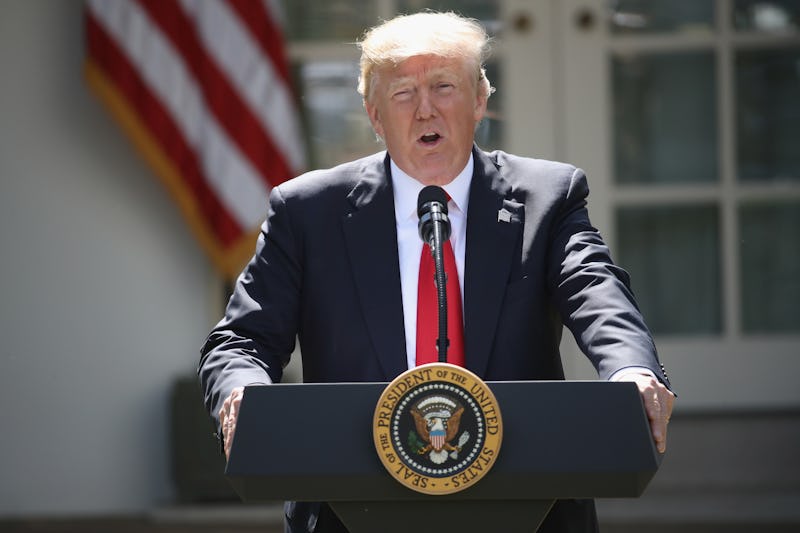 Win McNamee/Getty Images News/Getty Images
On Thursday, President Trump announced that he will withdraw the United States from the Paris climate accord, the landmark effort to fight global warming that 195 countries signed in 2015. But the process for formally withdrawing from the agreement takes years to complete, and this raises the question of whether United States can rejoin the Paris climates at later date if circumstances change in one way or another.
The answer is yes, according to The New York Times. If Trump or his successor wanted to rejoin the deal, they would have the option of doing so. It's worth noting, however, that the Paris deal is non-binding. Although it sets environmental goals for each of the signatories to reach, it doesn't punish countries that fail to meet these goals.
This means that practically, this is largely just a matter of whether or not the United States will voluntarily agree to adopt policies that meet certain standards. Although the global significance of the U.S. being a formal part of the accord can't be understated, the country can implement these policies regardless of whether or not it's part of the agreement. Likewise, it would be just as easy for Trump to remain part of the accord while refusing to abide by its non-binding suggestions.
In any event, the Paris agreement lays out a formal legal process for pulling out of the deal, and because Trump is expected to follow that process, America will still technically be part of the agreement for at least a few years. Per the rules of the agreement, the earliest day the United States could be officially, fully withdrawn from the deal is Nov. 4, 2020 — which, incidentally, is the day after the next presidential election.
The United States does have the option of rejoining the Paris accords at a later date — and in fact, Trump suggested on Thursday that it's his intention to do just this.
"We're getting out [of the agreement], but we will start to negotiate and we will see if we can make a deal that's fair," Trump said in his announcement. "And if we can, that's great. If we can't, that's fine."
That's a pretty soft endorsement of reentering the accords. But even if he ultimately doesn't, a future president could, which brings us to the 2020 elections. Assuming the United States doesn't rejoin the Paris accords by 2020, that will just about guarantee that every Democrat running for president will pledge to reenter the agreement if elected. Trump's decision on the accords was made, in part, to fulfill a campaign promise of his, and yet by announcing America's withdrawal, Trump has ensured that the question of U.S. membership in the Paris agreement will be a hot button political issue for years.