Here's Why Trump Can't Just Ban Transgender People From The Military Right Away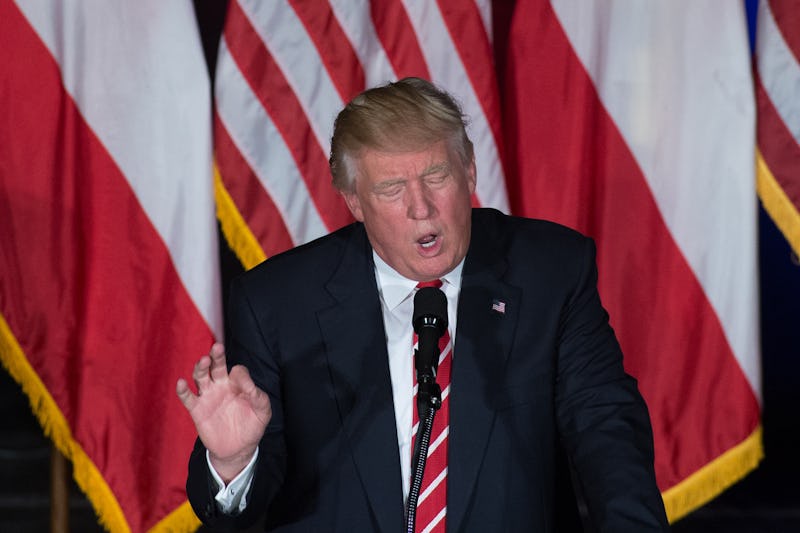 Branden Camp/Getty Images News/Getty Images
In a shocking series of tweets Wednesday morning, President Trump announced his intention to ban all transgender individuals from serving in the military; this would be a rollback of civil rights protections enacted by then-president Obama in 2016. In the wake of the Obama administration's decision, there are more than 200 transgender servicemembers serving openly.
So, can Trump ban transgender individuals from the military? Short answer: Yes, but it's not as cut-and-dry a process as his tweets might suggest.
The president wrote on Twitter Wednesday morning:
After consultation with my Generals and military experts, please be advised that the United States Government will not accept or allow Transgender individuals to serve in any capacity in the U.S. Military. Our military must be focused on decisive and overwhelming victory and cannot be burdened with the tremendous medical costs and disruption that transgender in the military would entail. Thank you.
This address might suggest that as soon as Trump tweets it, it is so. This isn't accurate: The decision is technically up to Gen. James Mattis, Trump's defense secretary. However, if Trump is confident enough in the new policy to openly announce it as fact, then it's likely that he and Gen. Mattis had already discussed the rollback — and Mattis had already shown reluctance to implement the Obama administration's transgender service plan. Back in June, Mattis announced that he would be delaying the proposed change by at least six months, cautioning at the time that this did not mean then secretary of defense Ash Carter's change wouldn't happen.
At this point, we can assume that Carter and Obama's change won't be happening.
In a statement when he announced the delay back in June, Mattis said:
Since becoming the Secretary of Defense, I have emphasized that the Department of Defense must measure each policy decision against one critical standard: will the decision affect the readiness and lethality of the force? Put another way, how will the decision affect the ability of America's military to defend the nation? It is against this standard that I provide the following guidance on the way forward in accessing transgender individuals into the military services.
Yes, Trump and Mattis, taken together, can roll back Obama's plan to allow transgender individuals to serve in the military. They can return the military back to its pre-2016 state — which is to say, banning openly transgender members from serving.
However, there remains the question of what to do about the hundreds of openly transgender servicemembers that already exist, not to mention the countless number of transgender servicemembers that haven't come out, perhaps fearing a decision much like this one.