The Possibility Of Trump Re-Nominating Kavanaugh Isn't As Far-Fetched As It Sounds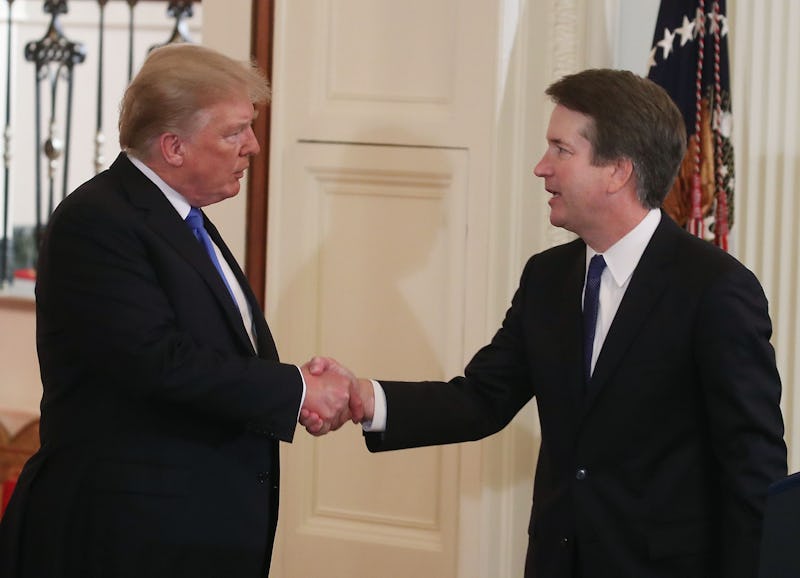 Mark Wilson/Getty Images News/Getty Images
On Tuesday, Senator Lindsey Graham of South Carolina suggested that the president re-nominate Brett Kavanaugh for the role of Supreme Court justice if he doesn't receive sufficient Senate support the first time around. In light of the senator's recommendation, you may be curious whether Trump can nominate Kavanaugh again should he fail to be confirmed. As it turns out, looking back at American history offers some insight into this question.
As Vox reported, Graham made his suggestion in a statement on Tuesday, saying:
I believe Judge Kavanaugh will be confirmed to the Supreme Court very soon ... However, if his nomination were to fall short, I would encourage President Trump to re-nominate Judge Kavanaugh to the Supreme Court. It would — in effect — be appealing the Senate's verdict directly to the American people.
By Graham's approximation, re-nominating the judge after midterms would put his fate into voters' hands. If they vote Republican in midterms, according to this reasoning, that means they support Kavanaugh's confirmation. On the other hand, if voters elect majority Democrats, it's a sign the general population doesn't want Kavanaugh confirmed.
If you're wondering whether this scenario could actually play out in reality, it seems like it probably could. As a July 2018 article from the Congressional Research Service (CRS) detailed, American presidents have, in fact, re-nominated candidates for the role of Supreme Court justice after the Senate failed to confirm them initially.
For example, Pierce Butler was nominated for the role of SCOTUS justice by Warren G. Harding in November 1922. After Butler was reported favorably by the Senate Judiciary Committee, the full Senate took no further action on his nomination, preventing him from moving forward in the process. However, in December 1922, Harding re-nominated Butler for the position. Butler was again reported favorably by the Judiciary Committee and, this time, he was confirmed by the full Senate, making him a Supreme Court justice. Butler ended up serving for 17 years until his death in 1939.
As the 2018 CRS report further outlined, a host of other presidents have re-nominated their picks for SCOTUS justice as well, with varying levels of success. Throughout U.S. history, there have been six cases where nominees were initially unconfirmed (out of a total of 37 unconfirmed nominations) but were then later re-nominated and appointed as SCOTUS justices.
Thus, in the context of American history, Graham's idea regarding Trump potentially nominating Kavanaugh again is not that far-fetched. Trump has signaled that he may be open to Graham's idea. USA Today reported that the president told reporters on Tuesday that "certainly it's interesting," when asked about the prospect of re-nominating Kavanaugh should the judge fail to be confirmed to the Supreme Court.
Americans will probably soon know whether or not re-nominating Kavanaugh is something Trump will even need to consider. Senate Majority Leader Mitch McConnell has indicated that the Senate plans to hold a vote on Kavanaugh's nomination sometime this week, though it's not clear when exactly that vote will occur.