Trump Is Literally Defending Confederate Statues, Tweeting They Will Be "Greatly Missed"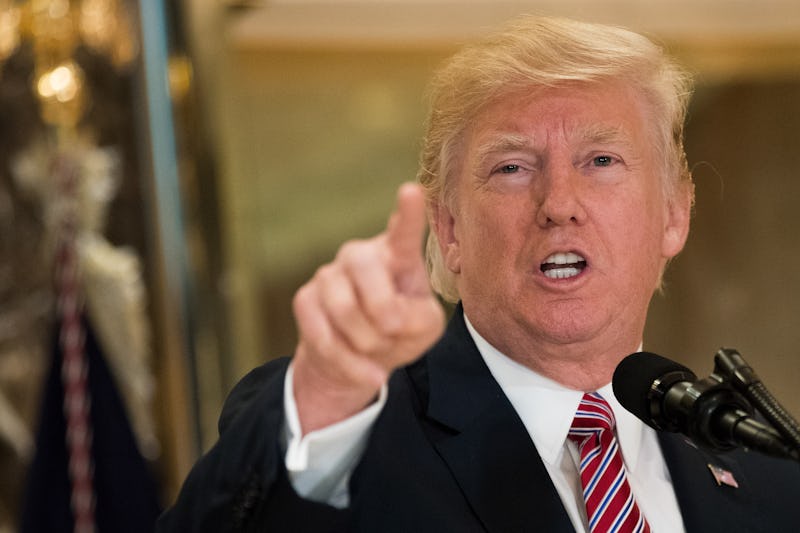 Drew Angerer/Getty Images News/Getty Images
President Donald Trump seems unwilling to back down from his outrageous comments on Charlottesville when he appeared to defend both white supremacists and Confederate monuments. On Thursday morning he took his apologist rhetoric to Twitter, reiterating his position on monuments celebrating pro-slavery generals. In several tweets, Trump defended the "beauty" of Confederate monuments, declaring that American history and culture was "being ripped apart with the removal of our beautiful statues and monuments."
This was an echo of his comments from his provocative Tuesday press conference, when he asked, "I wonder, is it George Washington next week?" He also posited that monuments to Thomas Jefferson could soon go. Both owned slaves, but neither rebelled against the country's government that they helped establish as Founding Fathers. His views on Twitter, though, are perhaps even more unprecedented, to use the word of the week.
Sad to see the history and culture of our great country being ripped apart with the removal of our beautiful statues and monuments. You can't change history, but you can learn from it. Robert E Lee, Stonewall Jackson - who's next, Washington, Jefferson? So foolish! Also the beauty that is being taken out of our cities, towns and parks will be greatly missed and never able to be comparably replaced!
This will further alienate Trump from other Republicans who have all but universally condemned white supremacists in the wake of the Charlottesville violence that resulted in three deaths and dozens injured. They've also doubled down on it after Trump tried to place the blame on "many" and "both sides." The comments have already stirred debate online, with some 30,000 replies in the first hour of them going up, and other politicians are sure to weigh in.
The Unite the Right rally was first planned in response to moves to take down a statue of Robert E. Lee from a Charlottesville park. This week Baltimore removed statues of both Lee and Thomas J. "Stonewall" Jackson, two generals who fought for the South, as well as one of Supreme Court Chief Justice Roger B. Taney. Taney wrote the 1857 Dred Scott decision, which found African-Americans were not guaranteed equal rights because of bigotry that existed at the time the Constitution was written. It was later overturned.
Trump and other modern Confederate sympathizers have spoken about history when trying to defend the monuments. But the history that they really speak to is the backlash against Reconstruction and the Civil Rights Movement, as a recent article in Vox proves. An infographic from the Southern Poverty Law Center shows that the vast majority of the statues were put up in the years immediately following both advances in rights for African Americans.
Something that represents the fight to continue the enslavement of Americans is not "beautiful." The monuments' public display is at best contentious, and Trump should listen to his aides, who are surely as shocked as you are. White supremacy has no place in American society.