Right & Left Face Transgender Policy Challenges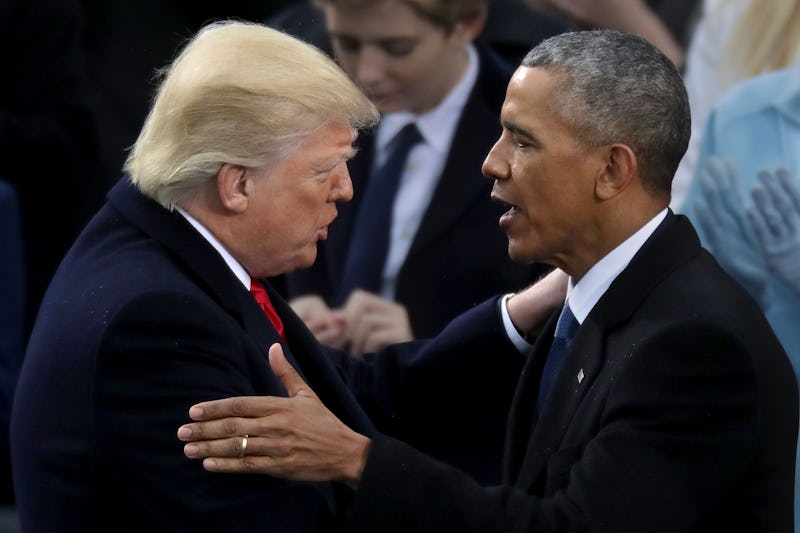 Chip Somodevilla/Getty Images News/Getty Images
Transgender activists and allies were left dismayed Wednesday: tThe administration of President Trump issued a reversal of President Obama's directive on school guidelines for transgender students. In a letter sent last year to schools nationwide, Obama had reaffirmed the federal government's commitment to ensuring that all students be provided equal rights and equal access to facilities corresponding to their gender identity. Though it fell short of legal force, the Obama directive did tie federal funding to compliance with their outlined protocol for transgender student protections. Defending the rollback of these guidelines, Attorney General Jeff Sessions argued that Obama's instructions lacked "sufficient legal basis." And in fact, the Obama administration's transgender policy has faced several legal challenges.
One of the highest-profile cases against the Obama administration came from the Federal District Court for the Northern District of Texas. Judge Reed O'Connor stopped the enforcement of Obama's transgender policy by taking up issue with the procedural implications of the new directive. He argued that the administration had issued "directives which contradict the existing legislative and regulatory text."
As he went on to explain, O'Connor interprets previous laws as designating the right to decide a school policy on transgender accommodation to be held by districts and states, not the federal government.
Another example comes from the somewhat surprise move by the Supreme Court to agree to hear a case concerning a dispute between a Virginia high school and one of its transgender students. Gavin Grimm is a trans boy who attends Gloucester High School in Virginia. After initially being allowed to use the restroom and locker room designated for boys, the school board voted to require students to use facilities that corresponded to their sex at birth. Gloucester High School responded by providing a "unisex" facility for Grimm. He sued the school (Grimm to told NPR, "I'm not unisex. I'm a boy"), and a court found the school's policy "unlawful." However, the school appealed to the Supreme Court, and were granted a temporary injunction against the lower court, one that allows them to continue to keep Grimm from the boys' restroom. Gloucester High School has argued that any ruling otherwise would cause damage to "the basic expectations of bodily privacy" and "severe disruption to the school in the upcoming school year."
One of the most complex ways transgender students are caught up in the legal system involves high school sports. For instance, in a current Texas case, several parents are suing Texas' University Interscholastic League (UIL) for demanding that Mack Beggs, a trans boy, compete on the girls' wrestling team.
UIL rules stipulate that students must play in accordance with the gender marked on their birth certificate. Since Beggs' birth certificate identifies him as "female," he had to join the girls' wrestling team. However, since Beggs takes testosterone, this presents a challenge to UIL rules that stipulate no such hormone supplements are permitted. The parents of his wrestling opponents worry that Beggs presents a physical threat to the other girls, given his testosterone intake. As German Lopez argues at Vox, this would not be an issue if UIL allowed student athletes to compete on gendered teams they identify with. However, one can easily imagine a reverse case, where a trans girl being allowed onto the girls' team could present similar questions about fairness and safety.
Because of the various legal complexities involved in all these cases, it is likely that we will see more challenges to school policies concerning transgender students in the months (years?) ahead.