Of Course Kat Von D Created A Glam & Goth Lipstick Especially For Her Wedding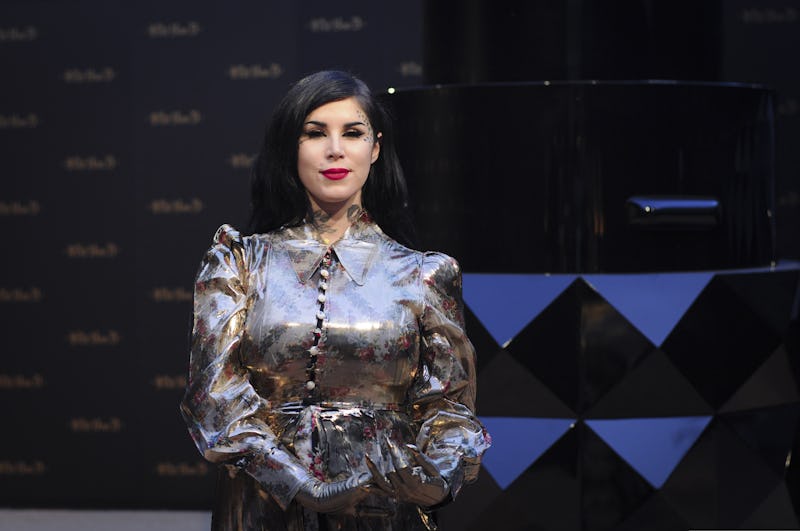 Vivien Killilea/Getty Images Entertainment/Getty Images
Kat Von D-evotees are about to lose their you-know-what. Kat Von D Beauty has created a black and gold, glittery wedding lipstick. It was produced specifically for KVD's upcoming wedding ceremony to Prayers vocalist Leafar Sayers. Von D officially swapped vows Sayers back in February. Now they are prepping for their own black-tinged ball to celebrate in style with friends.
We can assume this is the exact shade Kat will swipe across her pout for the nuptials!
Hardcore fans love the celeb tattoo artist and her goth x rock 'n' roll makeup line, which is full of "doesn't budge" matte lipsticks in adventurous shades, bulletproof, full coverage foundation, and inky black liquid liner. Of course they are going to want to get their hands, which no doubt sport coffin-shaped nails, and their lips on this baby. Speaking of babies, Von D is actually pregnant with her first child. She is expecting a boy!
Von D teased the lipstick and its black box packaging on her personal Instagram. She revealed the sparkling bullet, the familiar black Studded Kiss tube, and the inscription on the back of the box which is a touching note for recipients!
We hate to be the destroyer of makeup dreams but the lipstick is a custom creation reserved solely for guests who attend the fete.
You won't be able to purchase it. Unless, of course, someone who attends the wedding puts it on eBay or Depop or the customer requests become so loud that it's impossible for the makeup maven to ignore the din.
Who is majorly jeal? It's totally OK to be experiencing that emotion right now. This lippie is gorj. As Von D notes in the caption of the post revealing the shade, it's "one of a kind," black, and loaded with large gold glitter flecks. It's a killer keepsake for a lot of lucky friends and family.
Who needs a golden ticket when you can get an engraved invite and a golden lipstick? Kat Von D Beauty lovers and lipstick fiends are totally shook over this gilded shade. It looks like it could be worn on its own for a slick of glimmer and shimmer on the pucker.
Or it could be layered over a favorite matte shade to add some depth, dimension, and oomph.
This black and gold shade will give you disco lips — but only if you are lucky enough to receive an invite to the KVD nuptials. Otherwise, you will be relegated to gawking at the shade and coveting it from afar.
Are you dead yet? The upside down gold cross and the linking of their names inside it is soooo KVD.
The saying on the sticker on the bottom of the tube translates to "In life and death." It appears to be the actual name of this shade. These two — so in love!
The phrase also lives on the outer packaging.
The box boasts a personal inscription to all guests.
A million black and glittery gold kisses? How darkly romantic.
Von D told Hello Giggles that her hubby has "the most perfectly symmetrical lips" and because of this "he has been gracious enough to let me use him as a lip swatch model." Like Meghan and Harry, this duo is #RelationshipGoals.
She also confirmed to the outlet that gifting the lipstick to guests was actually his idea, saying, "Leafar had the genius idea of creating a lipstick that we designed together to give away at our upcoming wedding ceremony for our friends and family." What a unique way to incorporate their loved ones into their big day.
As stated, Von D and Sayers made things official earlier this year — while sporting matching manicures and coordinated black shoes.
Like so! Von D's husband loves doing his nails and wearing lipstick, reminding us that makeup knows no gender. It's only fitting that they include lipstick in their official wedding festivities. We recommend hammering the brand's socials with requests to put this shade into production — it could happen!