Here's How To Buy Those Fuzzy Hats The Olympics Performers Wore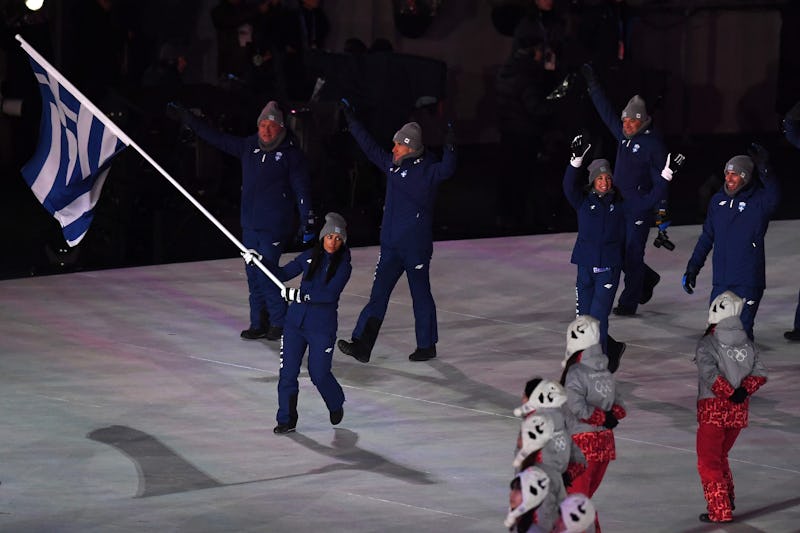 Harry How/Getty Images Sport/Getty Images
The Olympic Games are happening now! During the Parade of Nations at the 2018 Winter Olympics Opening Ceremony in PyeongChang, South Korea on Feb. 9, a crew of dancers worked major magic. They warmly welcomed all of the participating countries and their athletes by performing in a circle on the platform. The dancers also wore fuzzy, black and white hats you likely could not stop looking at during the broadcast.
The welcome committee of dancers wore these charming hats with red and gray jackets, bright red pants, and black shoes and gloves. The hats which looked animal-inspired from a distance, covered their ears and fastened under the chin.
The wooly accessories were adorbs AF and added a sense of playfulness to the Opening Ceremony. The heat of competition and some seriously intense athletic battles are about to ensue. So the cute hats provided some balance. They were also a sweet way to kick things off.
These exact hats don't appear available for purchase in the official Olympic Shop as of press time. But that could change. The Olympics may decide to produce and sell these awesome hats as part of their merch drops.
In case you missed the Parade of Nations, have a look at the dancers and their attire.
It was all about the coordinated choreography and those hats!
The Parade of Nations performers had quite a presentation. The scarlet pants were a perfect pop of color.
Their ensembles certainly look like something you might wear while on the ski slopes. They were utilitarian and stylish, matching the spirit of the Olympics themselves.
"Oohing" and "aahing" over these hats is a totally acceptable reaction. It's totally OK to want one of your own. They may not be available via the Olympics Shop ATM but that doesn't mean you are without options. In fact, there are plenty of similar head toppers that are only a click away.
Hat-imals Penguin Plush Winter Hat With Paws, $12.90, walmart.com
This precious penguin hat will keep you warm and protected from winter's bitter, brutal chill. It will also start lots of conversations... because it has paws!
Viskey Panda Hat, $7.25, amazon.com
Winter can really suck when temperatures dip into the single digits. But you can stave off the cold with a darling, cozy hat. This panda option will certainly eliminate some of the sting on those deep freeze days.
Knitwits Yuki the Yeti Hat & Mitten Set, $54.99, knitwits.com
This hat and mitten set will suck you into its vortex of cuteness. If you pair these accessories with a puffy, colorful coat, you will brave the cold like a fashion champion.
Polar Bear Hat, $12.99, pugsgear.com
This fuzzy polar bear hat will give you all the feels. The eyes are so expressive.
Panda Hat, $12.99, pugsgear.com
You can never, ever go wrong with a winter hat shaped like a panda bear. You don't need to go into fashion hibernation just because it's too cold to function. You can go about your normal life by piling on the winter gear. If your jacket is more about function than fashion, you can remain stylish with the right hat.
Wolf Hat, $12.99, pugsgear.com
Unleash your inner wolf with this topper. How can you not love the blue eyes and those ears? Plush and fuzzy animal hats populate every shopping corner of the Internet. If you desire something similar to what the welcome dancers rocked at the Parade of Nations, you have lots to choose from.
BTW, the Olympics Shop is loaded with baby bodysuits, polos, tees, jackets, hats, jewelry, accessories like bags and umbrellas, and much, much more. If you are an Olympics obsessive, you might want to head down that rabbit hole.