Shop TrèStiQue Products At This Retailer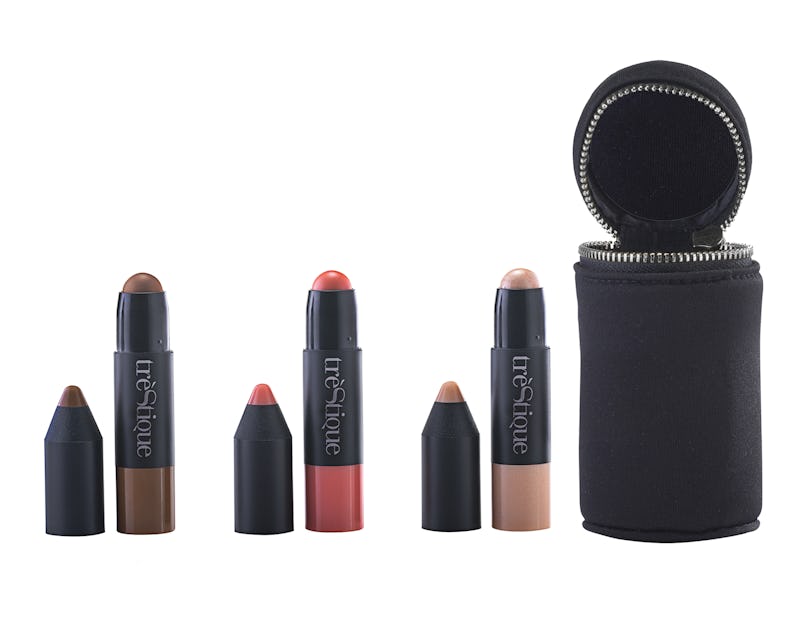 Courtesy trèStiQue
If you're anything like me, you've decided the only way to cure your spring fever is to stock up on must-have travel beauty items and scour pages of Airbnb, planning for a hypothetical getaway. Sound about right? If you can honestly say "yes," then you need to know the answer to one very important question. Can you buy trèStiQue products at Sephora? These items will become your travel essentials.
This brand creates incredible on-the-go utensils, and you'll be happy to know that you'll be able to shop these must-haves from your favorite beauty retailer online very soon. According to a press release, the range will also be coming to Sephora stores in March, just in time for your getaway!
You'll be able to shop multipurpose sticks from the brand on the Sephora website. There's everything from a lipstick and lip balm duo to an all-in-one mattifying tool that's sure to eliminate shine (and fit right in your beach bag). I'm telling you, when it comes to packing for a trip, these are the only items you'll need. They're small, functional and easy to take wherever you go. All you have to do now is pick the destination and go! Because you've officially got your beauty essentials sorted.
With items such as these in your possession, you're in for an incredible easy, breezy vacay-ready routine.
1. Lip Duo
Matte Color & Shiny Balm Lip Duo Crayon, $28, Sephora
This all-in-one lip stick is all you'll need for the perfect pout. According to the Sephora website, this product is coming soon, and you can now sign up to be emailed when it will be available. Get on that list, stat!
2. On-The-Go Highlight
Highlight & Perfect Stick, $34, Sephora
Use one end to add highlight and the other to blend for the ultimate sunkissed glow. This will also be up for grabs online very soon!
3. Mattifying Stick
Magic Mattifying Balm & Blotting Sheet Duo, $34, Sephora
Get ready for this to launch because it's sure to be the best thing to happen to your makeup. It allows you to get a matte finish without piling on the powder and even comes with blotting sheets stored at the end of the stick. Just swipe and blot. It doesn't get easier than that!
4. Tint & Blend Tool
Tint, Moisturize & Blent Face Stick, $34, Sephora
Add subtle color and moisture to your face with this color and blending utensil on-hand.
5. Eye Shadow Crayon
Color & Smudge Shadow Crayon, $26, Sephora
Sweep color across your lids and evenly blend it, all with this one product. Now, your look is complete.
Get ready to purchase these items as soon as they're available. If you just can't wait for the Sephora launch, you can also cop this makeup and more on the trèStiQue webiste. Now, go on and finish packing. It's almost time to sail far, far away!