The Rom-Com Readers Have Been Obsessed With Forever Is Finally Becoming A Movie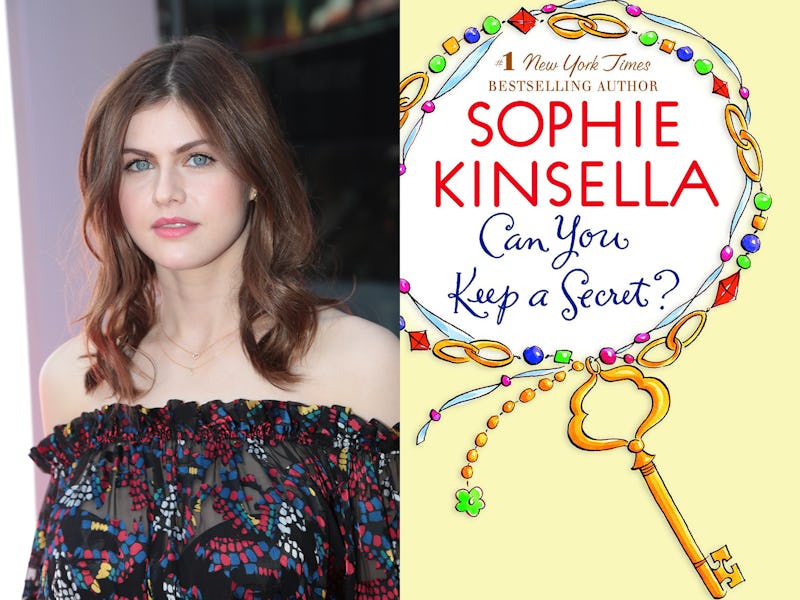 Handout/Getty Images Entertainment/Getty Images
Who among us hasn't spilled their guts to a perfect stranger only to discover hours later that they're not a stranger at all but the CEO of their company? OK, so that has never happened to anyone in real life, but trust me when I say that it's a plot-line just bizarre enough to make for a truly swoon-worthy romantic comedy. I know because that's the plot of Sophie Kinsella's Can You Keep A Secret?, a 2003 novel that's now set to become a movie, thanks to actress Alexandra Daddario, who is slated to produce and star in the love story.
Can You Keep A Secret? follows Emma Corrigan, a Londoner who is just a little bit dissatisfied with everything in her life: her job is great, but she wishes she would get a promotion; her boyfriend is perfect, but he's almost too perfect; and her family is lovely and supportive, except that they always compare her to her over-achieving cousin. But all is well, because she finally has the chance to prove to her boss that she's ready for the next step in her career. All she has to do is charm some of her company's clients on a business trip to Glasgow. Easy, right?
Unfortunately, the meeting goes completely awry. And to top things off, on her way home, the plane hits a rough patch and in a moment of panic, Emma confesses all her secrets to the handsome stranger sitting next to her. All her secrets. Including the fact that her g-string is two sizes too small and digging in to her skin. And the fact that she dips out of work for impromptu coffee breaks with her best friend.
It gets worse.
The guy on the plane who now knows every single humiliating thing about her turns out to be the CEO of her company, Jack Harper. Despite it all, he doesn't think badly of Emma. In fact, he's unexpectedly charmed by her.
Can You Keep A Secret? by Sophie Kinsella, $11.81, Amazon
The novel is easily one of Sophie Kinsella's most beloved titles. As of this writing, Can You Keep A Secret? has nearly 1,300 reviews on Amazon (and an average rating of four and a half stars) and over 300,000 ratings on Goodreads.
"I'm absolutely thrilled that Can You Keep a Secret? is going to become a movie and I know my readers around the world will look forward to it just as much as I do," said Kinsella in a statement to Deadline. "I am very excited that Alexandra Daddario is to play Emma and I can't wait to see the story come alive on screen."
Kinsella, who has sold more than 40 million copies worldwide, is also the author of dozens of romantic comedies, including Confessions of a Shopaholic (which became a 2009 movie starring Isla Fisher), The Undomestic Goddess, I've Got Your Number, and most recently, Surprise Me. She has also written a young adult novel — Finding Audrey — and several other novels under her real name, Madeleine Wickham. (Sophie Kinsella is a pseudonym.)
No details have been released yet on who will play Jack Harper or when Can You Keep A Secret? will be released in theaters, but if you're a fan of romantic comedies, this is one movie — and book — you need to keep on your radar.