There IS A Way To Send iMessages On Androids… But There's Also One Catch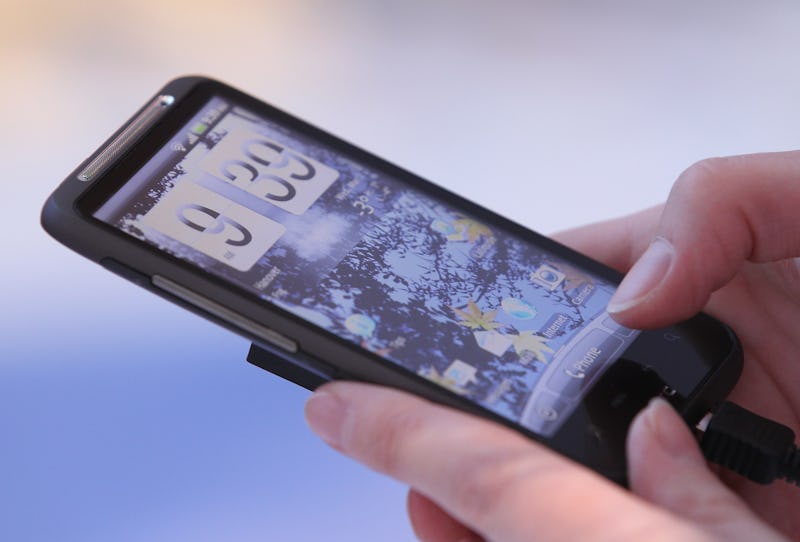 Sean Gallup/Getty Images News/Getty Images
If you're an Android user who's always wished you could experience what it's like to text someone with iMessage instead of regular SMS text, well, you're probably going to be pretty psyched about this new development. You can now send iMessages on Android devices, thanks to an app called weMessage — if you have a Mac computer, that is.
That's right: you should know that you'll need a Mac computer at home in order for this app to work. No, you cannot escape Apple entirely — iMessage is their program, after all. You need to own an Apple device for it to work, because otherwise, how would you have an Apple ID? Basically, the app weMessage creates an extension server (weServer) from your Mac, and merely transfers the iMessages from your computer to your phone. Once you download the app and sync it to your computer, you'll be able to send and receive iMessages from your phone via your computer. They will also appear on your computer, of course, because that's the original source of the iMessages anyway.
So, the app lets you use your computer on your phone, if that makes sense. You still have the ability to text with your Android device as you normally world — just, with the app, you can also use iMessage to text people who are blue bubble snobs, or simply just prefer iMessage. The texts won't be sent with your phone number — that's still tethered to your Android device, so your Mac wouldn't sync texts sent to your Android phone number — but you will be able to send messages with your Apple ID, or whatever email address you have on file within your iMessage. Essentially, your phone just becomes a vessel for your computer's iMessage information, and mirrors the app as it is on your laptop — and it does it very adeptly, at that. With the app, you'll be able to participate in group chats, use read receipts, send attachments, use the special graphics, emojis, GIFs and effects, all from your phone. And to your friends, your messages will go through as blue, aka iMessage. And, the app is totally encrypted, so your messages are entirely private! You basically get to live that iMessage life without having to change your phone. It truly is the best of both worlds. And if your job requires you to have an Android (as some do), this development is going to be particularly exciting for you — you can have your Android and your iMessages, too.
While this app might seem like a really huge turning point for bridging the gap between elements of the iPhone that Android users want while holding on to some of the non-Apple software that Android users rely on, it likely won't stick around forever. But, the app's developer, a 16-year-old (!!!) super human named Roman Scott, stated clearly on the company's website that "We cannot make guarantees about whether or not our app is in violation of another company and will be asked or be forcibly removed from the Play Store. Since we do not use reverse engineering or knowingly engage in any malicious activity, we would say that we are safe. We believe we are doing the right thing by providing a comprehensive messaging app." Additionally, they are clear that the app "has zero relations with Apple, nor is it affiliated with the company in any way."
So if you have an Android and want to get in on that iMessage action, weMessage is your new bestie. Get a taste for iMessage, and if it's really everything you've hoped and dreamed for on your phone, you can finally live the life you've dreamt of!