Here's Everything You Need To Know About Canada Legalizing Weed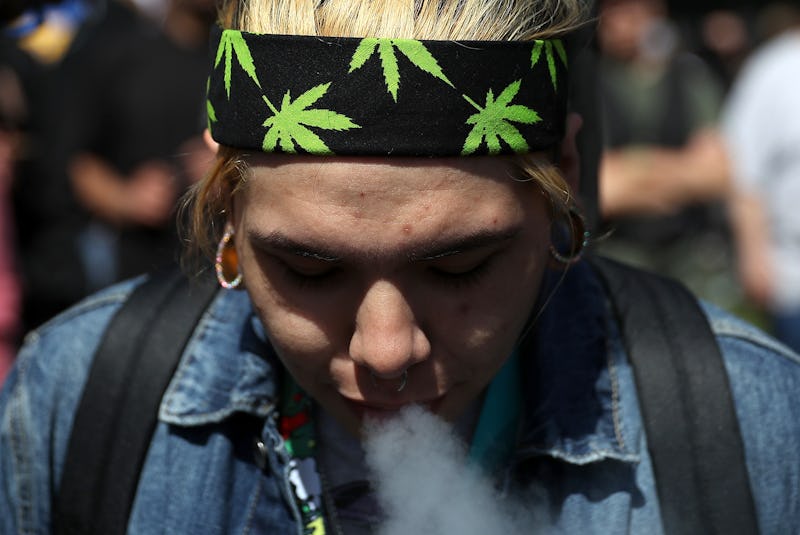 Justin Sullivan/Getty Images News/Getty Images
Canada's first marijuana dispensaries opened their doors on Wednesday morning to long lines. But if you live in the United States, there are a few things you should know about Canada's legal weed. For starters, how to get your hands on some.
"I have never felt so proud to be Canadian," Marco Beaulieu, a 29-year-old janitor, told The New York Times. "Canada is once again a progressive global leader. We have had gay rights, feminism, abortion rights — and now we can smoke pot without having to worry police are going to arrest us."
Naturally, the country expects an influx of pot tourists from the United States. While you can travel to Canada to buy and smoke pot, it won't be legal to buy weed in Canada and take it back across the border — even if you're traveling to a state that's already legalized weed.
Like the states, each Canadian province will set its own rules beyond the federal guidelines that say people 18 and older can legally buy and carry up to 30 grams. Some provinces, like Quebec, plan to raise the minimum age to 21, according to Complex. Adults can also grow up to four marijuana plants at home if they want to take their gardening setup to new heights or make edibles, which won't be legally sold for another year.
Dispensaries could have a low supply, at least at first, as CNN notes. And no matter what province you're in, weed won't be sold anywhere you can buy alcohol or tobacco.
Prime Minister Justin Trudeau promised to legalize weed on the campaign trail three years ago in order to keep it away from kids and minimize weed-related crime. Federal regulations prohibit selling or providing pot to minors, and distributors aren't allowed to package or market their products in a way that specifically appeals to kids. Statistics Canada predicts that far more people will buy weed legally now than not, with an estimated 5.4 million people using the legal market versus 1.7 million sticking to illegal purchases, per a Bloomberg report.
Medical marijuana has been legal in America's northern neighbor since 2001, but anyone without a medical reason for needing to smoke could previously be prosecuted. The same day recreational sales got the green light, the Canadian government announced that it plans to introduce legislation aimed at allowing Canadians convicted of possessing a small amount of marijuana to quickly receive a pardon.
"We will make the application process as simple as it can be," Ralph Goodale, Canada's public safety minister, said at a Wednesday news conference, per The Times. Though he hasn't released the details, Goodale said the legislation will end the five-year waiting period to apply for a pardon and waive the fee.
As more U.S. states move toward legalizing pot, the nation's also reckoning with how to seek justice for the people currently serving time for possession. For now, the green lining lies in the fact that Canada has set an example of how to legalize weed nationwide while also taking some action to help those behind bars.