How To Help The No-Kill Shelter In 'Dogs' Find The Pups Forever Homes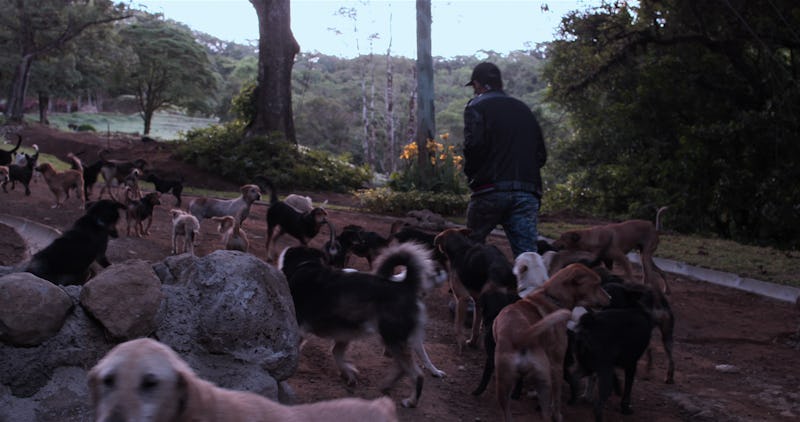 Netflix
There can never be too many doggos in the world. But unfortunately, there are many pups young and old around the world who have yet to find permanent homes with a loving family. It's the work of no-kill shelters, like the one featured in Netflix's new dog-umentary (see what I did there?) Dogs, to take in stray dogs, care for them, and hopefully find them a forever home. The shelter Territorio de Zaguates is featured in Episode 5 of the series, which is set to drop on the streaming service on Friday, Nov 16, and the beautiful mountain shelter is sure to inspire dog lovers everywhere to start planning a trip to visit them in Costa Rica. So can you volunteer with Territorio de Zaguates?
Unfortunately for those already on the phone with their doggie travel agents, Territorio de Zaguates is not accepting volunteers at this time. According to the organization's website, the shelter has been closed to the public for over a year, "due to infrastructure renovations imposed on us by the government, and extended as a condition to keep our shelter open." The website states that all Territorio de Zaguates staff have been "working very hard in order to comply with all of this. In the meantime, all visits and volunteering have been canceled."
But that doesn't mean you can't still support the work the shelter is doing. The organization very willingly accepts donations, and for the cost of only $36, you can sponsor the full care of one dog. You can donate easily on their website. Dog owners can also buy dog food from the shelter, which helps sponsor the care of their pups. Their website also notes that they will post updates on Facebook as soon as they have been reopened to the public, so your dog tour of Costa Rica might be back in the works sooner than you think.
And dog lovers couldn't find a more valuable cause than Territorio de Zaguates. The shelter, which gets its name "zaguate" from a Costa Rican term for "mutt", is a non-profit organization founded by the husband and wife duo of Lya Battle and Alvaro Saumet. They are a no-kill shelter located in the mountains of Santa Barbara de Heredia, and their Facebook page states that their mission is "to find a home for all the dogs that are in our care." Currently, the shelter is home to over 800 doggos, and they are all Very Good.
Though many dogs end up spending their whole lives at the shelter, they're in a true doggie paradise. National Geographic reports that the shelter contains over 378 acres of tropical mountain land, all of which is free for man's best friend to frolick, play, and adventure in.
Right now, it seems that the best way you can help the shelter is donate. The profile of Territorio de Zeguates in National Geographic notes that the cost of caring for the ever-growing pack of dogs is growing astronomically high, with the price of just feeding the dogs running up to $600 a day.
So if you are obsessed with doggos, fall in love with Territorio de Zeguates after watching them on Netflix, and have the means to donate, that's for sure the best way to help. And hopefully the shelter will be back open to all doggie tourists very soon.