Canada Will Finally Make Its National Anthem Gender Neutral & It's A Long Time Coming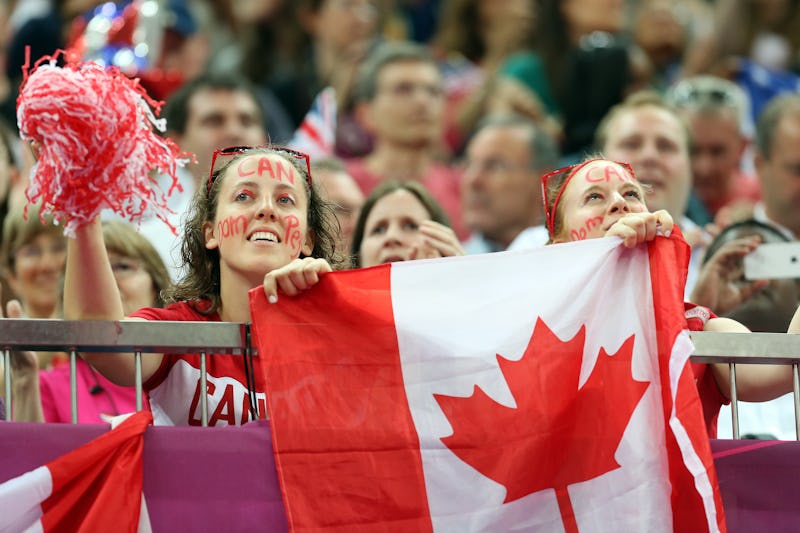 Ronald Martinez/Getty Images Sport/Getty Images
The lyrics to "O Canada" are about to get a more progressive update. On Thursday, Feb. 1, the Canadian Senate passed a bill to make the Canadian national anthem gender-neutral. The law, once signed, will change the line in the Canadian national anthem from "True patriot love in all thy sons command" to "True patriot love in all of us command." Decades of pushing to change the "O Canada" lyrics finally culminated in the decision that went through on Thursday, despite staunch opposition from some senators in the Conservative Party and controversy around the vote.
These two words in difference may seem small, but to its longtime supporters, it's an important victory that took a continuous effort to achieve. Bill sponsor Sen. Frances Lankin, an Ontario Independent, said in a broadcast interview with CBC News:
I'm very, very happy. There's been 30 years plus of activity trying to make our national anthem, this important thing about our country, inclusive of all of us. [...] We can now sing it with pride knowing the law will support us in terms of the language. I'm proud to be part of the group that made this happen.
"O Canada" officially became Canada's national anthem in 1980. Since then, Canadian lawmakers have tried to push through 12 bills to remove the reference to "sons" in the line about patriotism and make it more gender-neutral. Proponents of this change argued that the exclusion of women from Canada's national anthem was discriminatory, according to CBC News. But since the beginning, attempts to make the lyrics to "O Canada" more inclusive faced strong backlash from opposing lawmakers.
Finally, more than 30 years after "O Canada" became the country's national anthem, Canadian lawmakers introduced the latest bill in the House of Commons in early 2016. It passed later that year. This upcoming change in the Canadian national anthem was said to be the "dying wish" of Canada's Liberal MP Mauril Belanger, according to the National Observer. Belanger had been pushing the legislation for years, but his efforts became more urgent when he was diagnosed with the motor neuron disease ALS, or Lou Gehrig's disease, in 2015. In a race against his declining health, Belanger lived to help pass the bill in the House of Commons before he died two months later.
The bill went on to Canadian Senate. As mentioned earlier, it faced opposition from some senators and there was controversy surrounding the vote. Conservatives boycotted the vote when after 18 months of debate on the bill, Sen. Lankin decided to end the debates and immediately put the bill up for a vote. With Conservatives absent from the final vote, an Independent and Liberal majority passed the bill.
Sen. Don Plett of Manitoba said that any alterations to the national anthem should be put to a referendum, reported Canadian press. He told CBC News:
Clearly, I'm disappointed. ... It's been a long fight, I believe the Canadian public wanted a say in our national anthem, just like they had in the great Canadian flag debate. This is an issue for the Canadian public to decide not just a couple of Independent senators.
Fun fact: The lyric "in all thy sons command" isn't even an original part of "O Canada." Robert Stanley Weir, a poet and judge, wrote the song in 1908 and the line then went "thou dost in us command." Weir later changed that line to the controversial "in all thy sons command."
"O Canada" also has an official French version that remains untouched because the French line is already gender-neutral. "Glorious deeds circle your brow," goes French version of the Canadian national anthem when translated.