'Unanchored' Star Captain Jack's Instagram Will Make You Want To Renew Your Passport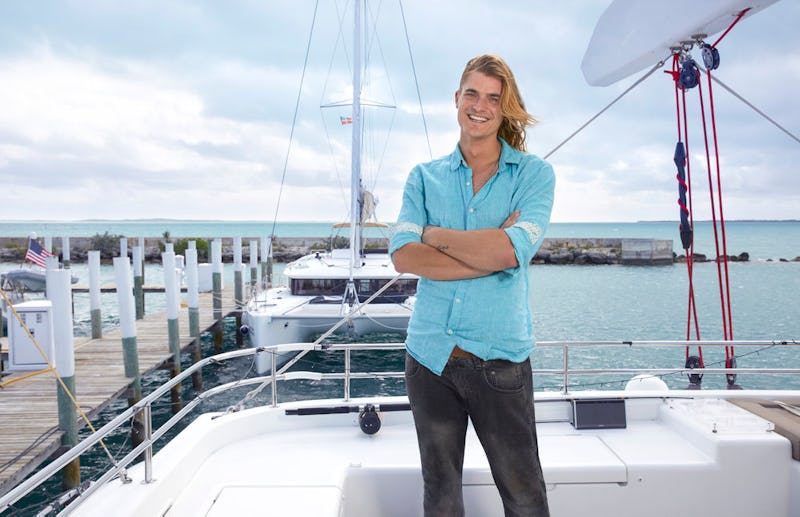 Greg Endries/Bravo
Everyone on Bravo's new sailing show Unanchored is there to party, but Captain Jack is also there to work. As the skipper of the ship, he's in charge of sailing the boat, maintaining the equipment, and making sure everyone is safe and having fun. And Captain Jack's Instagram shows that the Unanchored star has been training for this gig for a long time.
According to his Bravo bio, Jack even went to skipper school which is where he actually first met his co-Unanchored star Max. After school, Jack took to the seas where he's worked on a number of yachts across the globe. He feels most at home at the sea, and while he's right there with everyone else wearing neon leggings and taking shots before 10 a.m. on these trips, it's also clear that he takes his work seriously too.
The group had hardly settled in on the premiere episode before Jack was giving a speech about how it was his way or the highway on this boat, and that even if he was wrong, he was right. His bio says his "strong personality and domineering nature" may be a source of drama throughout the season, as not everyone will always agree with him. But while he may be serious about sailing, he's also a pretty laid-back skipper in his own ways, too. And nothing shows off all his personality facets better than his Instagram.
He's Been Sailing For Years
This photo from three years ago shows that Captain Jack is not a sailor just for a TV show.
He's Been To Belize
On a pretty stormy day.
And Greece
What a luxury to travel for a living.
He Has The Dream Office
Jack hashtagged this photo #anotherdayattheoffice. This is one workplace no one would mind coming in to.
He Vacations After His Vacations
Jack treated himself to time in Greece after a summer of working on yachts. It's really the life.
He Loves An Ocean Selfie
You'll be hard-pressed to find photos of Jack when he's not at sea.
But He's A Fan Of Cold Weather Too
He also likes to snow ski.
He Has A Restaurant Named After Him
Well, not after him. But they do share the name.
He Bonded With The Unanchored Crew ASAP
This chummy group shot is from the first night of their trip, which fans just saw on the show's premiere.
Their Bahamas Trip Went Well
The three-week Bahamas tour ended on a drunk note, according to this photo, which is on par for these partiers. Jack called the Bahamas "a blast" in his caption for this photo.
He Seems To Have Met Someone
Since filming ended, Jack's been hanging out with a new lady who is all over his Instagram. It's possible they're just good friends, but they seem pretty close. He frequently refers to her as "my lion."
And She Loves To Travel Too
They've been to Spain and Mexico together already. Any woman who loves to travel as much as Captain Jack is the perfect match for the perpetual sailor. Maybe she'll be on a possible Unanchored Season 2?