A Car Rammed Into Charlottesville Protestors & Caused "Extremely Heavy Injuries"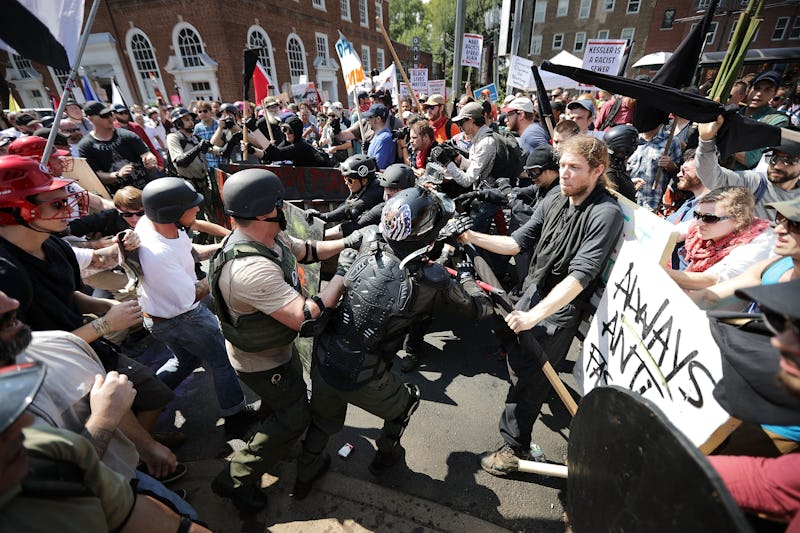 Chip Somodevilla/Getty Images News/Getty Images
A white nationalist rally brought scenes of chaos and violence to the streets of Charlottesville, Virginia, on Saturday as white supremacist demonstrators clashed with counter-protesters. But things took an even more gruesome turn in Charlottesville when a car struck a crowd of counter-protestors marching peacefully down the street, causing multiple injuries and at least one fatality.
Video of the incident shows a silver vehicle appear to accelerate into a crowd of people believed to be counter-protesters at Water and 4th street. The car rear ends two other vehicles and then quickly speeds from the scene.
Eyewitnesses have described the incident as a deliberate act of violence. "As people were going up the street a – I think it was a Challenger – came by and plowed into people about 40 miles an hour, hit about 15-20 people, crashed into the two cars in front of it and then backed up and sped away while cops were standing on the side of the road and didn't do anything," an eyewitness who identified himself as Dan Miller told Chuck Modi. "In the way they backed up, it was all intentional."
Although multiple eyewitnesses have told reporters at various news outlets that the car appeared to purposefully drive into the crowd, it remains unclear if the act was indeed deliberate.
Charlottesville police told CBS News at least four people had been injured in the incident and Mike Signer, Charlottesville's mayor, later confirmed one person had been killed in the crash. "I am heartbroken that a life has been lost here," Signer tweeted Saturday. "I urge all people of good will--go home."
Virginia State Police have since asked people to avoid the area in order to allow medical personnel access to the scene of the crash.
Self-proclaimed "white advocate" Jason Kessler told the New York Times he'd been motivated to organize Saturday's "Unite The Right" rally by a desire to "de-stigmatize white advocacy so that white people can stand up for their interests just like any other identity group." In an interview with CNN, he claimed there was "anti-white hatred" coming out of Charlottesville.
However, Kessler's "Unite The Right" rally turned violent before it had even officially begun as hundreds of counter-protesters showed up to oppose the white nationalists' message. As clashes broke out in the streets of Charlottesville on Saturday, Gov. Terry McAuliffe declared a state of emergency as law enforcement attempted to restore order and public safety.