Cardi B Just Switched Up Some Lyrics About Offset & They Sound Way Different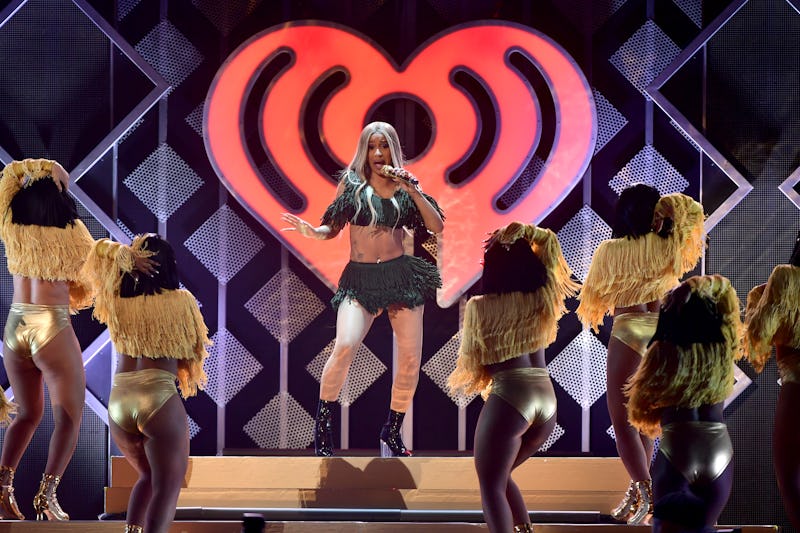 Michael Loccisano/Getty Images Entertainment/Getty Images
At New York City's Jingle Ball, following her split with Offset, Cardi B changed lyrics to "Motorsport" on Friday, according to Entertainment Tonight. Normally, the song (which is a collaboration between Cardi, rapper Nicki Minaj, and Migos, Offset's rap group) goes: "I get up set off / I turn Offset on / I told him the other day / 'Man, we should sell that porn.'" But according to the music and lyrics site Genius, Cardi instead rapped: "I get up set off / I turn Offset on/ I told him the other day/ 'We're gonna get a divorce.'"
Cardi also flipped off Offset while rapping her hit song "Bartier Cardi" at the Jingle Ball. While rapping "Cardi got rich, they upset, yeah / Cardi put the p*ssy on Offset / Cartier, Cardi B brain on Offset," she stuck her middle finger in the air, according to video of her performance.
This isn't the first time Cardi changed the lyrics to this song either. According to TMZ, the rapper switched them up during her performance at Chicago's Jingle Bash on Saturday as well. The celebrity gossip site also reported Cardi wasn't wearing her massive engagement ring at the performance.
Cardi and Offset got married in September 2017 in Offset's bedroom while both were wearing sweatsuits. (She shared an adorable Instagram tbt to commemorate their first wedding anniversary.) Cardi told W magazine that the actual wedding was very spur of the moment. During an argument, Cardi suggested they get married. "And he's like, 'You're playing around.' And I said, 'I'm for real.'" So they got married.
The split was announced on Cardi's extremely popular Instagram last Tuesday. "So everybody been bugging me and everything and you know, I've been trying to work things out with my baby father for a hot minute now and we're really good friends and you know we're really good business partners," Cardi said in a video on her Instagram. "He's always somebody that I run to to talk to and we got a lot of love for each other but things just haven't been working out between us for a long time and it's nobody's fault."
Cardi said they grew out of love. "I guess we grew out of love, but we're not together anymore. I don't know," she said in the video, according to E!. "It might take time to get a divorce and I'm gonna always have a lot of love for him because he is my daughter's father and yeah."
But it looks like the changing lyrics have gotten Offset's attention. On Sunday morning, Offset tweeted about Cardi, being extremely clear about his feelings toward America's sweetheart: "F*CK YALL [sic] I MISS CARDI" — except without the asterisk.
Cardi took to Instagram Live over the weekend to assure her fans that the pending divorce is not a publicity stunt. "A lot people saying I moved too fast. Maybe I did, maybe I didn't. I don't know," she told her fans. "Sh*t happens. People fall in love, people get married, people have kids. I don't regret anything because at the end of the day I have my daughter."
Cardi also complimented Offset on the Instagram Live. "You know, my husband helped me. He made me wiser, he opened my eyes to a lot of things," she said.