Cardi B Won't Change To Make White Fans Comfortable — And That's Why She's Number One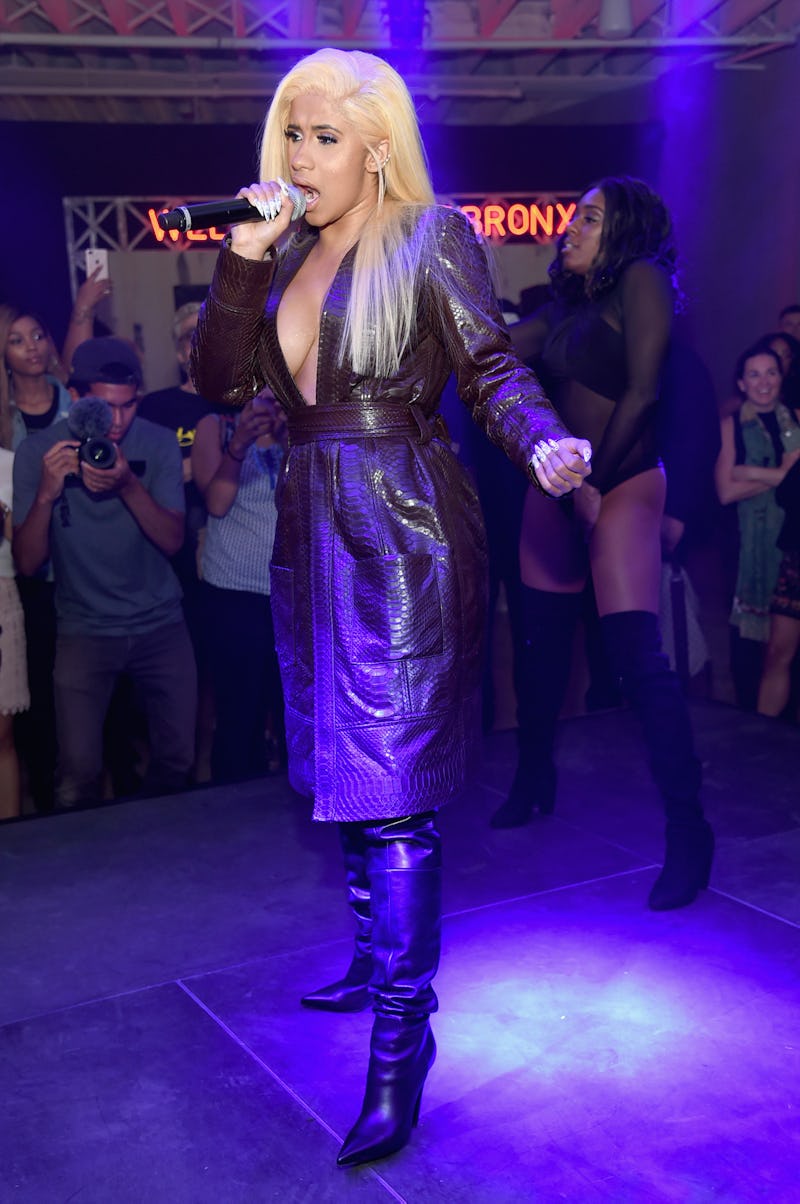 Jamie McCarthy/Getty Images Entertainment/Getty Images
When Cardi B hit number 1 on the Billboard Hot 100 with Bodak Yellow, her epic trap number about her ascent from stripper to "boss bitch," she made history by becoming the first female solo rapper — and the first Latinx female rapper ever — to reach the top Billboard spot since Lauryn Hill's 1998 Doo Wop (That Thing). Breaking all the rules with her Bronx-Dominican accent and IDGAF attitude on full display, Cardi B's achievement is not just a testament to the twists of fame — that a former reality TV star can morph into rap royalty — but also final proof of the mainstreaming of Latinx music in the US pop charts. Furthermore, Cardi B is fully herself, and the lack of "crossing-over" she has to do to appeal to a white audience is what makes this such a monumental moment.
Crossover music refers to artists who appear on two or more different charts that appeal to distinct audiences. Technically speaking, Cardi B and Taylor Swift are both crossover artists (crossing-over from Hip-Hop/R&B and Country charts, respectively). Though the term is often used to discuss artists who have crossed a cultural barrier, like Gloria Estefan — the most successful Latin-crossover artist — who gained an enormous following by singing Caribbean-inspired pop-music in English (Although later in her career, she began to release music in Spanish.)
American consumers have always shown an exoticized amusement with Latinx music, from the early days of Xavier Cugat's mambo, to the "Latin Music Boom" of the late 90s, which included Jennifer Lopez, Marc Anthony, Shakira, and Ricky Martin. But while it's safe to say Latinx culture has always had some visibility in the American market, in the past, achieving said visibility has meant singing in English and/or adhering to an image standard set by white industry norms.
Many of the Latinx artists who crossed over did so by moving their music into a more generic pop direction, particularly in the late 90s. Think Ricky Martin, Marc Anthony, and Enrique Iglesias. Others — like Shakira — recorded different versions of singles (Whenever, Wherever or Suerte), and gave an album two names to appeal to different markets (Laundry Service/Servicio de Lavandería). These artists have gone on to record full-on English language albums, and are part of the same tradition of crossing over as artists such as Selena (who some give credit for beginning the 90s crossover boom), Thalia, Paulina Rubio, and most recently Maluma.
But, it's 2017, and reality and identity are now a selling point. For someone like Cardi B, this means being herself is the most marketable thing about her. Denying her Latinx roots would be a disservice not just to her heritage, but also her fans.
It's important to remember that Cardi B wasn't plucked from obscurity to become a pop-star. She lived at her ex-boyfriend's mother's house as a teen, which is when she started stripping. "I was poor as hell," Cardi recently told Vlad Tv. "I was living with my ex-boyfriend, who was beating my ass. I had to drop out of school. It was crazy." Then she overcame the stigma of reality TV and relentless slut-shaming to make history. One of the first images a large portion of the population had of her was the 2015 preview for her tenure on Love & Hip Hop, which showed the then-22 year old hitting a fellow cast member and breaking a car window. Her unapologetic candor led some critics online to dismiss her as simply a reality TV character, but Cardi had bigger plans. In an interview with Complex in 2015, she made it clear that the reality gig was just a stepping stone. "I'm not trying to be a reality star, at all. Like I said, I'm really focusing on my music," she said.
Bodak Yellow, Cardi's breakthrough and now number 1 track may be a play on Kodak Black's No Flockin flow, but Cardi's delivery is much more powerful than Black's original, leading him to make a remix of her hit single. The instantly infectious trap single has won over even the biggest stars in hip hop. Nicki Minaj sent out a congratulatory tweet upon learning of the rapper's historic milestone. Minaj tweeted, "Congratulations to a fellow NEW YAWKA on a RECORD BREAKING achievement. Bardi, this is the only thing that matters!!! Enjoy it."
Part of Cardi's success has to do with her message. She isn't faking anything. Her Instagram is her publicist. She takes to it often to address issues like putting every boy on blast, telling people to not worry about her fake body parts, and a classic — when she proclaimed that "a ho never gets cold." She's an Afro-Latina with a thick Bronx accent who unapologetically uses Ebonics and Spanglish, and her ability to top Taylor Swift, America's heartland sweetheart, is a reflection of the larger demographic change happening in our country right now. The Latinx population in the US reached 58 million in 2016, and the foreign-born share of US Latinxs has declined, meaning there are more Latinx American citizens now than ever. Her success shows that these consumers are ready to see people who look, talk, and think like them.
Cardi's rise also illustrates the now undeniable appetite for Latinx culture and music, and how unnecessary crossover or even English-language albums are becoming. Recently, J Balvin's Mi Gente became the number 1 song globally on Spotify, and Despacito — the first Spanish-language song to reach #1 since Macarena — continues to rack up unimaginable plays on streaming services and Youtube, (even leading Luis Fonsi to be named Puerto Rico's tourism ambassador). And Romeo Santos, who in the past may have had to "cross over" to English or pop, has managed to seemingly take over the world while singing Bachata in Spanish — a genre that he helped propel outside of the Dominican Republic.
And these artists are selling out stadiums (Like Romeo Santos' historic gig at Yankee Stadium) topping charts, and contributing greatly to streaming services. According to Nielsen, in 2015, streaming equivalent album sales rose 38.5 percent across the board — while Latin-genre streaming rose 73 percent. It's not surprising from a market whose spending power tops $1.5 trillion in the U.S. alone. And it's not just Latinxs who are listening. The entire world is listening.
Artists like Cardi B, J Balvin, Daddy Yankee, Romeo Santos, and many others aren't the future of the music industry. They're the "right now." As their star power continues to grow, Latinx visibility in the U.S. grows with them, and gives others the courage to fully embrace their roots. Their chart positions, sold-out tours, and historic milestones further show that Latinxs are no longer "the other," and that the Latinx music industry is the mainstream music industry. The reason Cardi B is so popular, why she knocked Taylor Swift out of the number 1 spot, is that she is appeals to real people on an authentic level, as a woman, a Latinx, and an artist.