Cardi B's 2018 AMAs Speech Thanks Her Baby Daughter For Such An Inspiring Reason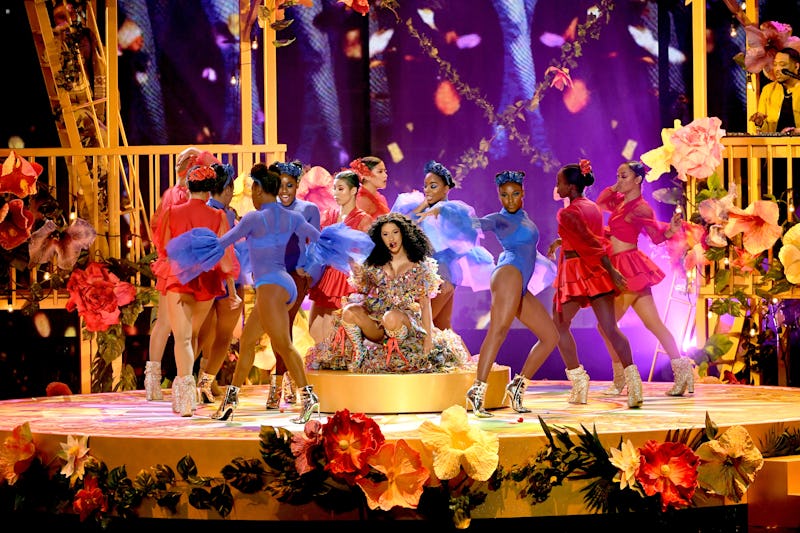 Kevin Winter/Getty Images Entertainment/Getty Images
It must have felt damn good for this boss in a skirt. At the 2018 American Music Awards Tuesday night, Cardi B nabbed the trophy for favorite rap/hip-hop artist, and the crowd loved it. As People reported, audience members gave a standing ovation and chanted her name during Cardi B's AMAs speech that thanked her daughter Kulture while referencing the haters that cropped up during her pregnancy.
"Oh my gosh, I feel nervous. Why am I so nervous?" the 25-year-old said to the Microsoft Theater audience, before thanking her fans, publicist, and her label record. She then gave a shout out to her husband, Offset of Migos, and their baby daughter.
"I really want to thank my daughter, and not just because she's my daughter but while I was pregnant I was just so influenced to be like, 'Yo, I gotta do this,'" the "Bodak Yellow" rapper said. "I gotta show people wrong. I gotta prove people wrong."
Her joy seemed uncontainable; she sang the next part of her speech: "Cause they said I wasn't gonna make it, and then I had a baby. And my husband — hey, husband. Mmm."
Cardi, nominated for eight AMA awards this year and tying the record with Drake for the most nods, gave a dazzling, carnival-color show of her hit song "I Like It" with Bad Bunny and JBalvin during the awards ceremony. (It was one to see: she appears on stage by lying on a spinning stage in a kaleidoscope gown and knee-high boots.) Her other nominations include: favorite new artist, favorite pop/rock female artist, favorite rap/hip-hop song and favorite video ("Bodak Yellow"), favorite soul/R&B song and favorite collaboration ("Finesse" with Bruno Mars) and favorite social artist.
Cardi B's speech alluding to her naysayers was explained in interview with Power 105.1's show The Breakfast Club back in April, according to People. The Bronx native rap artist said then that people had been telling her online that motherhood would ruin her career and that it "disgusts" her.
"It just really bothers me, and it disgusts me because I see a lot of women online like, 'Oh I feel sorry for you, oh your career is over,' " said Cardi B. "As a woman, why can't I have both? Why do I gotta choose a career or a baby? Like, why can't I have both? I want both."
Cardi B's AMA show is her first awards performance since giving birth to her 3-month-old daughter, Kulture Kiari, on July 10. The rapper has gushed about her daughter on social media, with a good chunk of her posts focused on Kulture (who she sometimes likes to call her "lil fat fat.") lately.
Cardi B has also spoken up about the vulnerabilities mothers can have after giving birth. In an interview with W Magazine, she said, "People don't really talk about what you go through after pregnancy. Like, they don't tell you that you get stitches down there or that your first two weeks you're constipated."
"When Kulture was born, I felt like I was a kid again; everything was making me cry, and I needed a lot of love. I be feeling like, 'Do babies know who's they mom?'" Cardi B said to W Magazine. "I feel like babies love whoever is giving them the milk, and I want to give the milk the whole time. I want her to know me."
She continued, "I feel better now, but sometimes I just feel so vulnerable, like I'm not ready for the world yet. It's weird."
Whatever her vulnerabilities, they didn't show at the AMAs on Tuesday night, where she looked more than ready to take on the world again.