Cardi B Actually Had To Drop A TON Of Money To Perform At Coachella — Here's Why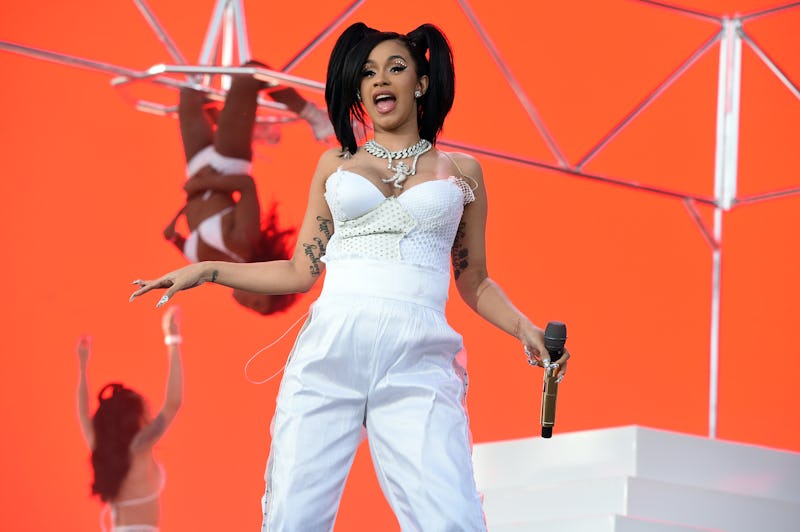 Kevin Winter/Getty Images Entertainment/Getty Images
April 13 marked the opening day of Coachella, the much-anticipated annual California music festival the attracts concert-goers from around the country. The festival featured many high profile performers this year, including Cardi B, whose 2018 Coachella performance actually required her to spend a lot of cash. As it turns out, the rapper's Coachella performances are costing her hundreds of thousands of dollars.
As reported by Digital Music News, in an interview with Sirius XM on April 10, the rapper revealed that she was being paid $70,000 for each of her two Coachella performances. However, she also noted that it costs $300,000 to set up her stage for each show — and the festival does not pay for staging. Thus, while Cardi B is making $140,000 for her entire Coachella gig, she is expending at least $600,000 to perform, leaving her with a loss of around $460,000. As Digital Music News noted, this loss does not even include Cardi B's other costs associated with her performance, such as tour staff and performers.
The rapper commented on the ironic nature of her essentially paying to perform at Coachella during the aforementioned radio interview. As she described it:
I'm getting paid for Coachella, like 70 bandos [$70,000] a day — yeah — so it's just like, I done got booked for this, ... and then it's like, I have to invest so much money on my stage set, my own money that I gotta go to Wells Fargo and write a check that it's crazy. Like, almost $300,000 [per weekend].
Cardi' B's hefty financial investment isn't the only controversial Coachella issue that's been brought to light recently. Indeed, Coachella and its producers, AEG Presents and Goldenvoice, are currently being sued by Soul'd Out, a Portland-based music festival, for their allegedly restrictive "radius clauses." According to the suit, radius clauses are elements of a contract that prohibit performers from being in some shows within a certain time frame before and after Coachella.
As Spin reported, radius clauses are quite common in music industry contracts. However, the suit argues that Coachella's policy is overly restrictive. As Soul'd Out said in a statement (as reported by the Portland Tribune), it believes that Coachella's radius clause, "impose[s] an unlawful contractual restriction on artists that perform at Coachella, prohibiting those artists from performing at any other festival or themed event within a distance that extends over 1,300 miles, and for a period of nearly five months surrounding Coachella."
In response, AEG, one of Coachella's producers, told Variety that its radius clauses are in line with industry standards, saying,
Radius clauses are common in the concert business where promoters take great risk and spend huge sums to produce marquee festivals, tours and other shows ... The producers of Coachella will vigorously defend against this lawsuit, which calls into question a long-standing industry practice that is crucial to our ability to continue offering fans the unrivaled experience for which Coachella has become known.
However, despite the lawsuit and the perhaps controversial nature of the costs Cardi B must take on to perform at the festival, Coachella is nonetheless proceeding as planned — and looks to be a hit so far. Indeed, Beyonce delivered a spellbinding and wildly popular performance over the weekend, one which even featured a surprise Destiny's Child reunion.
For her part, Cardi B also gave an impressive debut performance, singing many tracks from her new album, Invasion of Privacy, and also welcoming a host of well-known guest stars to join her onstage. Thus, while the rapper is definitely dropping a lot of money to perform at Coachella, she certainly seems to be taking it in stride — and thoroughly enjoying her debut at the respected festival.