Cardi B's Met Gala Look Is So On Theme It Hurts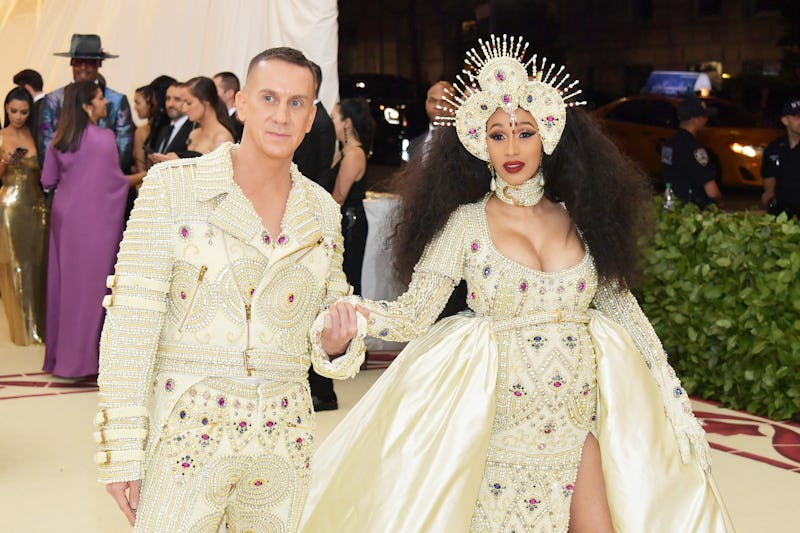 Neilson Barnard/Getty Images Entertainment/Getty Images
The Met Gala is one of the holiest, most hallowed nights in fashion, and Cardi B is one of the most exciting artists in the music industry. How perfect, then, is their spiritual union? Cardi B's 2018 Met Gala dress is truly iconic — some may even call it heavenly.
Before you roll your eyes at all the religious puns, consider this: The 2018 Met Gala theme is "Heavenly Bodies: Fashion and the Catholic Imagination." The gala kicks off the eponymous exhibit at the Metropolitan Museum of Art, which shines a spotlight on how religious iconography and imagery influence fashion — and vice versa.
The exhibit and Met Gala theme are quite controversial, particularly for practicing Catholics. According to the New York Times, head curator Andrew Bolton consulted with an array of Catholic consultants to make sure the process remained respectful, and the exhibit even has official approval from the Vatican. In fact, 50 pieces inside the exhibit are there on loan from the Vatican's very walls.
So, how does Cardi B fit into all of this? She paid her respects to the theme by wearing a look that transformed her into a literal angel on earth.
Cardi was first spotted exiting her hotel with designer Jeremy Scott, who most likely designed her look. Her all-white gown, flowing hair, and amazing jewel-encrusted headdress had her fans screaming as she walked out of the door.
Jeremy Scott released a statement to E! News as soon as the pair hit the official 2018 Met Gala red carpet. According to the designer, the headpiece was made in three days — at first, Cardi didn't think she wanted a headpiece, and then changed her mind at her final fitting. Scott explained that the dress is adorned with pearls, rhinestones, glass beads, and jewels — and it took four weeks to create. Scott says he wanted to celebrate Cardi's pregnancy, and that "nothing is more divine than a pregnant woman."
Naturally, Scott wore a complimenting suit to complete this epic red carpet moment — one that represents a continues string of wins for Cardi B. After officially announcing her pregnancy during her appearance on Saturday Night Live, she also saw tremendous success with her latest album, Invasion Of Privacy.
Fans may have been surprised to see Cardi arrive with her designer instead of her fiance, Offset of Migos. Instead, Migos arrived together on the red carpet much earlier, wearing a coordinating trio of stained glass inspired blazers.
Offset definitely brought his signature style to the 2018 Met Gala red carpet, but his betrothed definitely took it to the next level. Cardi's look is beyond stunning.
Besides the gorgeous, voluminous train, the entire gown is covered in the jewels and pearls that Scott mentioned, and the tailoring is remarkably precise. Looking at the images from the red carpet, it's not difficult to see why Cardi wanted to add the headpiece at the last minute — with that as the cherry on top of her look, she truly looks sent from heaven.